April 22, 2015 - 12:30 pm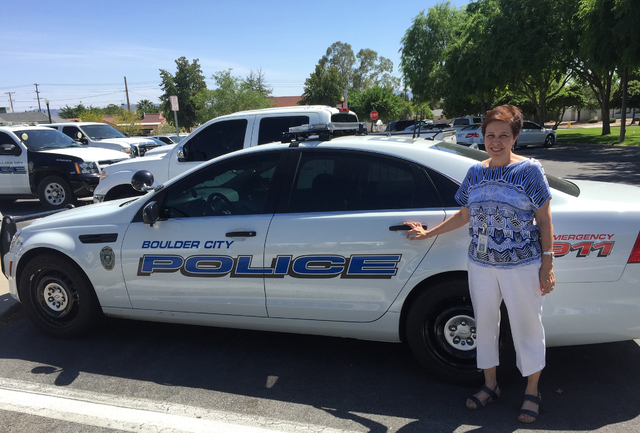 All that's left inside Pat Spero's tiny office is a Dell computer and a couple of files that still needed to be packed.
It hasn't always been that empty. After all, being assistant to the chief of police has its fair share of paperwork.
But it's the end of a 15-year career for Spero, who's served as the assistant to four police chiefs since coming to Boulder City in 2000. After a spontaneous move from the Northeast, the beginning of her law enforcement career started more than 3,000 miles away.
Spero is a native New Englander who spent the first 45 years of her life in Rhode Island. After 25 years working in an assortment of fields, including medical, clerical and law, Spero and her husband, John, decided it was time for a change of scenery.
That's when they moved to Southern Nevada, a culture shock for Spero who was used to harsh winters and an abundance of green.
Although the Las Vegas Valley is filled with some natives, the majority of it seemed to be a transient bunch, Spero said, something she wasn't used to while growing up in small-town Rhode Island.
But in her eyes, Boulder City was different than the rest of the valley, and she noticed it right away when former Police Chief David Mullin hired her as his assistant.
"Back East, you watch the kids grow up, and you watched them get married," she said. "I think people come to Boulder City from Las Vegas for that very reason. I think they want to make it a more close-knit situation."
With taking care of the department's payroll, looking after account billing, and editing various copy for police reports, Spero said her job never stops.
"There is no typical day here," she said with a New England inflection on the word "here." "That's the nice part is that it's very diverse. In the police department, you just never know what they're going to come in and ask you."
Although Spero's primary role is to serve as the direct line of contact to Chief Bill Conger, her job entails much more than that. In a way, she's the department's voice of reason, taking the time to listen to the officers when they just want to chat.
"It's a place where they can come in and just say whatever," she said. "I consider my position the epicenter or command post of the station. Everything comes through it, from it, or to it at some point."
But what really drives Spero's passion is the kids. Just talking about her involvement in Boulder City's Juvenile Conference Committee, a program that helps to keep the town's youth out of trouble, brings a smile to her face.
"My mission in life is to just empower these kids. Let them know they can do whatever they set their mind to," she said.
Spero takes pride in her work for the Juvenile Conference Committee, or JCC as she calls it. The diversion program, which she says is unique to Boulder City, promotes education over punishment to help kids make better life choices.
The committee is composed of 25 volunteers throughout Boulder City, all from various occupations. That diversity is what helps educate the kids about the dangers of drinking and driving, and substance abuse, she said.
She's also been an integral part of the Every 15 Minutes program, and the Drug Abuse Resistance Education, or D.A.R.E. With no children of her own, Spero wants nothing more than to help other kids succeed in life.
Conger said Spero's been trusted by the department, allowing officers to speak with her in confidence.
"Her benefit to me has been invaluable to help start moving the department forward. She is absolutely an excellent person to bounce stuff off of," he said. "She's helped keep everyone focused on the stuff we need to do to keep going forward, and I hate to lose her."
Conger said Spero can be seen tapping her watch if he ran a meeting too long, telling him he had to be in Las Vegas in 30 minutes. It's all part of her job to make sure everything in the police department runs smoothly.
And even though she'll no longer be with the department, Spero said she plans to stay active. She's in the middle of grooming her replacement, Vanessa Ward, as she winds down her final week on the job. Her last day is April 30.
But volunteer work will be part of her postretirement plan. Perhaps it's because her father worked three jobs to support their family growing up.
Still, she is always there to help others.
"My father always said to me, 'Don't be a follower. Be a leader,' " she said.
Contact reporter Steven Slivka at sslivka@bouldercityreview.com or at 702-586-9401. Follow @StevenSlivka on Twitter.