Chamber works to alleviate fears
April 18, 2013 - 12:03 pm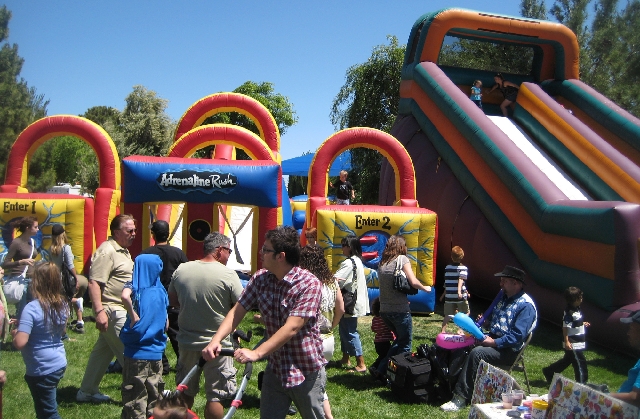 The announcement of a gun show at next month's Spring Jamboree has stirred up some residents who are concerned about its placement at a family event.
For the first time, a gun show will accompany the Boulder City Chamber of Commerce's Spring Jamboree festival, May 4 and 5.
The gun show will be hosted by Western Collectibles and Firearms, a traveling promoter based in Arizona.
Chamber CEO Jill Lagan said the gun show was solicited by the chamber in an effort to consolidate items such as antique guns, gun accessories and knives, which have been sold by various Spring Jamboree vendors in the past.
"If we're kind of going this direction … my feeling is it needed to be in a more enclosed environment," Lagan said.
The show will take place in the recreation center, and will include various vendors selling antique and modern guns, knives, Civil War memorabilia, disaster preparedness goods, clothing and other items, Lagan said.
Admission to the show will be $8.
The event will be staffed by security, and the only entrance and exit will be the main entrance, across the street from the police department.
"The entrance and exit are on the Arizona (Street) side by the police station. That was done for a reason," Lagan said.
Additionally, guns from the show will not be allowed into the nearby parks, where the remainder of the festival activities will be, Lagan said.
Acting Police Chief Bill Conger said that historically, gun shows are not a problem for police. However, he said officers will also be patrolling the show.
"I don't anticipate any problems," said Conger, who spent 30 years with the Metropolitan Police Department. "I believe it's going to be a rather peaceful show."
Some residents have expressed concern with having a gun show at a family event.
Valerie McNay, who describes herself as "an educator of young children, the same age as the 20 Sandy Hook (Elementary School) students who were fatally shot four months ago," said in a letter to the Boulder City Review last week that she is "heartsick" and "deeply saddened" with the chamber's decision to include the gun show in the Spring Jamboree.
McNay's letter also noted Boulder City's own Jan. 21 gun violence tragedy, where Las Vegas Police Lt. Hans Pieter Walters shot his wife and 5-year-old son before turning the gun on himself.
Resident Nicola Collins wrote a letter to the Boulder City Review last week, stating the gun show "puts a dark cloud over what used to be a day of family fun."
Former Mayor Eric Lundgaard also expressed concern over the gun show at a family event.
The newspaper has also received letters in support of the gun show. Resident Bob Swift said in a letter published this week, "Why can't we purchase (guns) in Boulder City at a show if we are honest citizens?"
Lagan said she understands the concerns of residents and the sensitive timing of the event, but counters that the event has been planned for a year.
"I don't know when I could postpone this that there wouldn't be a tragedy … sadly enough we live in a violent world," she said.
Lagan, whose husband is a Las Vegas police officer and whose daughter is a competitive markswoman, said that there will also be an important gun safety education component to the event. However, details were unavailable Wednesday.
Lagan said that some community concerns are caused by false information being circulated, including the belief that background checks are not needed to purchase guns at gun shows.
Background checks are needed anytime someone buys a gun at a gun show, Conger said.
"These guys know how to do this, and they know what's legal and what's not," he said. "They don't want do jeopardize their license."