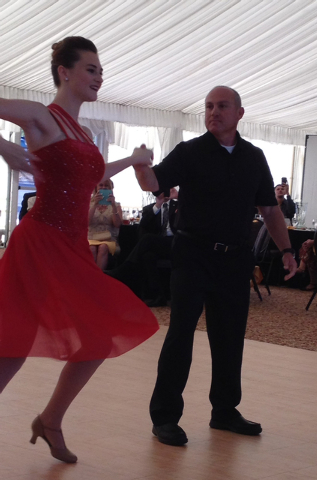 The stars were out Saturday night at the Boulder City Chamber of Commerce installation — and it wasn't an event past sunset.
First, there were the stars who make the Chamber of Commerce run: the officers. Then, it was the stars who make the chamber hum: the volunteers and supporters. Finally, it was the stars that make being part of the chamber fun: city officials and chamber members who presented their version of "Dancing With the Stars."
The evening began with a special thanks to the chamber's board of directors, specifically outgoing members Christy Springgate-Hill and Lee Hagen.
Then, Judge Victor Miller installed the new board: Kerry Ahern, Kelly Ferrence, Rich Loudin, Brina Marcus, Brad McKinley, Monica Preston, Denise Senko, Matt Sheldon, Jaron Singleton, Beth Vandenberg and Kendra Wright.
Senko will serve as chairman for the 2014-15 year, with the remainder of the executive board to be selected at an upcoming retreat.
She helped thank and honor Vandenberg for her service as chairman this past year and spoke of the coming year.
Senko said she has three goals: to promote the city, encourage service to others and preserve community spirit. She also said she hopes to focus on scholarships for students, maintain the city's hometown atmosphere and — continuing the evening's star-studded theme — to make Boulder City "a brightly shining star in our state."
Jill Rowland-Lagan, chamber CEO, highlighted some of the chamber's accomplishments this past year, including helping to obtain new signs that will drive visitors to the heart of the city, and introduced some new membership levels that allow businesses to "customize" their membership in the chamber.
She also spoke of the chamber's involvement in helping the city's economic vitality and how its goals mesh with three key sectors — renewable energy, medical services and unmanned aerial vehicles — that are being focused on by Gov. Brian Sandoval.
Before turning over the lectern to the evening's master of ceremonies, Mike Pacini, Rowland-Lagan singled out several individuals and companies for their service to the chamber. Honorees were:
Kathy Hicks, Julie McAnany and Kalah Porter, Jill's Jewels; Desert Sun Realty-Bret Runion and Associates, business of the year; Jack Gaal, Bert Hansen businessperson of the year; Kay Henrich, Eva McGarvey Memorial Award; Boy Scouts of Boulder City, Youth Community Achievement Award; Val Olsen, Alice Isenberg Community Achievement Award; Nancy Carlyle, Bob Sears Lifetime Achievement Award; Julie Boyster, Goldie Begley Energizer Award; Steve Schorr, honorary lifetime membership; and Boulder Dam Credit Union, nonprofit group of the year award.
The evening concluded with "Dancing With the Stars." Participating community leaders were: Sunrise Rotary incoming President Harold Begley, City Manager David Fraser, Parks and Recreation Director Roger Hall, Councilman Duncan McCoy, chamber membership Sales Director Connie Mancillas, City Attorney Dave Olsen, chamber Chairman Denise Senko, Mayor Roger Tobler, Councilman Cam Walker and Councilman Rod Woodbury. They were paired with teachers and students from Dance, Etc.
Awards were presented to the top dancers. Olsen, who was accompanied by Anna Lawson for a slow dance to "The Way You Look Tonight," took top honors. Second place went to Walker, who danced to "Hound Dog" with Jayme Server. Third place was awarded to Mancillas, who danced to "Workin' Day and Night" with Jake Phillips.
The winners were determined by audience members, who paid to vote for their favorites and raise money for the chamber.
Fraser and Walker tied for the judge's choice award and were challenged to a dance off. Without their partners, the two danced to the Bee Gee's "Stayin' Alive," and again tied to share the honors.