Caucus organizers pleased with turnout
February 24, 2016 - 4:36 pm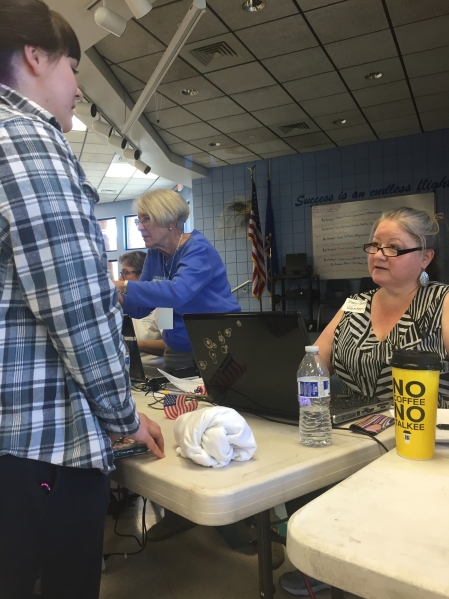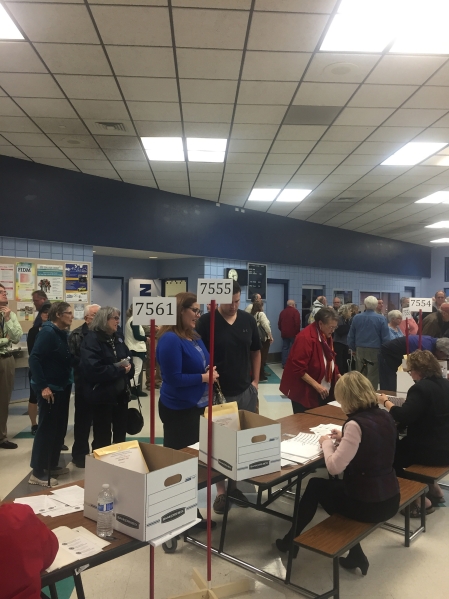 Lines wrapped around Boulder City High School on Saturday morning and Tuesday night as residents from Boulder City showed up to cast their votes in the Democratic and Republican caucuses.
"Overall things went well and we had an amazing turnout," said Kiernan McManus, president of the Boulder City Democratic Club. "After talking to other precinct chairs from all around Southern Nevada all our issues that happened in Boulder City were resolved quickly."
According to McManus, they were expecting between 20 to 30 percent of the registered Democrats in Boulder City to show up. They ended up right in the middle, as 25 percent showed up to support their candidate.
"All our volunteers working on Saturday were Boulder City Democrats," McManus said. "We had enough people step up and help people get through the process."
For Boulder City resident Helen Montgomery, voting is a privilege everyone should be exercising in order to have his or her voice heard.
"We have the tendency to tell ourselves that our vote doesn't matter. But if everyone felt that way, no one votes," Montgomery said. "It's important for me to come out and support the candidate I'm supporting to make sure they're on the ballot."
Ultimately, former secretary of state Hillary Clinton ended up edging Sen. Bernie Sanders in a tight race, after collecting 52.6 percent of the votes to give her 20 delegates.
Unlike the Democrats, which had only two candidates for voters to choose from, the Republicans still had five viable candidates going into the caucus Tuesday night.
"There is rarely ever this many viable candidates left at this point," said Republican Site Manager Maraya Evans.
Things on the Republican side were not as close, as Trump pulled away with the lead early in the night, winning 45.9 percent of the votes in Nevada and ending up with 12 delegates.
"I think the Republicans are more in line with what our Founding Fathers envisioned in the Constitution," said Boulder City resident and proud Donald Trump supporter Adele Maurer. "He has a strong stance on illegal immigration and he is a businessman who has worked with money his whole life. I think he will be able to fix our economy, as well."
Much like McManus, Evans was pleased with the amount of people who showed up to support their political candidates.
"This turnout is everything I thought I would be. This one is a lot more organized than in previous years. We worked on traffic flow to get people in and out as fast as we could," Evans said.
Contact reporter Juan Diego Pergentili at jpergentili@bouldercityreview.com or at 702-586-9401. Follow him on Twitter @jdpbcreview.