Bypass blends with environment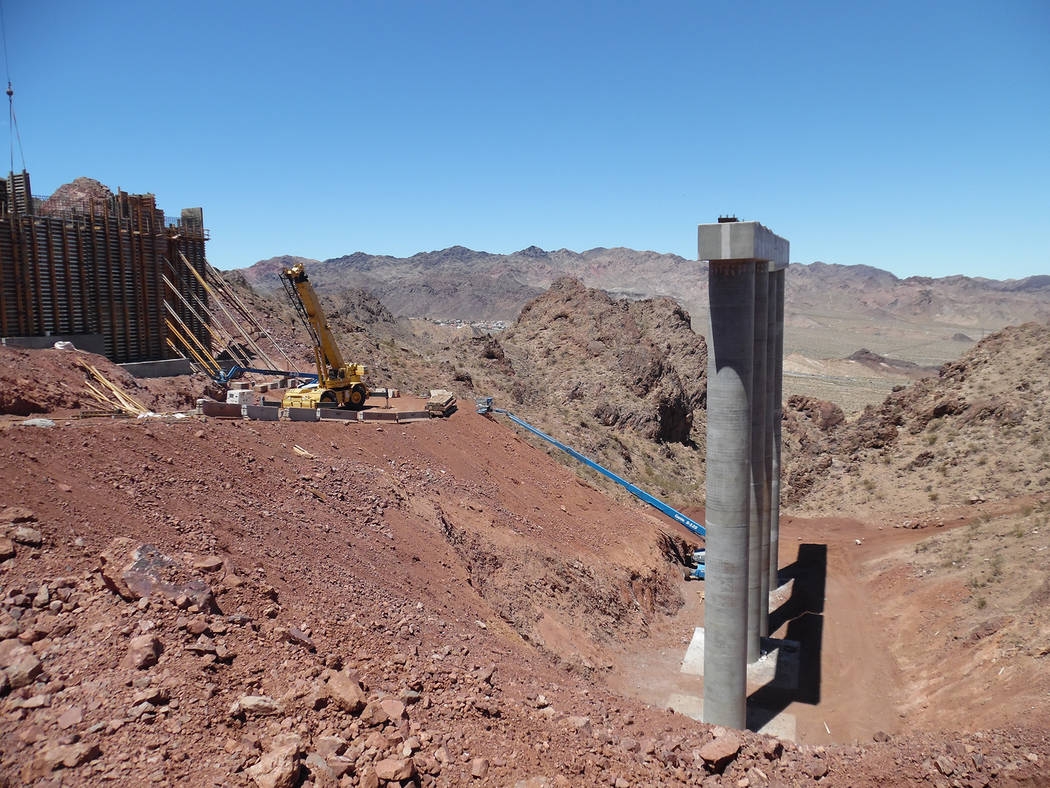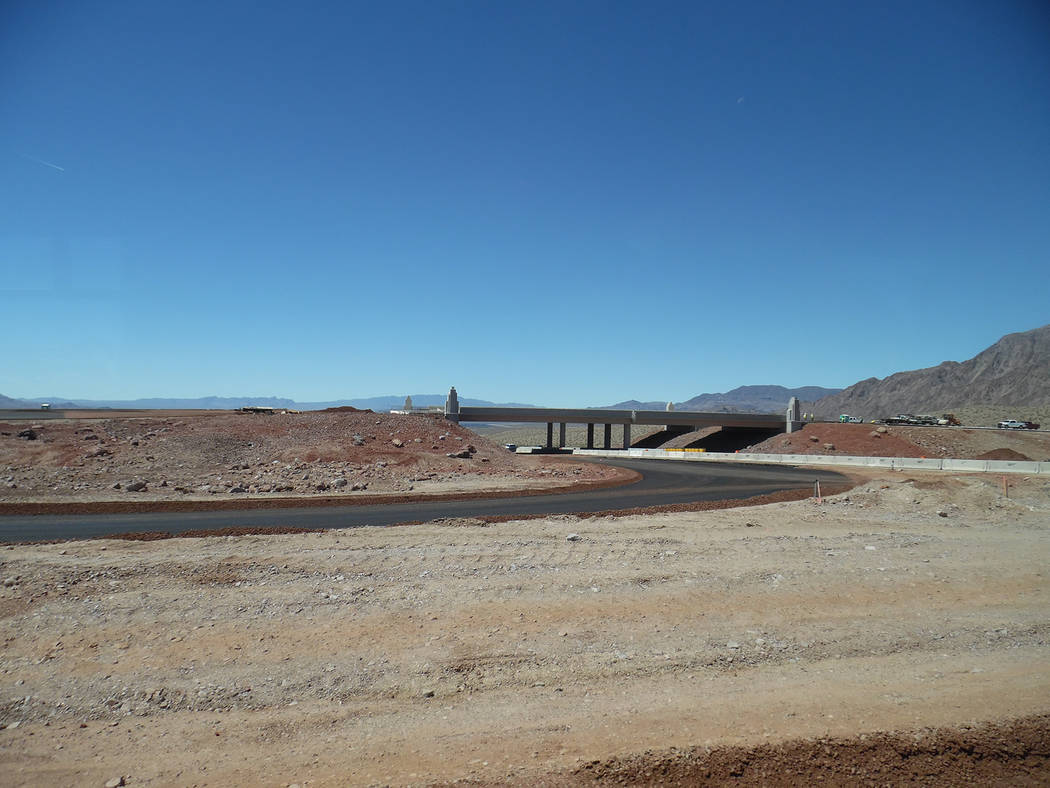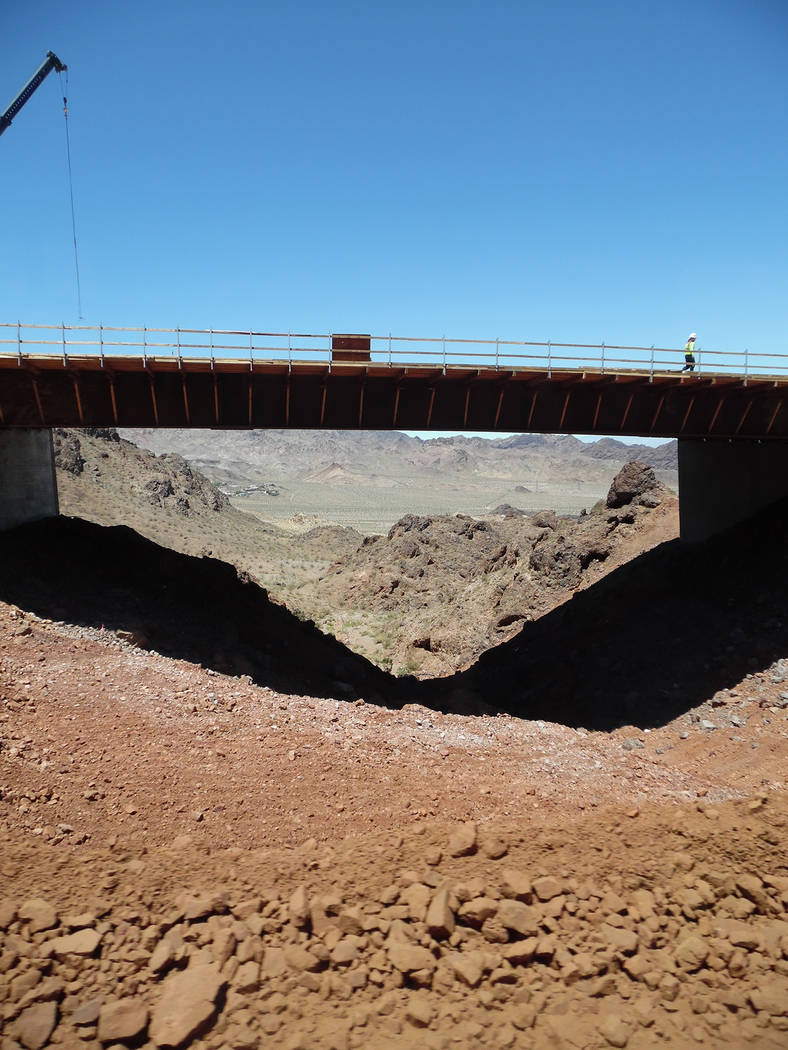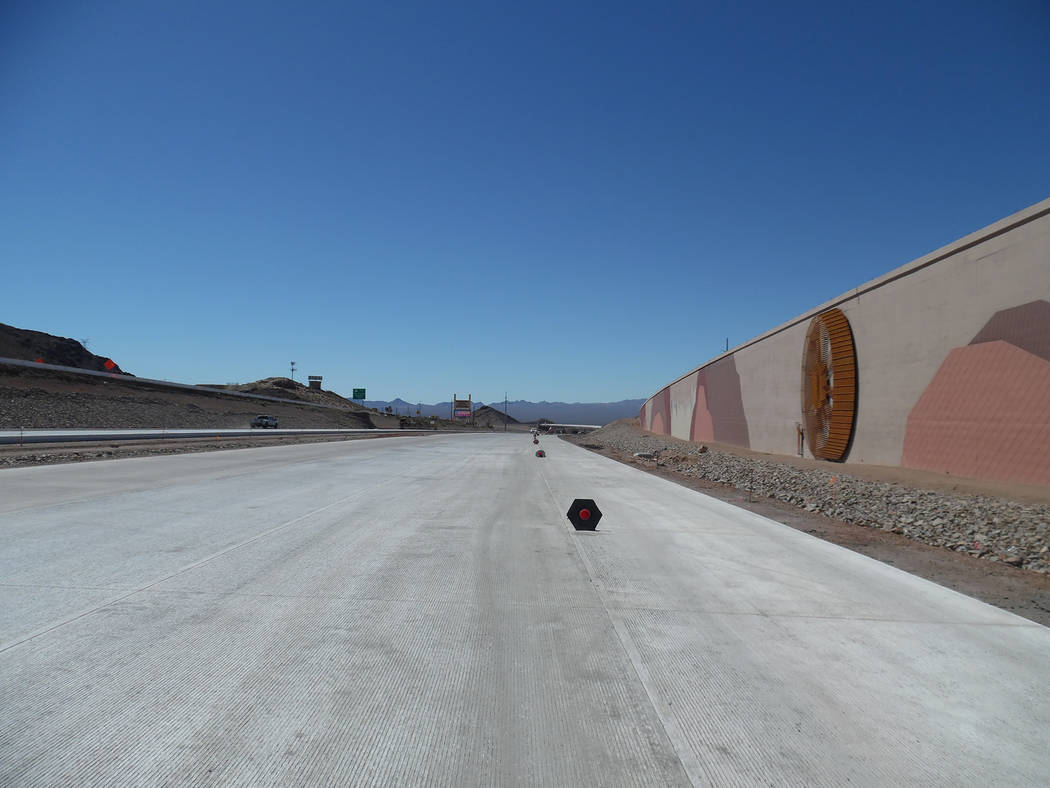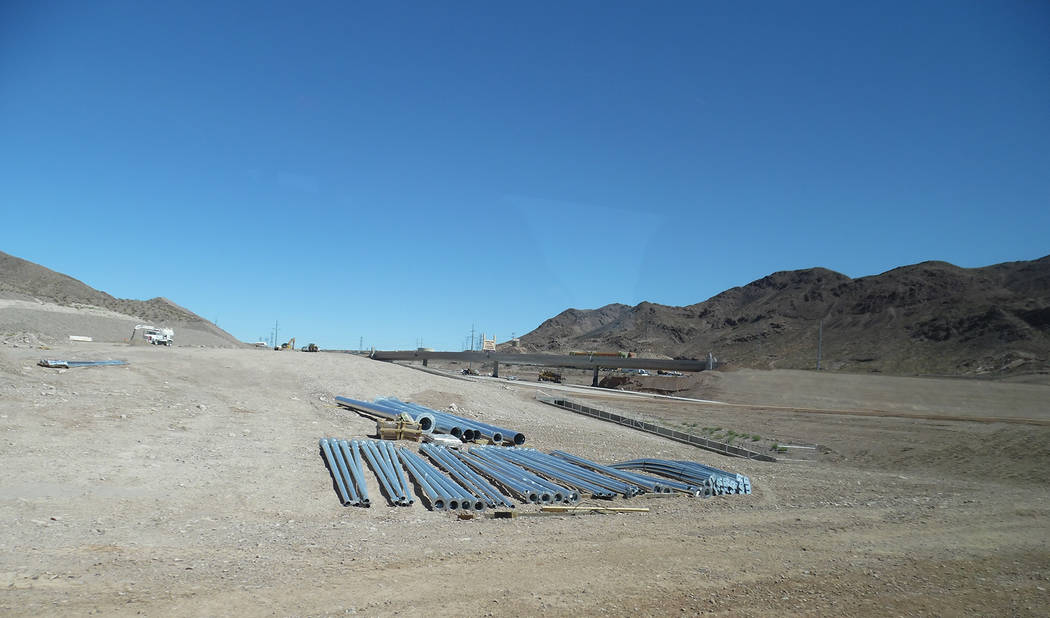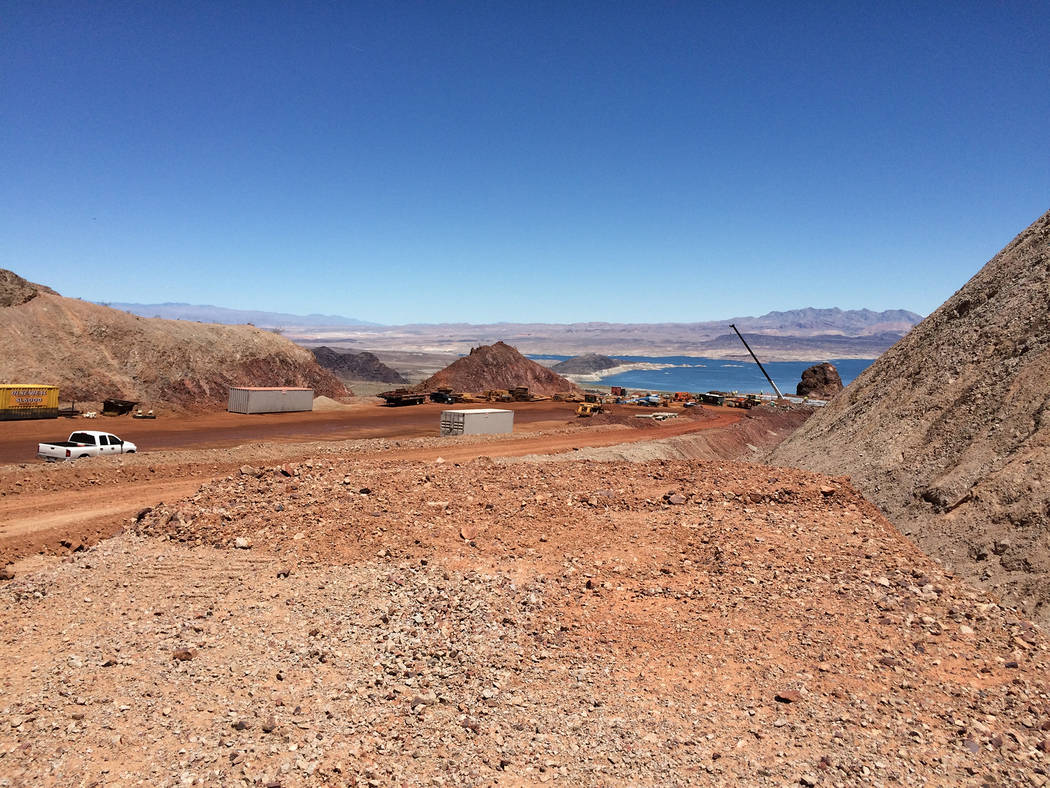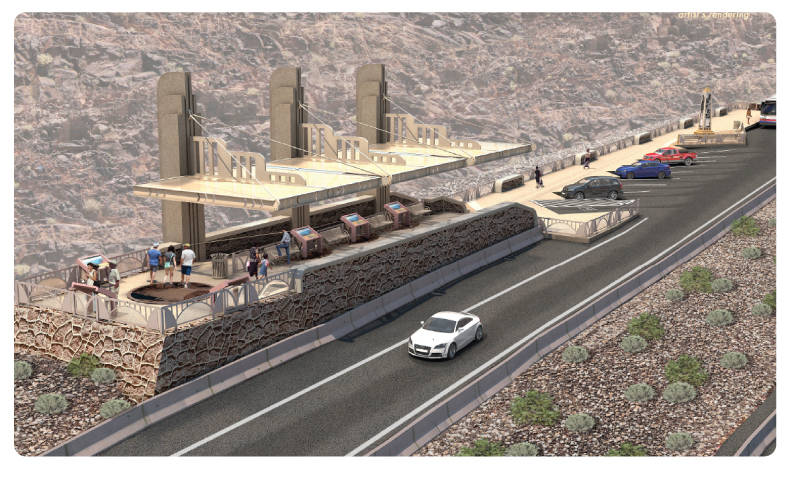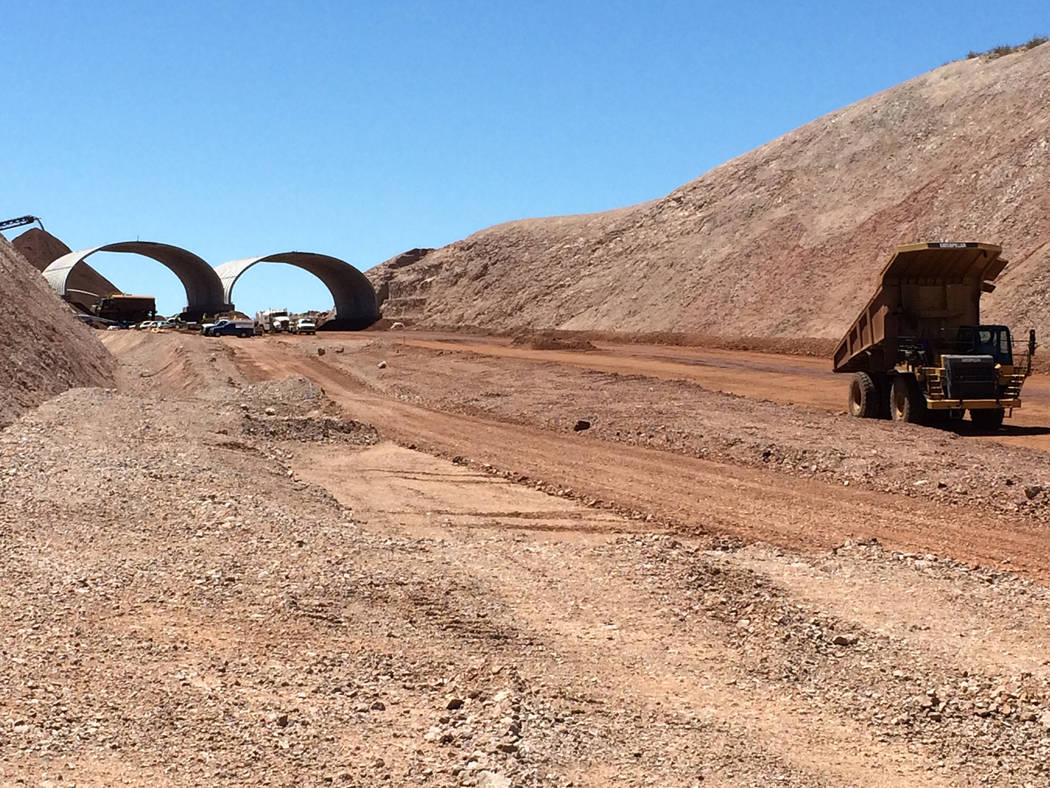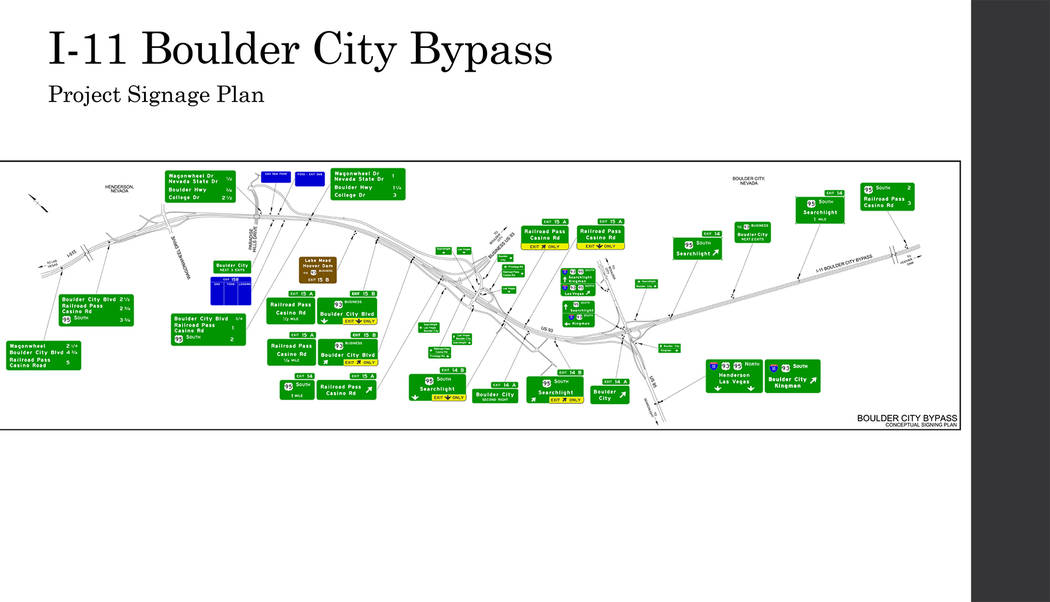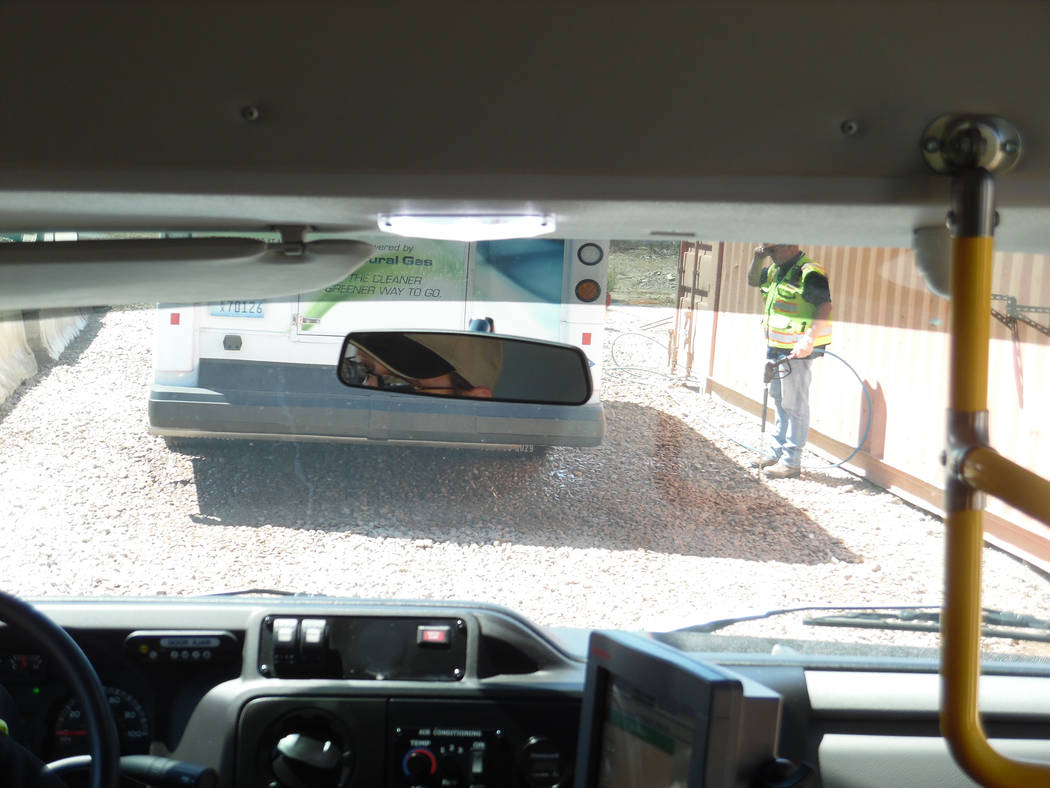 Tucked away in the Eldorado Mountains south of Boulder City, workers furiously blast rock, place steel girders for bridges and create flat, drivable surfaces as Interstate 11 inches toward completion.
Split into two phases being built simultaneously by the Nevada Department of Transportation and Regional Transportation Commission of Southern Nevada, the interstate — or Boulder City bypass as it is more commonly known — will stretch 15 miles around the city. It was showcased during a tour of the construction on Friday.
NDOT's 2.5 mile Phase 1 portion of the interstate is on the end nearest Henderson. It will include a flyover to U.S. Highway 93 Business or Boulder City Parkway, a full diamond interchange at Railroad Pass, a pedestrian/bike bridge that will link with the River Mountains Loop Trail and a new bridge to connect the severed railroad tracks, said Ryan Wheeler, project manager for NDOT.
RTC's portion is 12.5 miles long and covers the area between the interchange with U.S. Highway 95 to where it reconnects with U.S. 93 near the O'Callaghan-Tillman Memorial Bridge that bypasses Hoover Dam. It will have 11 bridges and incorporate 350,000 tons of asphalt.
As many features as possible will have an art deco look, mimicking the style of Hoover Dam and many of the community's historic buildings and the landscaping will maintain the look of the natural environment.
The $318 million project is on track to be completed by October 2018, though Phase one should be done in January 2018 and most of Phase 2 ready for drivers by June 2018.
It is paid for through state and federal funds as well as Clark County's fuel revenue indexing, which is generated through a fee paid automatically each time a person buys gasoline.
ASBESTOS CONTROL
The start of the project was delayed after a report came out in November 2014 that naturally occurring asbestos was found in the area. A mitigation plan was put into place in July 2015 and work began a short time later.
To minimize any risk to workers or the nearby community, the dirt is constantly wet down. The project uses 1 million gallons of water a day — treated wastewater from Boulder City.
Gary Pons, a certified industrial hygienist with SCS Engineers of Las Vegas, said they have tested thousands of soil samples as well as roughly 14,000 air samples. They have only exceeded the threshold for allowable asbestos in the air less than 1 percent of the time and he said he doesn't expect to find anything in the dirt that exceeds .25 percent, which is allowable by government standards. He also said they haven't had any samples exceed OSHA standards for asbestos exposure for those working on the project.
"Our data shows that what we have in our plan works to protect the workers and perimeter control," Pons said. "We're out daily looking for visual dust and are not finding anything."
There are five stations in Boulder City monitoring the air for dust or asbestos and Pons said "nothing contradicts our data. The likelihood that anything will migrate that far is very minimal."
He said this is the first project in Nevada that has had to manage naturally occurring asbestos. They worked with models used primarily in California.
INTERSTATE FEATURES
To minimize the impact of the interstate to existing traffic by recreational and offroad vehicles and wildlife, several undercrossings and overpasses were incorporated into the project, primarily on the stretch being built by RTC.
Fred Ohene, deputy general manager of engineering and planning for RTC, said there will be two crossings for all-terrain vehicles created by installing box culverts under the interstate, as well as a crossing for horses.
Wildlife migration patterns in the area were studied and special overpasses are being created to allow the animals, particularly bighorn sheep, to cross the roadway safely.
Ohene said they also have installed 8-foot-tall fences on the perimeter of the roadway to prevent animals from accessing the interstate.
"Sheep can easily jump 6 feet, but they can't jump 8 feet," he said.
TO EASE CONGESTION
The project, which will eventually link Las Vegas with Phoenix, is expected to reduce travel time between the two cities by 30 minutes, according to Tony Illia, spokesman for NDOT.
It also should reduce congestion through Boulder City as roughly 34,000 vehicles daily travel the area that the bypass will circumvent.
Illia said it is the first new interstate being built in the nation since 1992.
The roadway also will provide views of Lake Mead, with a scenic overlook planned for the pinnacle of the interstate as it crests the stretch through the mountains.
Hali Bernstein Saylor is editor of the Boulder City Review. She can be reached at hsaylor@bouldercityreview.com or at 702-586-9523. Follow @HalisComment on Twitter.
Interstate 11 By the Numbers
$318 million project cost
1 million gallons of reclaimed water per day
4,000 jobs
8 million cubic yards of excavation
350,000 tons of asphalt
34,000 vehicles expected to travel route daily
20,000 cacti replanted
18 bridges
15 miles long
30 minutes saved travel time