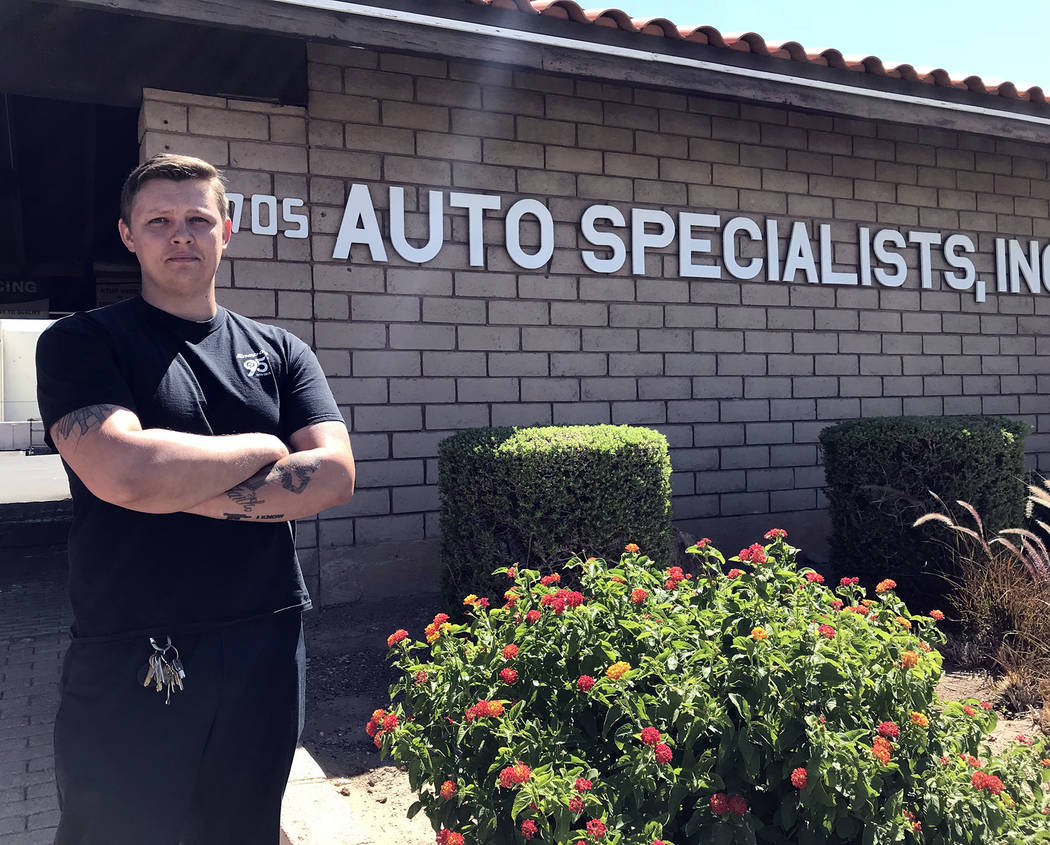 Auto Specialists embraces 'competition,'
Keeping its focus on providing the best in preventative maintenance and repairs, Auto Specialists and The Parts House in Boulder City added a team member who grew up in the automotive services business.
Cody Surratt, who recently closed Complete Automotive Service, joined the team Monday, June 18.
Lee Hagen, who co-owns Auto Specialists with her husband, Paul, said hiring Surratt was a smart choice and how it happened seemed fortuitous.
She said she had heard a rumor the competitor was closing and stopped by on her way to work after a Boulder City Sunrise Rotary club board meeting.
"Something to me to stop and ask if the rumor was true," she said.
After learning that Complete Automotive was closing, she asked Surratt to give her a call if he was interested in coming to work at Auto Specialists.
Though they weren't looking to hire anyone, she said that when the opportunity arose, they couldn't pass it up.
"Because he's so well-trained … and owned a business, he can do anything. He will be the complete asset," she said.
Complete Automotive Service has been a family-owned business for 22 years, most recently owned and operated by Surratt and his brother, Ryan. Cody Surratt said he began taking over the business from his father, Larry, about four years ago.
Surratt said a number of factors played into closing the business, but he is glad to have found a spot with Auto Specialists, a company he feels operates with the same "moral compass" that he has.
He cited their reliability and focus on the customer that prompted him to accept the position. "I can't knowingly contribute to anyone doing business dishonestly," Surratt said.
Hagen said having Surratt on the team allows her and Paul to devote more time to serving the community they have come to love.
Lee Hagen said she and Paul were in a serious auto accident in January and it made them shift their priorities a bit.
"We should have died. After the accident, our thinking changed," she said, noting the incident also prompted them to purchase a house in Boulder City last month.
Auto Specialists and The Parts House is at 705 Juniper Way. It is open from 7:30 a.m. to 5:30 p.m. Monday through Friday and from 8 a.m. to 4 p.m. Saturday.
Call 702-293-4776 or visit https://www.bcautospecialists.com/ for more information.
New women's clothing, gift retailer sprouts in desert
Daisies in the Desert has opened and specializes in women's clothing, accessories and gifts.
Brenda Schultz opened the boutique retail store in late April offering what she calls "fun and fashionable on-trend women's clothing at an affordable price point."
Schultz said she carries a variety of sizes and styles, aiming at multiple generations. "We have something for everyone," she said.
The store has a unique look and she uses auction finds to display her wares and decorate the shop.
She also has created a "She Shed" inside the story where she will offer classes and special trunk sales.
Schultz has already held a class in geocaching and will open her doors for a training session for Boulder City Chamber of Commerce ambassadors. She also is planning a wine glass decorating session — complete with wine tasting — and a plus size trunk show in the fall.
This is Schultz's first foray into a retail shop of this type, but she said the venture brings together the variety of jobs and careers she has had during her lifetime.
Her experience includes working in a gift and clothing store, owning a restaurant, being a teacher and working in the corporate hotel business as the director of responsible business.
"I've had many lives," she said. "I like to keep learning — and maybe I have a bit of a restless soul."
Schultz said initial response from the community has been good, and those who wander in by chance inspire her to keep the store and inventory fresh.
Daisies in the Desert is at 402 Nevada Way. It is open from 11 a.m. to 5 p.m. Wednesday through Saturday and noon to 4 p.m. Sunday.
Call 702-268-0830 for more information.
The Boulder City Review periodically showcases businesses new to the area or that have made changes to their operation. Send notices about local businesses to news@bouldercityreview.com.