Business Beat: Florist finds joy helping others show love, concern through arrangements
February 1, 2023 - 3:52 pm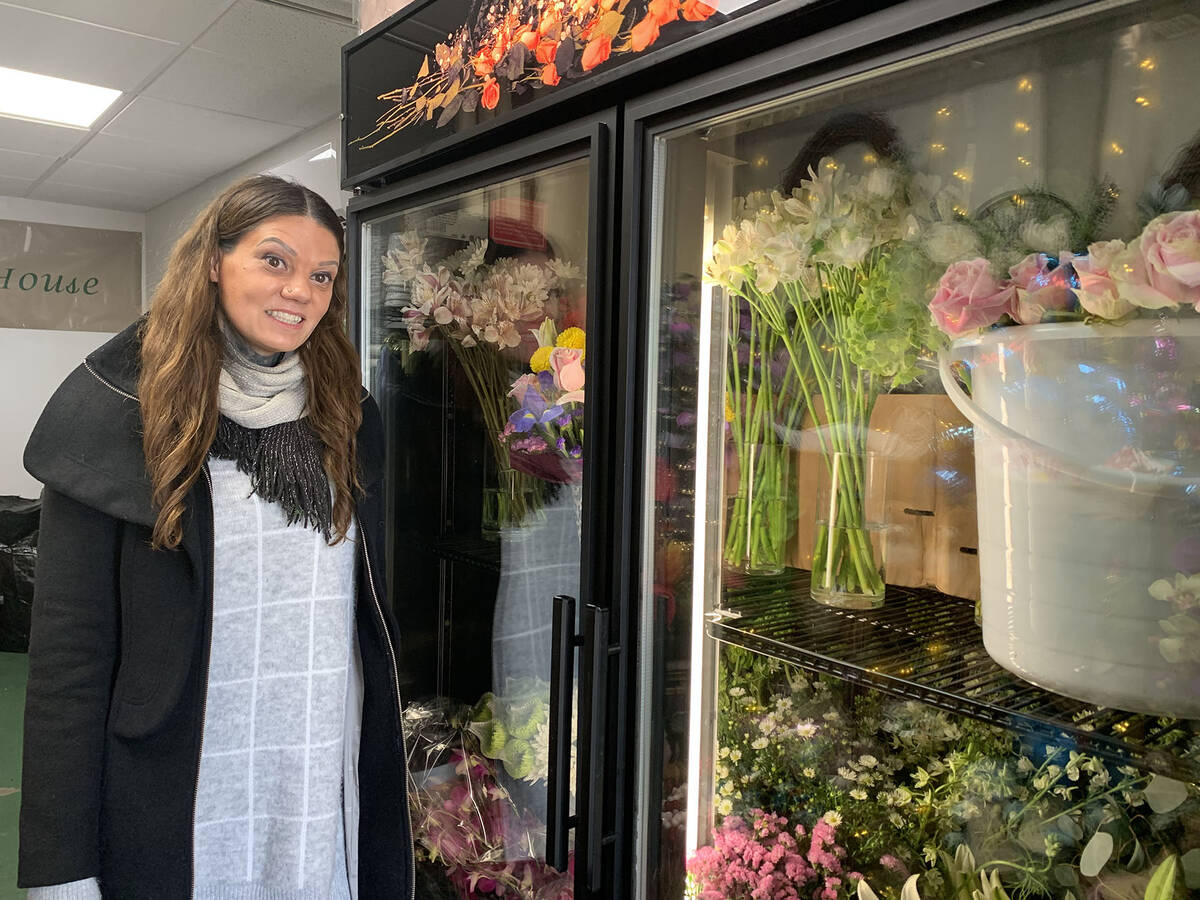 Creating beautiful floral arrangements is more than just a job for Autumn McGrath-Shook. The owner of Village Floral House, which opened at 1308 Boulder City Parkway, Suite D, in December, puts a bit of herself into each piece she designs.
McGrath-Shook said that one of her favorite parts of the job is using flowers to help people express how much love they have for the recipients of her arrangements.
She said she is especially honored when people ask her to create arrangements for funerals. The floral displays help families and friends take their minds off the worst part of having to bury someone, she added.
"It gives me joy to give them something pretty," she said.
Earlier this month she felt a special connection to the late David McGaw, who worked at Hoover Dam from 1964 to 1996 and was a control room operator. Through her floral arrangements for his funeral, she was in touch with their Irish heritage and his impact on the community.
McGrath-Shook said it has been a dream of hers to live in Boulder City and she was happy to sell her home in Henderson and move to town roughly nine months ago.
She began creating arrangements out of her home in October until she found the perfect location and got her shop ready for customers.
Now she is preparing for Valentine's Day and Mother's Day, which is twice as big as the holiday in February.
"Everyone has a mom, but you don't always have a valentine," she said.
Out of all the flowers she works with, McGrath-Shook said the white rose is her favorite because it allows her to focus on the beauty of its form and not its color.
In addition to fresh floral arrangements, Village Floral House sells assorted knick-knacks and jewelry, including some that benefit the families of veterans.
McGrath-Shook said veterans are near and dear to her heart and she often donates flowers that can no longer be sold to the veterans' home or cemetery.
She also doubles as an orchid hospital, helping nurse the plants back to life.
McGrath-Shook said she has been artistic since high school and received a scholastic gold key for her work.
"Floral design was an easy segue way," she said of the transition from other art forms. "I love anything creative."
She began working with silk floral arrangements in 2001 and then got a job in a flower shop.
McGrath-Shook said she believes her out-of-the-box creativity with floral arrangements as well as efforts to keep her prices low will help set her apart from other florists.
She said she is careful to select stems that are sturdy and budget conscious.
"I want to be known for providing service and low prices," she said.
Mendocino Railway to offer bike tours
Mendocino Railway has been selected to provide rail bike tours at the Nevada State Railroad Museum. It will use the museum's track as part of a new five-year lease agreement.
It will replace Rail Explorers, which announced Monday, Jan. 30, that is was unable to reach an agreement with the state to renew its lease to operate the tour company. Its lease expired in 2020.
According to the Nevada Department of Tourism & Cultural affairs, Mendocino Railway was selected through a request for proposal process, as required by state law. The five-year lease comes with the possibility of two five-year extensions.
"The museum is thrilled to continue offering a quality rail bike tour for our guests that blends seamlessly with the outdoor recreation activities Boulder City is known for," said museum Director Christopher MacMahon. "Mendocino Railway's operations meet the museum's high standards for safety and customer service."
New rail bike tours are anticipated to begin in May after contract approval from the Board of Examiners and the Interim Finance Committee of the Nevada Legislature.
According to its website, Mendocino Railway provides tourism, nontourist passenger, freight and film making services in Mendocino, Stanislaus, Tuolumne, Ventura and Yolo counties in California. Its best-known operation is the Skunk Train, a tourist excursion on the California Western Railroad line between Fort Bragg and Willits, and which Mendocino Railway rescued out of bankruptcy in 2004.
Since acquiring the California Western Railroad, Mendocino Railway has invested more than $25 million in the line, restoring its tourist operations as well as its nontourist passenger and freight operations.
In its statement announcing its permament closure, Rail Explorers said it was "saddened" an agreement could not be reached.
"We will miss our fabulous local team, the partnerships built with local businesses and the loyal support of the community over the past 5 years," the statement read.
Those with unused gift cards for the Las Vegas Division should call customer service at 1-877-833-8588 for a refund.
Couple brings passion for helping
A passion for helping care for aging people promoted Adam and Kola Bliss to join Right at Home, a nationwide company that helps senior citizens remain in their homes.
The two recently purchased the Boulder City and Henderson franchise, which opened in 2010, and announced plans to expand its staff and services.
According to Adam Bliss, they added three full-time members to its management team, which only had one, and they plan to double the number of caregivers in the next few months. Currently, the company has 22 caregivers.
The Blisses purchased the franchise from Will and Kelley Ferrence of Boulder City.
"As the former owners, Will and Kelley Ferrence of Boulder City, began planning for the next stage of their lives, Kola and I recognized the foundation of quality and commitment the Ferrences had created," Adam Bliss said. "We have spent a lot of time in the area over the years and love it here."
Right at Home provides services such as light housekeeping, meal preparation, wellness support and personal care including mobility assistance, feeding and bathing. Additionally, it helps with situations such as stroke recovery, hospice support or aid for adults with disabilities.
He said he believes his company stands apart from other agencies because his team prides itself on "being engaged and involved in the lives of our clients and their families."
He said they are in frequent contact with their clients and their family members to ensure everything is going well and all understand the scope of care being provided.
Additionally, his team offers a "consultative approach to identify the holistic needs of our clients so we can guide them in their aging journey. To support specific needs that are beyond the scope of what we provide, we have partners and resources throughout the community that we can connect clients with. This approach ensures that we effectively anticipate the needs of our clients and help them stay at home where they can live safely with dignity and independence."
Adam Bliss said he and his wife first learned about Right at Home when they were living in Bloomington, Minnesota. Kola Bliss went to work part time for the company as a caregiver while their children were in school and "quickly fell in love with caring for aging adults."
When Adam Bliss decided it was time to leave the corporate world, he said he wanted to start a small business that would allow him to focus on changing people's lives. After seeing the "incredible experience Kola was having," he knew that a Right at Home franchise would be "the right path for me."
They began with becoming franchise owners in Tucson and Green Valley, Arizona, returning to the area where they had lived before. Eventually, they opened a third location in Sierra Vista before deciding to expand into Southern Nevada.
"We look forward to engaging with community partners, civic organizations and the residents of the Henderson and Boulder City area. We are spending several days each week here to ensure we build effective relationships and that our management team and caregivers are all properly trained and fully living our values, delivering on our brand promise, and achieving our mission to improve the quality of life of those we serve," he said.
Business Beat wants your news
We want news, tips, anything you want to tell us about Boulder City business, as long as it's true and as long as it's not pure publicity. Send it all to news@bouldercityreview.com.