Budget OK'd: City plans to add 17 positions, delay utility hike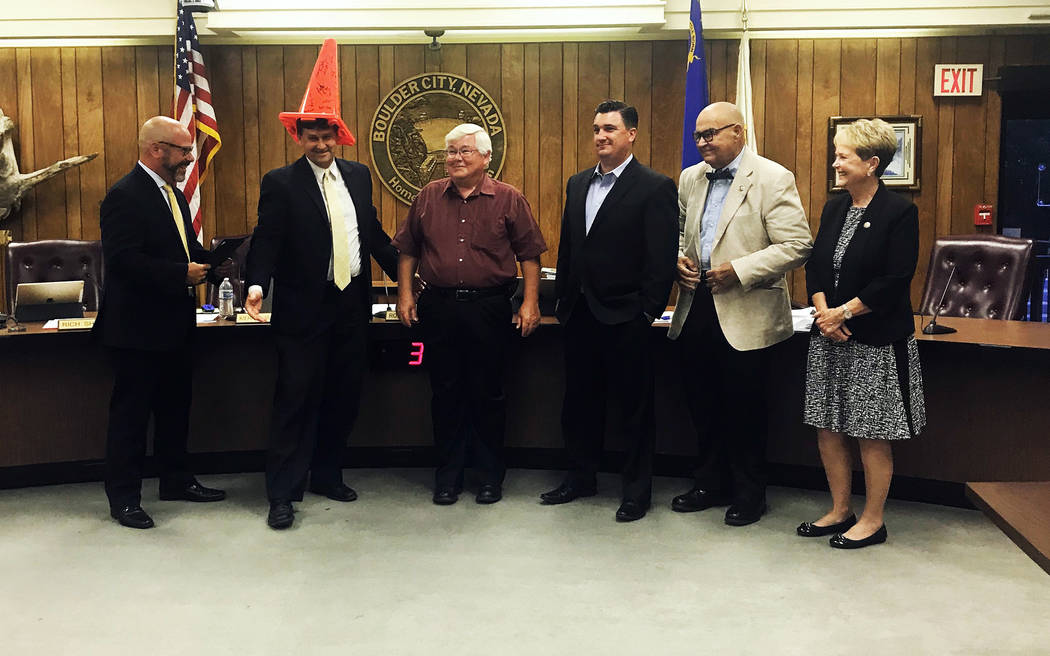 Boulder City is getting 17 new full-time positions and a possible three-month stay on upcoming utility rate increases, as the City Council unanimously approved the 2018-2019 fiscal year budget earlier this week.
It includes a general fund budget of approximately $33.3 million and a utility fund budget of approximately $34.3 million.
"I'm really excited that we're back to the prerecession staffing," said Mayor Rod Woodbury at the meeting Tuesday, May 22. "Again, our staff's been doing this, providing great services but on a shoestring for so long. It's high time we're back to those staffing levels."
Fifteen of the full-time positions are completely new and two were previously part-time jobs.
The new positions include a police dispatcher, police detective, police sergeant, communications manager, airport administrative coordinator, contracts/real estate manager, purchasing manager, financial analyst and economic development coordinator.
In addition, the budget includes a 3 percent salary increase for most city employees who are part of the various bargaining units.
Resident Judy Dechaine expressed a desire for the city's job posting website to be improved, noting it had a lot of old positions on it that made it hard to find the new ones.
"Those are decent paying jobs and I'd like to see our own residents have a chance at them or to at least know they're there and try for those jobs," she said.
According to Finance Director Diane Pelletier, this budget includes electric rate increases for business accounts and water and sewer rate increases for residential accounts as well as a possible three-month delay on them.
"But the budget as presented can absorb and will absorb the impact of a three-month moratorium on rate increases from July 1 to October 1," she said. "This resolution … will be brought to council at the June 12 meeting."
Overall, council members said they were pleased with the new budget, especially the new positions and how Pelletier presented the material.
"I think it is significant to absorb that many new positions without a significant increase in our budget," said Councilwoman Peggy Leavitt. "I know that was the result of a lot of give and take with the department heads. … It was a team effort to make that happen, so I want to thank and congratulate all of you on that."
"The revenues and expenditures are much more understandable than they have been in the past," said Councilman Kiernan McManus. "We've heard many accusations in this city of creative accounting when it comes to some of our projects here. I think that's been clarified … a great deal."
Councilman Warren Harhay congratulated Pelletier and her staff for making the budget more "transparent," and said it is a real "increase in that movement and a real boost to people who want to know" where the money comes from and goes.
Shuman did encourage Pelletier to start next year's budget project soon.
"The budget process starts again right now in my opinion. …I know I can't absorb it (budget details) quickly," he said. "I need lots of time."
Also at Tuesday's meeting, council:
n Accepted a $2,500 grant from the Southern Nevada Chapter of International Code Council to provide free swimming lessons at the Boulder City Pool to toddlers 4 years old and younger.
n Heard a presentation from John Penuelas of the Regional Transportation Commission of Southern Nevada regarding National Infrastructure Week and approved the RTC's Southern Nevada Smart Community Vision.
Contact reporter Celia Shortt Goodyear at cgoodyear@bouldercityreview.com or at 702-586-9401. Follow her on Twitter @csgoodyear.