Brooks' replacement likes Assembly job, will try to keep it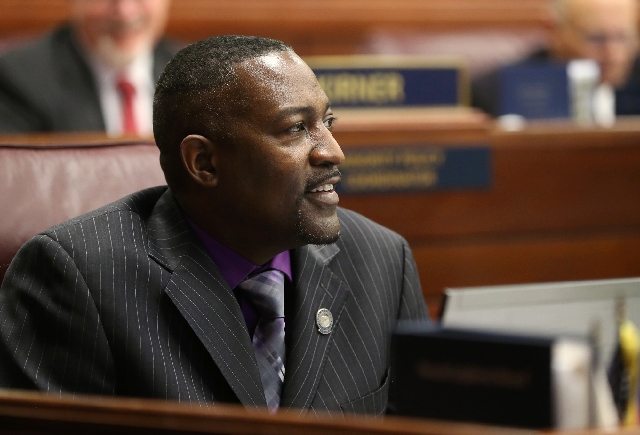 CARSON CITY — The Nevada Legislature's newest face, Assemblyman Tyrone Thompson, came to the capital in difficult circumstances.
Appointed to the heavily Democratic District 17 seat that had been occupied by a troubled Steven Brooks, Thompson was a fast study in learning the legislative process, his colleagues say.
He was sworn into office on April 24, the 80th day of the 120-day legislative session after being appointed by the Clark County Commission on April 16.
Thompson said Monday he has enjoyed the experience and plans to run for the seat representing the North Las Vegas area in 2014.
"I like a fast-paced work environment," he said. "And I just really appreciated the camaraderie across the board with both parties."
A dedicated and professional staff has been a great help, Thompson said.
Because he arrived mid-session, the Democrat did not have the opportunity to introduce any bills of his own.
But Thompson said he worked with his colleagues to push Assembly Bill 503, which will help the financially ailing city of North Las Vegas, through the Legislature.
The bill would allow the city to tap into an enterprise fund designated for the repair and upkeep of the city sewer system to fund police and fire services if signed into law by Gov. Brian Sandoval.
"I love making a difference, listening to constituents' concerns and hopefully allowing things to come to fruition," he said.
Dan Musgrove, a lobbyist for the city of North Las Vegas, said Thompson was a huge asset in getting the bill through the Legislature. The whole North Las Vegas delegation came together on the bill, he said.
Thompson's Democratic vote came in handy on several issues, supporting Senate Bill 221, the gun background check measure, and Senate Bill 374, establishing a medical marijuana dispensary program for Nevada. His vote on SB374 was critical to the measure getting the two-thirds vote needed for passage.
He also voted for Senate Joint Resolution 13, which could eventually let voters decide whether to legalize same-gender marriage, and Senate Bill 303, creating driver authorization cards for Nevada residents who are in the country illegally.
He said he did his own research on bills before deciding how to vote, and that many issues were not caucus related.
Thompson has served on the Health and Human Services, Judiciary, Legislative Operations and Elections and Natural Resources, Agriculture and Mining committees.
Thompson said he doesn't know if he will be appointed to an interim legislative panel, but he noted that his areas of interest are related to his service on the Judiciary and Health and Human Services committees.
Assembly Minority Leader Pat Hickey, R-Reno, said Thompson was well prepared in committee hearings and showed a healthy curiosity.
"He asks thoughtful questions which is the most important thing you can do as a freshman," he said. "It seems like he has been here the whole session so I give him good marks for coming in under difficult circumstances and having to do a lot of catching up."
Assembly Majority Leader William Horne, D-Las Vegas, said Thompson has risen to the challenge.
"He's been adding thoughtful comments and questions in his committees," he said. "He's done everything we would ask any new member to do. If he does decide to run he would be an asset here."
Horne said Thompson has not let the Brooks situation affect him at all. Brooks was expelled by the Assembly on March 28 because of his ongoing erratic behavior.
Thompson said he knew Brooks as a professional colleague in North Las Vegas, but did not have any interaction with him in the 2013 Legislature prior to being appointed to the seat.
Thompson did not get any pay for his service. Lawmakers are paid about $150 a day, but only for the first 60 days of the session. He did collect per diem of $152 per day for his expenses just like all other legislators.
Thompson was born and raised in North Las Vegas, leaving only when he went to college.
He is the regional initiatives coordinator for the Southern Nevada Regional Planning Coalition. His focus there is on preventing, addressing and ending homelessness in Southern Nevada.
Contact Capital Bureau reporter Sean Whaley at whaley@reviewjournal.com or 775-687-3900.