Brennan takes over top aquatics spot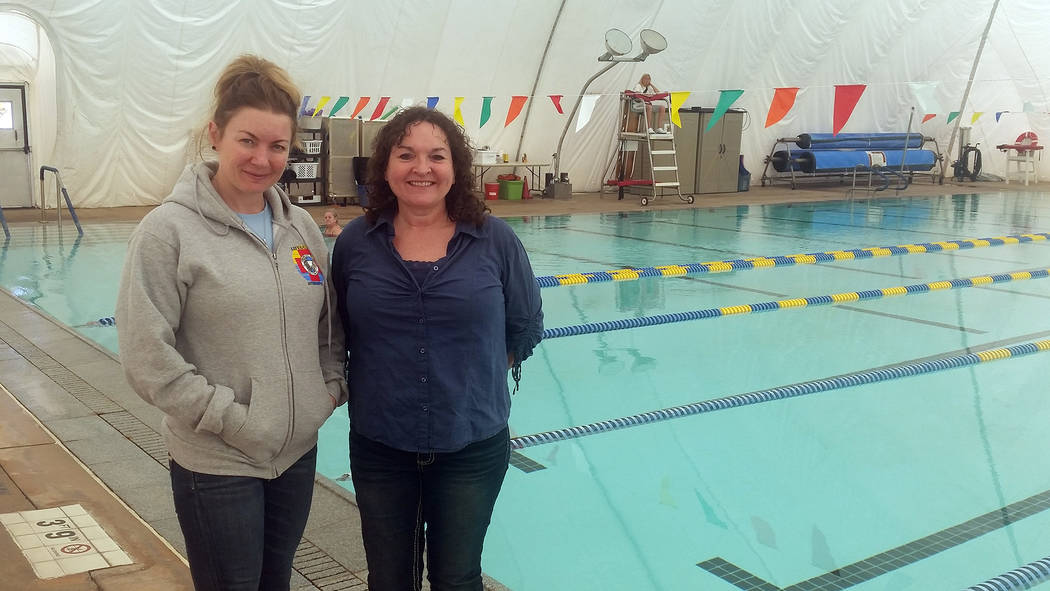 Boulder City has a new team leading the pool.
Recently, Cheree Brennan was named aquatic coordinator of the pool and Sarah Fecteau was named assistant aquatic coordinator.
A lifelong fan of the water, Brennan moved to Boulder City in 2014. One of the first things she did after moving to town was to check out the pool. She was hired as a lifeguard and swimming instructor soon after and has filled in as a water aerobics instructor.
"I'm excited … I feel like I have a lot to offer the position," she said of being the new coordinator.
Brennan said the pool's age is a challenge, but she is excited about it along what she is learning regarding the mechanical side of operating the pool.
As aquatics coordinator, Brennan said she wants to create a good team at the pool and build on it, as well as continue creating a positive work environment and increase programming.
She also plans to look at additional ways to bring more children into the pool (especially during the summer), have more opportunities for swimming lessons and add several more events to the calendar.
In 2015, Brennan was named assistant aquatic coordinator under former coordinator Jacob Andersen, who left the position in January.
"During the interview process after Jacob left, she came out as the No. 1 candidate for the position," said Parks and Recreation Director Roger Hall. "She will add consistency to the transition as patrons know and like her."
Another project Brennan will be helping with is the plan for the city's new aquatic and cultural center.
"It's a very interesting and fun project to have input in. … I think it is important for a facility to be multiuse," she said.
To fill the position she vacated, the city hired Fecteau as her replacement. "I have been a Boulder City resident for 30 years and grew up as a swimmer, lifeguard and coach at Boulder City Pool," she said. "I have three daughters on swim team and, as a coach for (Boulder City-Henderson) Heatwave Swim Team, I have a very vested interest in the success of our pool facility. The patrons of all ages are the most important to me."
Fecteau is responsible for assisting Brennan, supervising the cashiers, helping maintain the front desk environment, making the daily deposits, maintaining reports and statistical data and helping with programming events and classes.
"I am looking forward to creating a positive environment for the employees and helping to maintain the atmosphere for the patrons while we wait for our new facility," she said.
The Boulder City Pool and Racquetball Complex at Broadbent Park is open from 6 a.m. to 8 p.m. Monday through Thursday, 6-10 a.m. and 2-8 p.m. Friday and from 7:30 a.m. to 2 p.m. Saturday.
For information on adult lap and open swim times, contact the pool at 702-293-9286 or visit www.bcnv.org/242/Pool-Racquetball-Complex.
Contact reporter Celia Shortt Goodyear at cgoodyear@bouldercityreview.com or at 702-586-9401. Follow her on Twitter @csgoodyear.