Boulder City Review, parent Stephens Media to be sold to New Media Investments
February 19, 2015 - 2:47 pm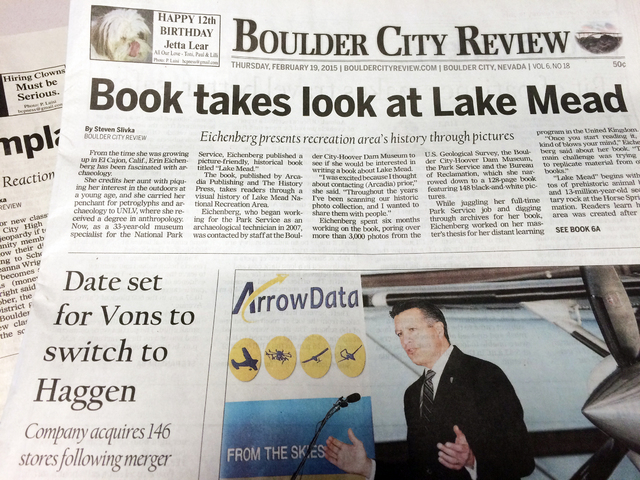 NEW YORK – New Media Investment Group Inc. announced today that it has reached an agreement to purchase substantially all of the assets of Stephens Media, LLC for $102.5 million in cash, subject to working capital adjustments. New Media intends to fund the acquisition with cash on the balance sheet and available capacity under its credit facility.
Stephens Media is a leading newspaper publisher operating eight daily newspapers, over 65 weekly and niche publications, and more than 50 websites serving communities throughout the United States. The assets have a combined average daily circulation of approximately 221,000 and 244,000 on Sunday.
Michael E. Reed, New Media's President and CEO commented, "We are pleased to announce the proposed transaction to acquire Stephens Media. The portfolio is anchored by an attractive set of print publications with a strong community focus, solid readership base and stable advertisers with limited customer concentration. These award-winning, daily newspapers are the trusted source of local news in their communities providing journalistic excellence for more than 100 years. We are very excited to welcome Stephens Media into our growing New Media family, and look forward to introducing new digital initiatives, such as Propel and BestRide into their markets, while simultaneously continuing their long-standing tradition of providing premier content to the communities they serve.
"In our first year as a publicly traded company, New Media has entered into agreements to acquire approximately $457 million of local media assets. We are very pleased that each of these acquisitions has met both our financial and operational criteria. As we begin 2015, we remain focused on operating the company to drive strong revenue trends while integrating newly acquired assets and assessing future acquisition opportunities. Looking forward, we feel very optimistic about our ability to continue to create tremendous shareholder value."
"I am extremely pleased for all of our employees," said Ed Moss, President and CEO of Stephens Media. "New Media is well positioned to build off of our company's successes and lead the organization to new heights with their strong portfolio of print and digital products and services. We have dedicated and talented employees that will prove to be great assets to the outstanding organization that New Media is building."
New Media anticipates the deal will close in the first quarter of 2015 subject to customary closing conditions; however, there can be no assurance as to the timing or the occurrence of the closing.
Stephens Inc. served as exclusive financial advisor to Stephens Media.
New Media Investment Group Inc. is focused primarily on investing in a high quality, diversified portfolio of local media assets, and on growing existing advertising and digital marketing businesses. The Company is one of the largest publishers of locally based print and online media in the United States as measured by the number of daily publications. As of September 28, 2014, the Company operates in over 370 markets across 27 states. New Media's portfolio of products as of September 28, 2014 include 450 community publications, over 370 related websites, and six yellow page directories, serve more than 130,000 business advertising accounts and reach over 14 million people on a weekly basis.