Boulder City native Taylor Blatchford crowned Miss Nevada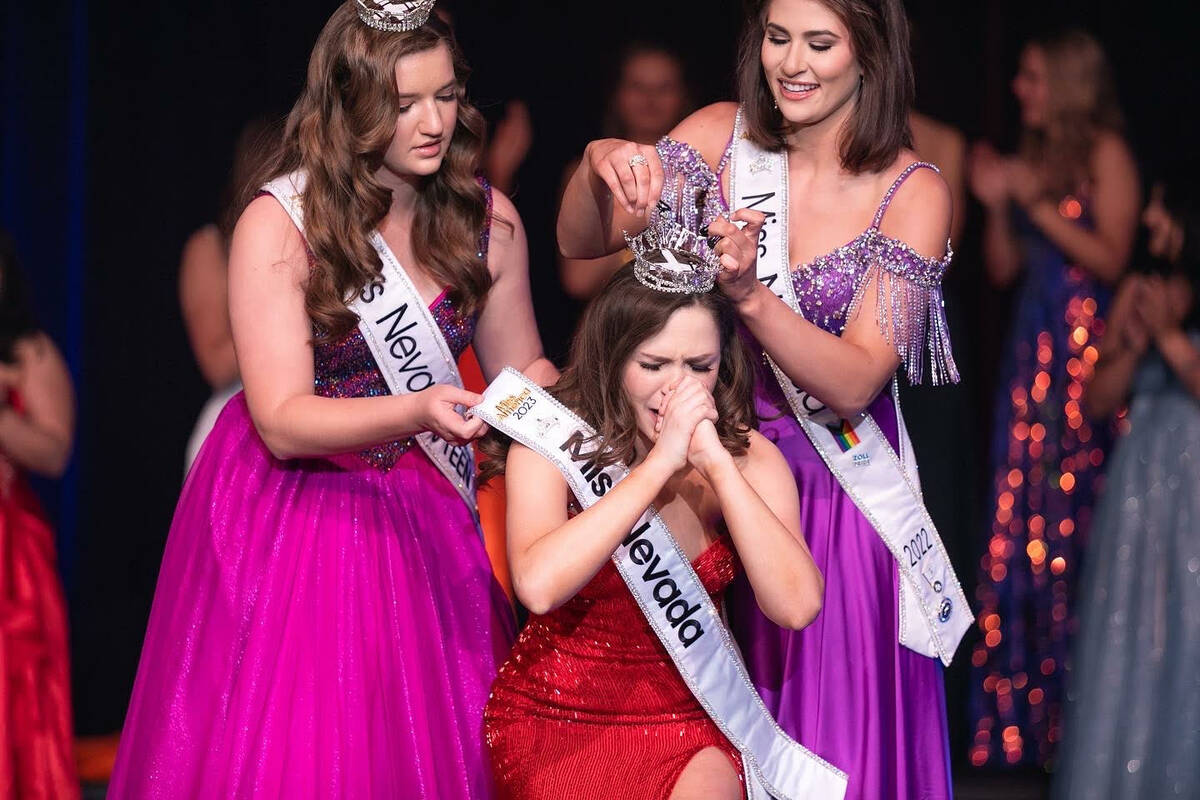 While it was just a few seconds, for Taylor Blatchford, it felt like an eternity.
As she stood on stage last Friday in Lake Tahoe, the 23-year Boulder City native waited to hear the announcer call out her number. If he did, she would know she was runner-up for the title of Miss Nevada. If he did not, then she would get the title and the crown.
He didn't.
"I was just so relieved because I had worked so hard and had done everything I possibly could to make that moment happen," she said. "I kept trying to breathe as I realized what had just happened. I was so aware of the moment and everything happening around me. It was such a surreal moment."
Has it sunk in yet?
"I think it has," she said. "Little things are starting to sink in day by day. It's sunk in that I'm Miss Nevada but realizing I'm going to the Miss America pageant, that's going to take some time to sink in."
While the Miss Nevada pageant itself was just two days, overall, the contestants were in the Lake Tahoe area for five days.
"It was great. I've been involved with the Miss America program in Nevada since I was 14, so I knew a lot of the contestants and have been friends with some a long time," she said. "So, it was kind of a reunion of sorts. It was amazing, and a great experience. We did a lot of fun things in order to ensure we got to know one another and we weren't just stuck in a ballroom rehearsing all day."
The segments of the pageant included a 10-minute private interview (Wednesday), physical fitness, evening gown, on-stage question and talent, of which hers is violin. She played a fiddle piece called "Millionaire's Hoedown."
"They give you 90 seconds for your talent so I played my little heart out during those 90 seconds," she said.
The 17 contestants could choose which segments they wanted to do Thursday and the rest Friday. Blatchford chose to do her talent Thursday and everything else the following day.
Unlike some states, Blatchford said in Nevada, while there are certain requirements like age range and residency, Miss Nevada does not require its contestants to qualify via other other pageants. On the other hand, for example, Blatchford went to college in Alabama, which does require its Miss Alabama participants to win regional pageants.
When she made it to the top five, she knew she needed to take a deep breath and focus because each of the five women were given a final question.
"I just kept telling myself, 'OK Taylor, stay calm and focus and there's plenty of time later to freak out," said Blatchford, a Las Vegas Academy graduate who now works for a public relations firm in Las Vegas.
The question she received was, "What would you do if your baggage got lost on its way to the Miss America pageant."
"I got a fun one, thankfully," she said, laughing. "I said I would go shopping once I got there. But then I got a little bit serious and said of course situations like this are what help prepare you to be a titleholder in the organization."
Following her "suitcase" question, they announced the winners of other categories that night, of which Blatchford won Best Overall Interview.
They announced the fourth runner-up, third runner-up, and second runner-up before the moment of truth.
"I was trying to stay calm and relax," she said. "I had always thought about that moment and what it would be like if I won. I expected that I'd be freaking out, crying and hyperventilating but interestingly enough, I did none of that."
As noted, when the winner was announced, they don't do so by calling out their name but rather their contestant number. Blatchford was No. 13 and the other finalist was No. 15.
"So, when I heard the 'fff' I knew I had won," she said with a wide grin.
Now that she's Miss Nevada, Blatchford will be busy doing the normal parades, ribbon-cuttings and talking to school and civic organizations. But a lot of her free time will be spent focusing on her community service initiative called Text 2 Regret: Reducing Online Risks, which focuses on protecting children when online. She has since turned it into a nonprofit.
One's platform is also a big portion of the Miss America pageant. She said any schools or youth programs that would like free internet safety curriculum can email her at missnevada@missnevada.org.
For being crowned Miss Nevada, she was awarded $8,500 in scholarship money. And though she is no longer in college, that money can be used to pay student loans. Overall, in the course of her time in the Miss America program, she's earned $18,500 in scholarship money.
"When I was 12, I saw my first Miss America pageant – that was my first introduction to it," she said. "It was just so captivating to me. And at 12, I already loved doing a lot of the things they were doing on stage. I started my journey as Miss Boulder City Teen in 2014. I guess it was just something I was drawn to."