Boulder City Library holds logo contest
October 31, 2013 - 4:01 am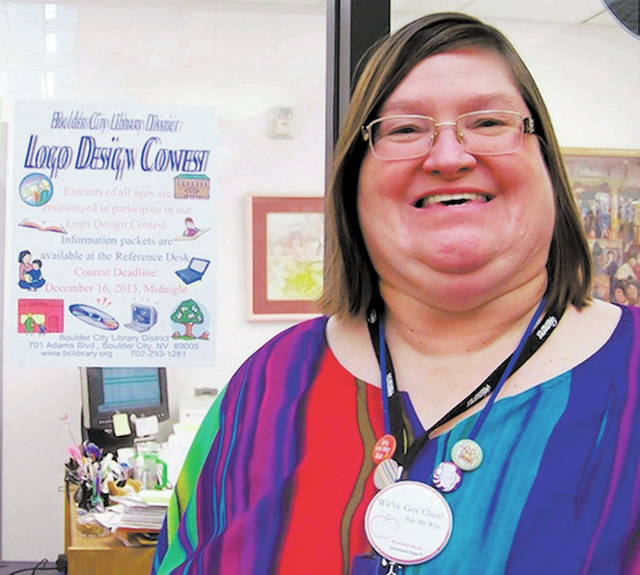 For the first time in its 70-year history, the Boulder City Library is asking the community to design not one, but two logos to express its mission: "The Boulder City Library strives to strengthen our community through access to information, entertainment and ideas, with a special mission to inspire a love of reading and learning."
The logo contest began Oct. 14 and was an idea that library Director Lynn Schofield-Dahl had been contemplating since her "early days" at the library. She wanted to initiate the logo contest "to help provide more visibility out in the public, so that we can have some kind of symbol which everyone in our area goes, 'Oh, this is something about the library.' "
The contest is looking for two logos, one to appeal to young readers, youth design, and the other, general design, for the older readers in the community. Contestants don't need to be a youngster to design the youth logo and vice versa. Entrants of all ages may submit up to three entries for the logo contest. Complete contest rules and an entry forms may be obtained at bclibrary.org/2013/10/library-logo-contest.
Schofield-Dahl sees the logo contest as a community, participatory effort "to provide more visibility (for the library) out in the public."
Although the library could have hired a design company to create a logo or purchased software to create the design, Schofield-Dahl wanted the community to be involved in this new look.
It is her hope the logos "will not only embrace the concept of what libraries have been for years (in regard to) books," but "will embrace the fact that we are part of the community and that we don't do only books," Schofield-Dahl said. "We have audio-books, and we have music recordings and we have movies, and we have computers."
A look at the Boulder City Library's website will provide residents with what the library directory is talking about. Pages list a catalog of free e-books, links for audio-books, databases arranged by topic, access to the Universal Class Library Edition of continuing education classes, detailed information regarding the Affordable Care Act, book lists, a calendar of events and even pictures of "The Cat in the Hat" and plates of "Green Eggs and Ham."
Schofield-Dahl is looking forward to using the new logos on increased signage throughout the library and the possibility of "rolling out new library cards" in 2014, complete with a new design. The winning logos also will be used on library stationery, on the website and on print and promotional materials throughout the library.
A note to entrants: Per the contest rules, all logo entries are simply that, no text accompanies the logo.
The winners will receive a certificate of appreciation, be recognized by the Boulder City Library board of trustees, receive a gift basket and a coupon good for a year of no library fines.
The Boulder City Library logo contest runs through Dec. 16, and applications are available online or at the library. For more information, call 702-293-1281.
The Boulder City Library District is not a part of the municipal government or the Las Vegas-Clark County Library District.
"We are our own, separate taxing entity," which existed before the Las Vegas-Clark County Library District, Schofield-Dahl said.