BC's Jack Johnson wins Outstanding Journalist
October 3, 2013 - 6:42 am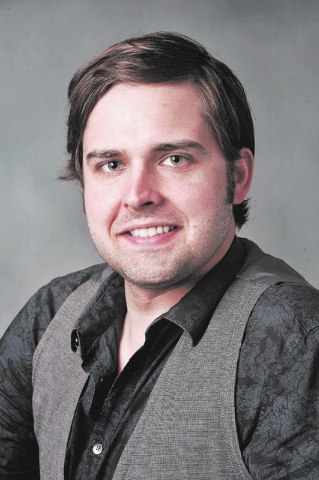 Boulder City Review staff writer Jack Johnson has been named the 2013 Outstanding Journalist in the Nevada Press Association's "Better Newspaper Contest."
The 28-year-old Johnson, who joined the Boulder City Review in 2009, was surprised to be given the award.
"It's great. It was unexpected news. I half-jokingly told (editor) Arnold (Knightly) to enter me in the outstanding journalist category and the next thing I knew I won," Johnson said.
With Boulder City having a busier year than usual, newswise, in 2012, Johnson said that aided the quality of his work and helped it stand out.
"Last year was a really good year for news in Boulder City," Johnson said. "We had a lot going on with the Mongols Motorcycle Club coming to town — that was a big event in Southern Nevada. Then the police chief got mixed up in a lawsuit with the city and that was big news. A friend of a lot of people in town (liberal activist and attorney Ralph Denton) passed away."
In addition to the busy year, being raised in Boulder City is something that Johnson mentioned helped him get stories where others without the local tie might not.
"Fortunately, I have been here (Boulder City) long enough to have the necessary contacts and access to turn some of these news events into some good journalism," Johnson said. "I don't think everybody had the access that I had on some of the stuff just purely because I've been here for so long. I already knew a lot of these people that these stories involved; I already had a working relationship with them before the stories happened."
Being a journalist wasn't always Johnson's plan as he was growing up in Boulder City. It wasn't until late in his collegiate career that he chose his major, partly because the journalism field had exposure to different subjects.
Johnson said journalism was a good choice for him because every day is different and it allows him to dip his toes in lot of people's lives who have different backgrounds, careers, interests and beliefs.
"It's a career that doesn't feel like a career," he said. "I always have been able to write well enough; and you know it took three or four years at UNLV, I didn't declare a major until last minute. I just took a bunch of classes all over. I mean I took science classes, I took music classes, I took business classes; and when I had to declare I ended up declaring a business major for a little while and that was terrible."
A chance meeting with members of a Las Vegas publication helped solidify Johnson's declaration of a major and set his career goals on track.
"I think one of the biggest things that happened is I met the staff of (Las Vegas) CityLife at a bar," Johnson said. "I was just getting into journalism school and I approached them and asked if they needed an intern and they did.
"It was pretty easy, I just walked into an internship with CityLife when everyone else was writing for the Rebel Yell (UNLV's school paper). I think kind of getting that open door right at the beginning really helped."
After a few years of freelancing for CityLife an opportunity came up in Boulder City and Johnson happened to have good timing, netting him his first full-time journalism job.
"So I was in the right place at the right time," he said. "I got the job when they needed a staff writer out here (in Boulder City) and I've been writing for the Boulder City Review for four years coming up in November."
Writing for a small-town paper has its pluses and its negatives Johnson said; and sometimes those can be both in the same.
"I think the pluses are you have a lot of interaction with your readers," he said. "I mean we're right here in downtown Boulder City and if somebody doesn't like something (you write) they can walk in the door and tell you, and a lot of the time they do.
"The flip side of that is if somebody does like you. … There's always people walking by our door and sometimes our door is open and people yell 'I read the paper every week. Good job!' So there's just a lot of interaction and that can be good or bad."
Knightly, who recently left the Review to become editor of CityLife, credits Johnson for the majority of the newspaper's success.
"I was fortunate when I came here in August 2010 that Johnson was already here," Knightly said. "Growing up here, he knows where a lot of the 'bodies are buried.' He also has a familiarity with people who have been involved with many of the people involved in the stories the past few years."
Johnson has earned numerous Nevada Press Association awards during the newspaper's first four years. He won the best entertainment writing category for community newspapers from 2010 to 2012, and won for best sports feature in 2011.
He has also earned three second-place and six third-place awards during his tenure.