BCR takes top honor in state contest
October 3, 2018 - 5:03 pm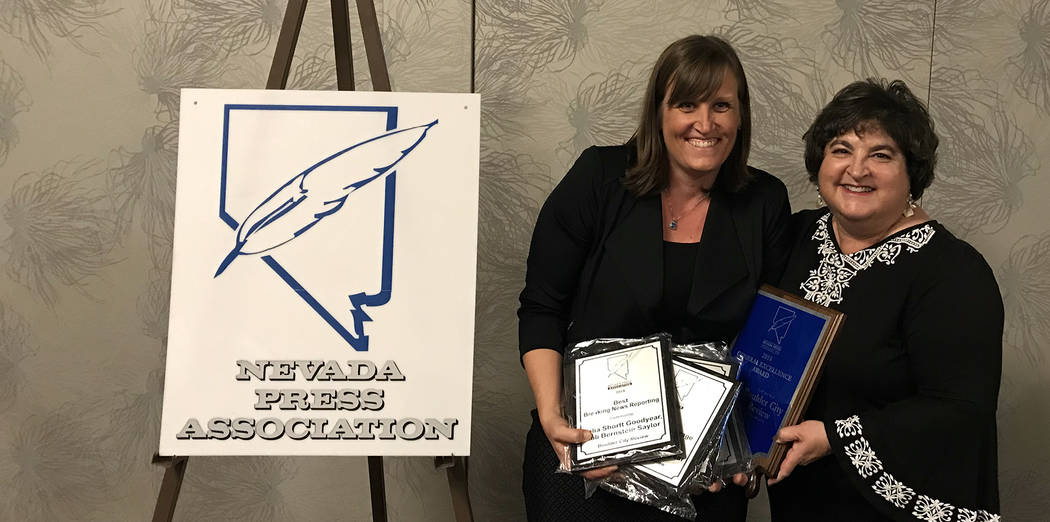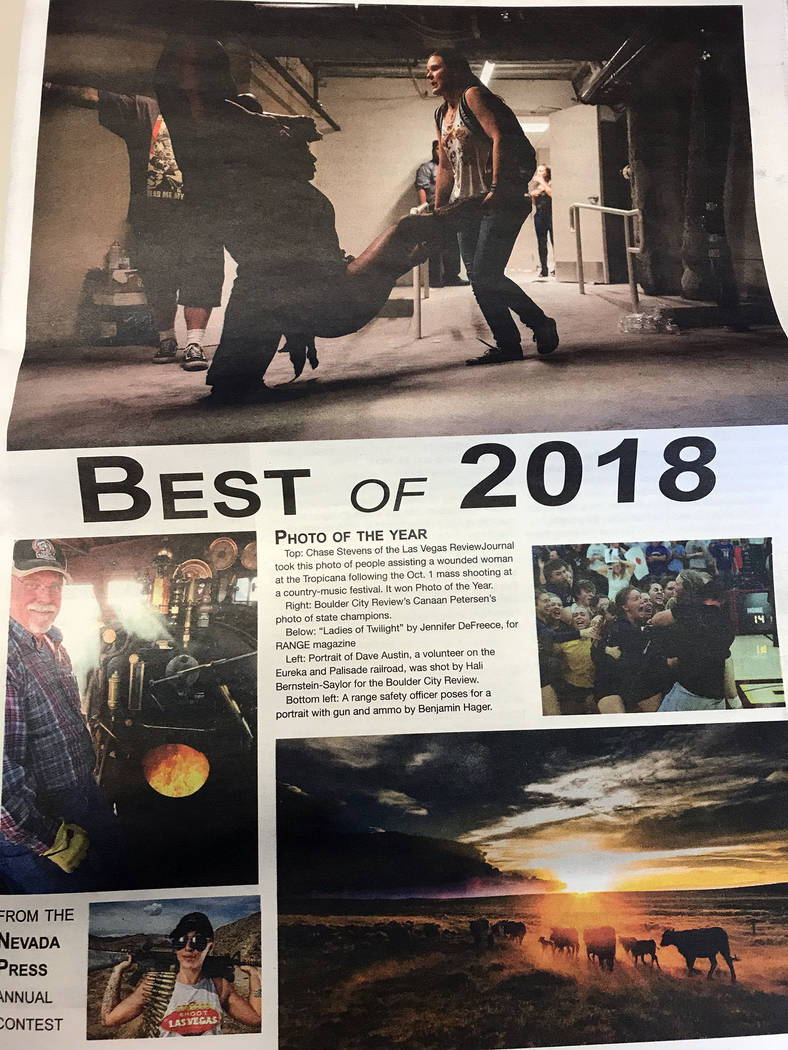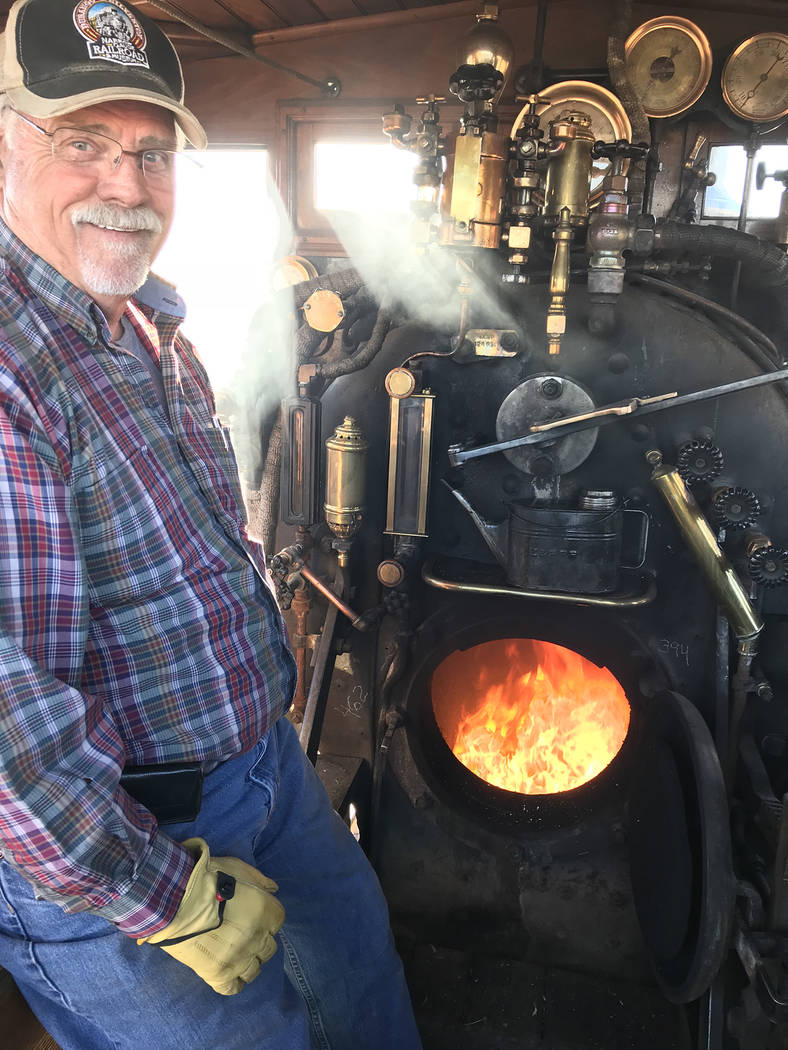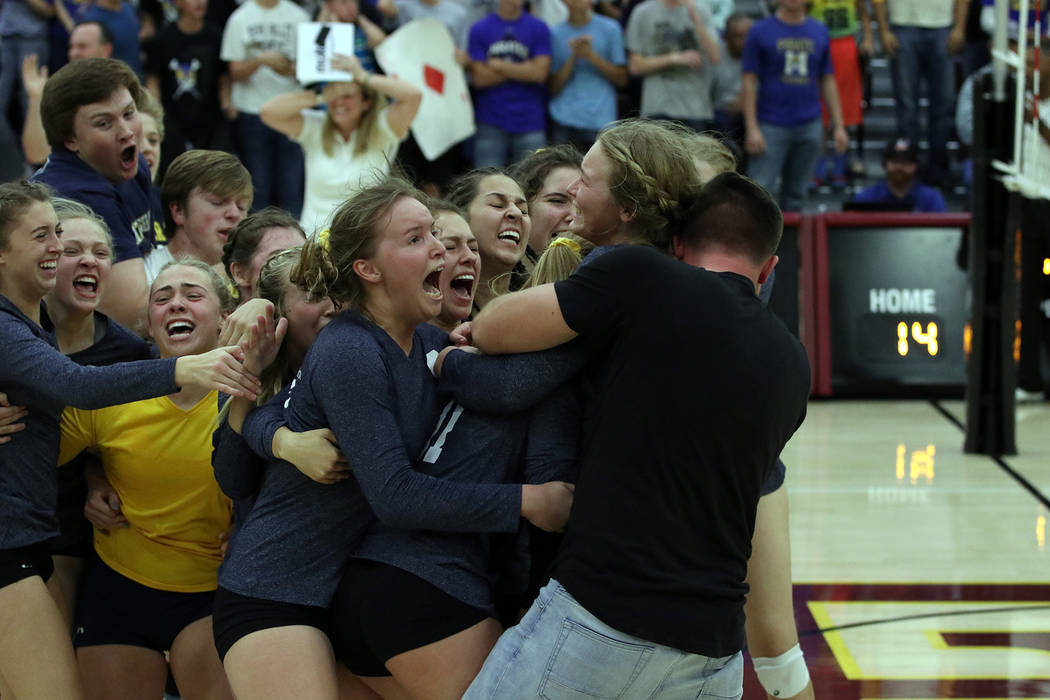 The Boulder City Review received the Nevada Press Association's top award for general excellence in its 2018 Better Newspaper Contest.
Overall, the paper and its staff earned 20 awards: eight first-place honors, six second-place honors and six third-place honors in its circulation division.
The awards were presented Saturday night during the association's annual awards banquet at Palace Station in Las Vegas.
In awarding the paper the general excellence award, the judges wrote, "Clean and consistent, good editorial content and well-written editorial made this newspaper stand out."
"I'm proud of the work we have done in the past year to keep the community informed and deeply honored to have been recognized by our peers," said Editor Hali Bernstein Saylor. "We will continue to work diligently to focus on the news and events that matter to the people of Boulder City."
Bernstein Saylor earned four first-place awards, including the top honor for best breaking news story, which was shared with reporter Celia Shortt Goodyear for their story about city Administrative Assistant Bryce Boldt admitting to an ethics violation.
"City hall can be one of the most mundane beats we have, but it's also one of the most important. It takes skill to convey egregious ethics violations our readers and why they matter — these reporters nailed that," the judges wrote. "Extra kudos on including the public documents at the end of the story."
"Being recognized by the Nevada Press Association is truly an honor. These awards are some of the first of my career, and I'm so thankful for this opportunity to showcase the quality journalism in Nevada," said Shortt Goodyear.
Bernstein Saylor's other first-place honors were for best news feature for her story about Boulder City's new mounted police unit and best portrait for her photo of Dave Austin, a volunteer engineer on the Eureka and Palisade steam locomotive.
In awarding her the top honor for best news feature, the judges wrote "the humor and heart shown in this very well-written piece gave it the edge over competitors."
She also won first and third place in the combined community and intermediate divisions for headline writing. Judges said her word play pushed her entries over the top in this category. "Lots of clever use of words and puns — laugh out loud funny," they wrote.
Shortt Goodyear won a first-place honor for best news photo for her photograph of the tribute to slain Metropolitan Police Department officer Charleston Hartfield, who was killed Oct. 1 during the Route 91 Harvest country music festival.
"A good read with immediate impact," the judges wrote about her photo.
The Boulder City Review swept that category, with contributor Paul Luisi taking second place for his photo of Air Force One arriving at McCarran International Airport after the October mass shooting and Bernstein Saylor earning third place for her photo of the solar eclipse viewing event at Lake Mead National Recreation Area.
Page Designer Pam Killinsworth, who works in the Las Vegas office, received first place for best overall design of the paper.
A photo of Boulder City High School's girls volleyball team winning the state championship taken by former BCHS teacher and yearbook adviser Canaan Petersen won first place as the best sports photo.
Bernstein Saylor won second-place awards for best local column, best portrait for her picture of Boulder City Police officer Scott Pastore and his horse Odie and best feature writing for her piece about 96-year-old Virginia Mahaney's motorcycle ride.
Shortt Goodyear won a second-place award for best investigative story for her article about the city possibly flouting its own code.
"Great work on this story of enormous importance to the community, from a financial perspective and otherwise," the judges wrote.
Third-place awards were presented to Bernstein Saylor for best explanatory journalism for her story about the construction of Interstate 11, and to Shortt Goodyear for best news feature story for her article about Boulder City Police officer Tiffany Driscoll's efforts to save a 1-year-old boy, best feature writing for her article about NASCAR driver Joey Gase who honors local organ donors at each of his races and best business feature for her article about Fisher Space Pen's sales of pens to raise money to help victims of the Route 91 shooting.
The Boulder City Review, along with its parent company, the Las Vegas Review-Journal, and its sister publications, received 128 awards.
"Our work really makes a difference in the lives or our readers," Review-Journal Publisher and Editor Keith Moyer said. "We've built an incredible team and assembled the most talented and dedicated newsrooms in Nevada."
Members of the Wyoming Press Association judged the contest. There were more than 1,300 entries.
Hali Bernstein Saylor is editor of the Boulder City Review. She can be reached at hsaylor@bouldercityreview.com or at 702-586-9523. Follow @HalisComment on Twitter.
2018 Nevada Press Association Better Newspaper Contest awards
General Excellence
First place
Best Breaking News Reporting
First place: Celia Shortt Goodyear and Hali Bernstein Saylor
Best News Photo Coverage
First place: Celia Shortt Goodyear
Second place: Paul Luisi
Third place: Hali Bernstein Saylor
Best News Feature Story
First place: Hali Bernstein Saylor
Third place: Celia Shortt Goodyear
Best Headline Writing
First and third place: Hali Bernstein Saylor
Best Investigative Story
Second place: Celia Shortt Goodyear
Best Feature Writing
Second place: Hali Bernstein Saylor
Third place: Celia Shortt Goodyear
Best Editorial Page
Second place
Best Business Feature
Third place: Celia Shortt Goodyear
Best Portrait
First and second place: Hali Bernstein Saylor
Best Explanatory Journalism
Third place: Hali Bernstein Saylor
Best Sports Photo
First place: Canaan Petersen
Best Overall Design
First place: Pam Killinsworth
Best Local Column
Second place: Hali Bernstein Saylor