BCPD promotes Tomao, Driscoll to sergeant
October 3, 2018 - 4:55 pm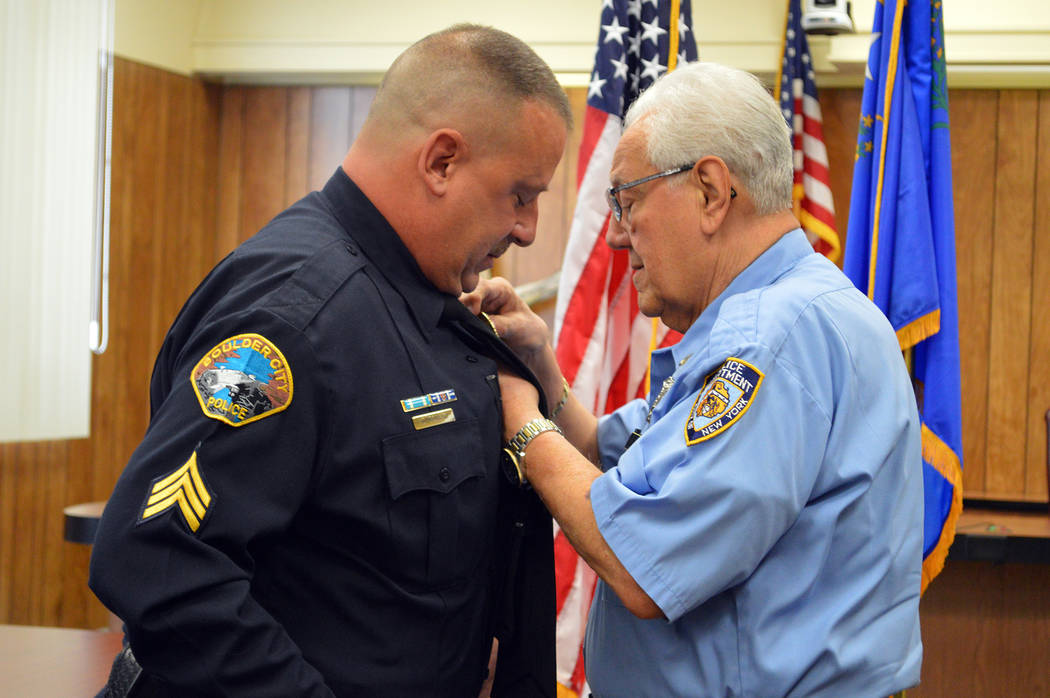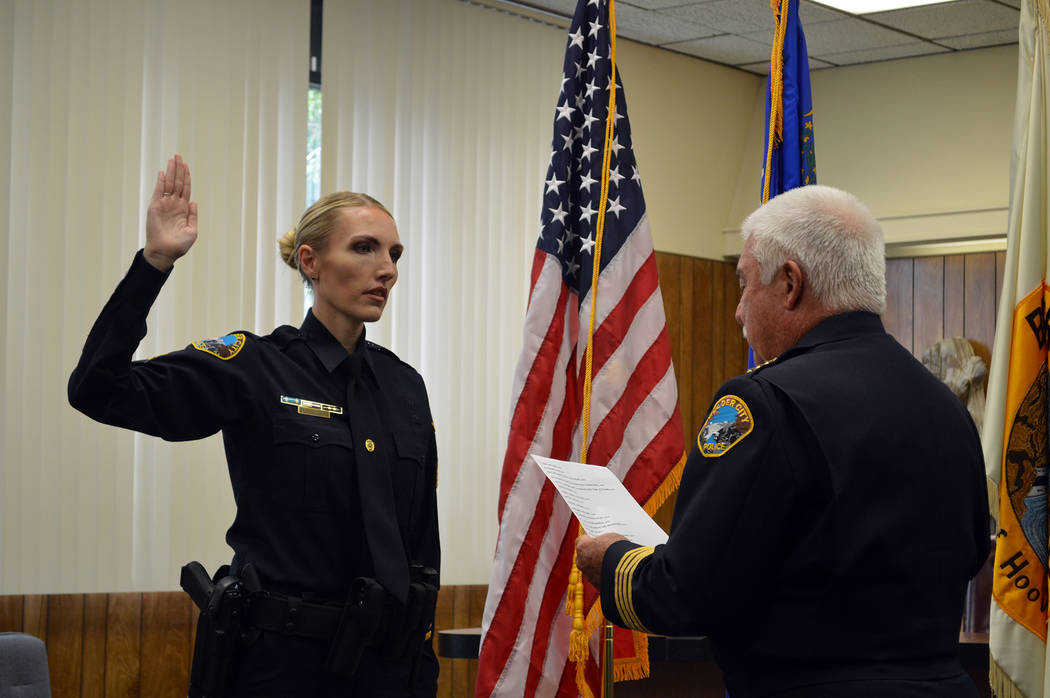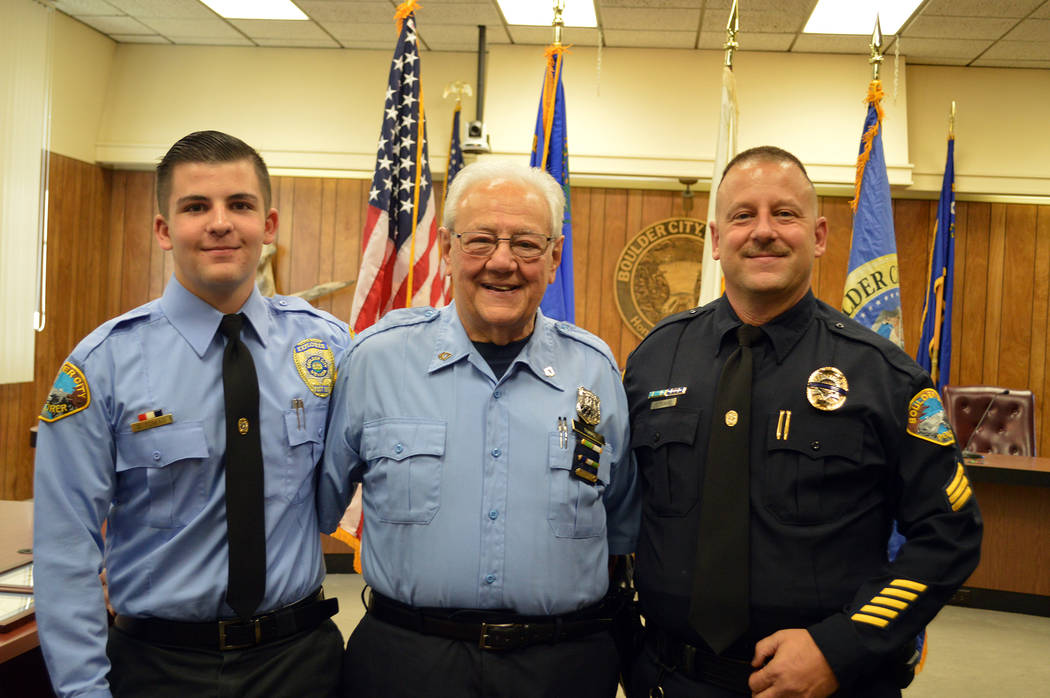 A longtime Boulder City Police officer made his father and his son proud this week as he was promoted to sergeant.
"If you wanted to be a police officer, I'd break both your legs," is what retired New York City Police officer George Tomao said he told his son, Craig, when he was growing up.
Craig Tomao, however, decided to go for the job.
"I grew up around law enforcement," he said. "My scoutmaster, Joe Schaffer, was a Metro officer. I started to do ride alongs and knew it was the career for me. … The thought of truly making a difference in a neighborhood/person's life was very appealing."
From 1990-97, Craig Tomao attempted to become a police officer.
"It was much more difficult back then," he said. "Seventeen hundred people testing for 75 positions."
In 1997, he made it to the North Las Vegas Police Department, but failed in the last phase of field training. He joined the Boulder City Police Department in 1998 as a reserve officer and became a full-time officer in 1999. On Monday, Oct. 1, he was promoted to sergeant and his father pinned his new badge on him during the ceremony before family, friends and community members at City Hall.
"I had slacked off on giving him a hard time," said George Tomao about his son's career. "It was good though. I know the job made a better person of you when you are out there helping other people. … He's been in there. He knows the incidents. He knows the danger of what's out there."
Helping and interacting with the community is one of Craig Tomao's favorite parts of working in Boulder City.
"I absolutely love this community. … I'm humbled to be standing in front of you, getting my stripes," he said Monday.
Craig Tomao has worked in a variety of roles for the department, including as an officer and a detective, and said he applied for the sergeant position because he felt like it was time to move in a different direction.
"I thought it was time for me to lead a squad," he said.
Throughout his career, Craig Tomao would go to his dad for advice and help when he needed it. George Tomao said he helped when he could.
George Tomao said he taught his son ask questions twice when talking to suspects. It game them less opportunity to answer with a "huh."
"Something as simple as that makes it (a call) easier to handle," George Tomao said.
"That's absolutely true to this day," agreed Craig Tomao, who added he uses that technique every day.
Craig Tomao's 18-year-old son, Domenic Tomao, is involved the department as a member of Explorer Post 198.
"It was well-deserved for sure," Domenic Tomao said of his dad's promotion. "He deserved it. He worked for it and I'm proud of him."
Like his father and grandfather, Domenic Tomao said he enjoys working with the community and wants to be a police officer.
"I think it would be good going from grandpa to father to son," he said.
Also getting sergeant stripes and being sworn in Monday was officer Tiffany Driscoll, who was Craig Tomao's trainee.
"I'm humbled," she said of being sworn in the same day. "I feel like he and I represent the department really well. We have a passion for the city."
Boulder City Police Chief Tim Shea said police sergeants are the ball bearings of the department.
"In the world of police work, the rank of sergeant is one of the hardest to fill. … It's a stepping stone for the future and I know they're capable of big things," he said.
Additionally, Joseph Negri was sworn in as a reserve police officer.
Contact reporter Celia Shortt Goodyear at cgoodyear@bouldercityreview.com or at 702-586-9401. Follow her on Twitter @csgoodyear.