BCHS budget for next year leaves staffing levels unchanged
February 14, 2018 - 4:47 pm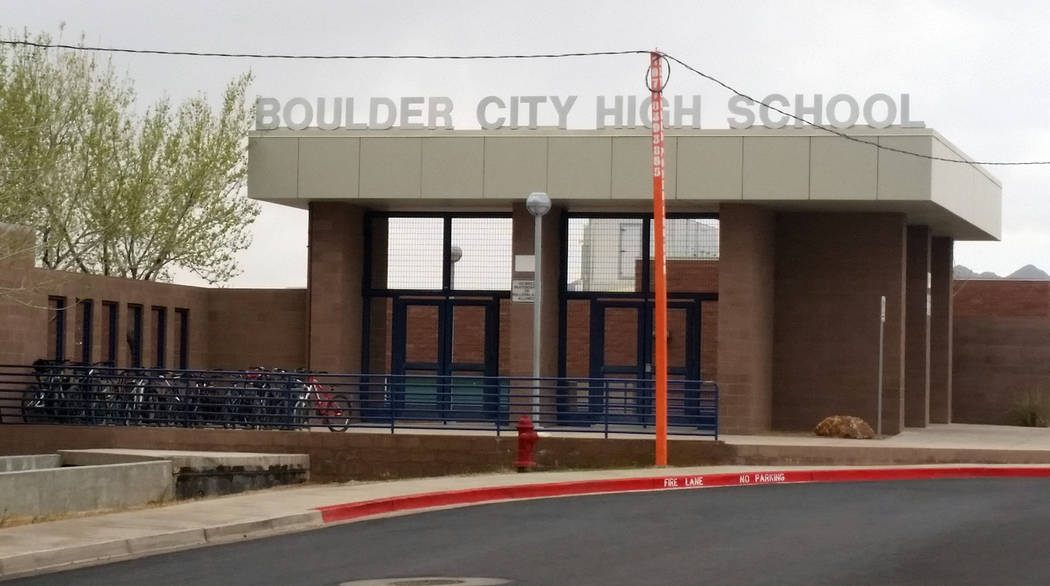 Boulder City High School will not lose or gain any teachers or administrators for the 2018-2019 school year.
The Clark County School District recently released the school's budget, which is based on a projected enrollment of 599 students.
The high school's organizational team approved the budget at its Feb. 7 meeting.
In presenting the $3,434,172 budget, Principal Amy Wagner said the school can remain at its current staffing levels. If enrollment changes on the 2018 count day, the budget will be adjusted accordingly.
Last year, the school was projected to have 587 students, but it had 630 on count day. According to Wagner, there are currently 620 students enrolled at the high school. The organizational team approved eliminating three teacher positions last year to meet its budget but was able to add in some classes when enrollment was higher than predicted.
The budget also includes approximately $40,000 to pay teachers to work during regularly scheduled preparation periods. Wagner said that it costs approximately $10,000 per teacher because it is based on the teacher's specific rate of pay.
Student member Maggie Clary asked whether those extra teaching opportunities included art classes.
Wagner said that they did, but she did not know which classes would be offered until school staff talked to prospective ninth-graders in March.
If the school does need teachers to teach during their prep periods, the money will go back into the supplies portion of the budget, she said.
In addition, the 2018-2019 budget includes money designated by the district for additional nonlicensed staff, like custodians, for a "better transfer of responsibilities," according to Wagner. The money cannot be used for anything else.
Wagner also presented the high school's performance plan. The performance plan and budget are part the school's plan of operation for the 2018-2019 school year, which was due back to the district by today, Feb. 15.
The school performance plan includes three main goals: Increase the percentage of students graduating; increase the number of students enrolled in Advanced Placement and dual credit classes and career technical courses; and increase the percentage of school-based personnel trained in cultural competency.
Last year, the school had more goals, but Wagner said they were streamlined this year. The organizational team unanimously approved the plan of operation, which was submitted to Clark County School District Associate Superintendent Jeffrey Hybarger for approval.
Contact reporter Celia Shortt Goodyear at cgoodyear@bouldercityreview.com.