BC man keeps poker face chasing big money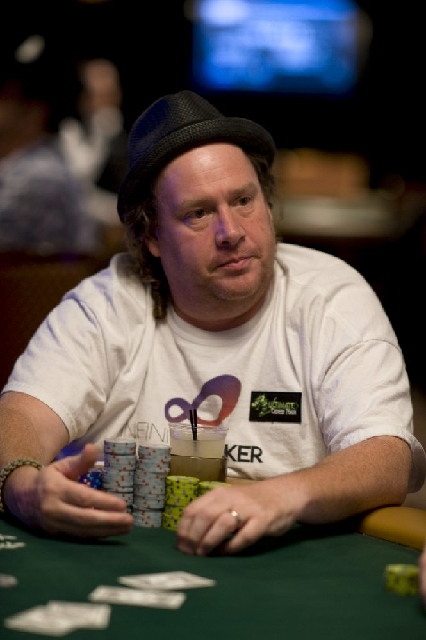 When one of the most lucrative poker tournaments in the world starts this weekend at the Rio , at least two local residents will be chasing the multi million-dollar dream.
The $10,000 buy-in no-limit Hold 'em World Championship, more commonly called the Main Event, starts Saturday with opening tables running through Monday.
Boulder City resident Arnold Spee will be seeking his second cash in the Main Event, his first coming in 2010 when his 356th-place finish netted him $36,463.
The other, professional poker player Gavin Smith, will be seeking his sixth Main Event cash, the last coming last year.
Smith lives tucked away on a quiet cul de sac on the east part of town with a wife and two young children. Smith, who says he has won more than $6 million at poker tables during his career, has been spending his days since late May grinding out 12-hour stints at the poker tables at the World Series of Poker, widely considered poker's premier event.
Smith had his first World Series of Poker cash in 2003, a $3,260 payday for finishing 16th at a $2,500 buy-in Limit 7 Card Stud event.
The 44-year-old Canadian-born player, who didn't start playing poker until he was 30, has seen 32 cashes totaling $1.13 million during his 11 years playing the tournament, winning a World Series of Poker bracelet. He won the $2,500 Mixed Hold 'em Limit/No-Limit event June 26, 2010, cashing $268,238 to earn the coveted bracelet, which is only given to event winners.
"The bracelet, there's so much history involved," Smith said. "I was sick and tired of every year of being on lists of one of the best players to never win a bracelet."
Smith has four cashes in this year's series, which includes 62 events starting May 29, the best being a $34,268 payday for a seventh-place finish in the $5,000 buy-in Seven Card Stud Hi-Low Split-8 or Better event, which ran June 5-7.
But it the Main Event that starts this weekend that is the big prize for Smith, and all poker players.
Last year he earned $62,021 for finishing 96th out of 6,598 entries. The prize pool was $62 million, and the winner took home $8.5 million.
With the field made up of so many amateur players, Smith said it is becoming harder for real poker pros to win the event.
"It's sup erhard for a pro to win (the Main Event) because there's so many amateurs in it," Smith said. "The Main Event is basically like a lottery now. There are so many people playing it, the only difference is the pros get more tickets to the lottery."
Smith's first cash in the Main Event came in 2004 when he won $45,000 for finishing 52nd. There were 2,576 entries that year for a prize pool of $24.2 million. Other than 2012 and 2004, Smith also cashed in the Main Event in 2005, 2007 and 2010.
Smith moved to Boulder City two years ago to help take care of his wife's mother, a long time resident. Smith said his wife went to Garrett Junior High one year.
While the Main Event brings the poker world to Las Vegas, Smith plays the World Series of Poker circuit events, as well as other events, after his run in the Maine Event ends. He's earned $436,707 on the World Series circuit, but his largest payday came in 2005 with the World Poker Tour. He won the tour's Mirage Poker Showdown bringing home $1.3 million.
"Winning the million allows me to do this for the rest of my life, if I want," said Smith, who also has an endorsement deal with online poker room Infinity Poker.
Smith is backed by a fellow player who pays Smith's entry fees and receives a portion of Smith's winnings in return.
"There's a lot of peaks and valleys in playing poker," Smith said. "If you get a backer, it takes out the variance. You'll go a long time without winning, then you'll win in bursts."
Smith said if he enter 25 events during the World Series, he will only cash "three or four."
"If you don't understand that there's peaks and valleys in this business you just won't last," Smith said.