Bankruptcy court OKs sale of Boulder Inn, trailer park
December 9, 2015 - 5:04 pm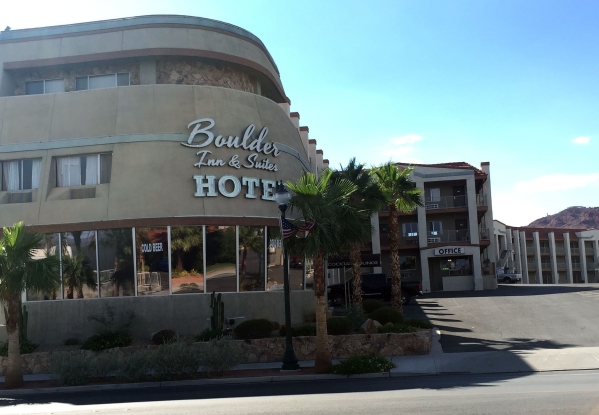 The sale of the Boulder Inn and Suites at 704 Nevada Way and the trailer park at 1501 Nevada Highway was approved by bankruptcy judge August B. Landis on Dec. 2 in a Las Vegas courtroom.
The Boulder Inn and Suites, owned by AMC Property Holdings, was sold to Balbir Gosal in the amount of $1.51 million, while the mobile home park owned by Stanley K Holdings was sold to RPS Homes Inc. for $1.4 million.
Gosal and Schams outbid multiple companies to gain ownership of each property. Gosal outbid the Pioneer LLC, whose bid was $1.5 million. Schams outbid Boulder Dam Credit Union, which submitted a bit of $1.375 million.
Teresa Pilatowicz, a member of the business restructuring and bankruptcy department of the law firm Garman Turner Gordon LLP, said both payments — as well as the original Boulder Dam Credit Union 2010 loan to Anneliese Caruso for just under $3.7 million — are being held by the trustee pending further court decisions about who should receive that money.
Greg Garman, who represented the debtors in this case, informed the court that Caruso filed an individual Chapter 13 bankruptcy proceeding the morning of the hearing.
It was unclear to Garman if the filing would have anything to do with stalling the court proceedings because Caruso no longer has any ownership over what was being sold.
Landis agreed, saying, "The court's aware and has been made aware of the filing by Ms. Caruso. It was a Chapter 13 voluntary petition filed by John E. Field of Field Law Firm. I'm aware of it, but in the context of this motion, i'm uncertain that — if at all — it impacts my ability to resolve the sale motion."
Gosal, who resides in Northern Nevada, owns a chain of motels in Reno, while RPS Inc, is owned by Boulder City resident Randy Schams.
Landis ruled that both properties were clear of liens, and purchases were executed without collusion and made in good faith.
"The sales are the right remedy for what's at stake," he said.
Boulder Dam Credit Union representatives were at the hearing to try to delay the sale in hopes of retaining the property, but Landis said that with all evidence presented, the sales of both properties would go on as planned.
There was a third agenda item in the two bankruptcy hearings that came unexpectedly. All parties involved requested that the Las Vegas-based Norton Consulting and Investigators be retained to provide security at the hotel property.
Garman said he spent "a holiday morning" evicting an operating company at the 113-room hotel. Originally, a management company had signed a lease after the owners filed for bankruptcy to continue operations at the hotel.
Garman said the "insider management company" didn't comply with that lease, and he was required to evict the firm. Bankruptcy court trustee Brian Shapiro then took possession of the Boulder Inn and Suites with the help of marshals in Boulder City, according to Garman.
"It was immediately necessary for all assets to be protected," Garman said. "There have been a number of incidents. This is a case in which motorcycle gang problems and others are in its history."
Two separate invoices, in the amounts of $5,800 and $7,069.71, were to be paid to the security company.
— Contact reporter Randy Faehnrich at rfaehnrich@bouldercityreview.com or at 702-586-9401. Follow him on Twitter @RandyFaehnrich.