Bank of America to close local branch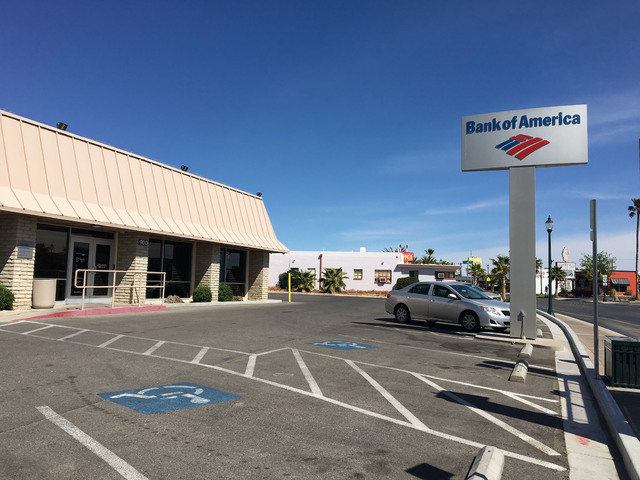 After a decline in regular business, Boulder City's Bank of America branch is closing this summer, the company announced to customers in a letter sent out last week.
After careful consideration, the company has decided to close its Boulder City branch on July 12, Bank of America spokeswoman Colleen Haggerty said Tuesday.
"The decision to close a banking center is never an easy one, and is driven primarily by a decline in routine transactions that take place over the counter," Haggerty said.
The decision comes as fewer and fewer customers handle their banking at financial centers and instead opt for platforms like mobile and online.
"We notify customers by letter at least 90 days in advance … outlining their banking options and any steps they need to take," Haggerty wrote in an email Tuesday. "Customers can still access all deposits and account services online, by mobile phone, or at other financial center locations, and the closure does not impact automatic deposits or bill pay withdraws."
While Haggerty emphasized many customers are choosing to bank online recently, businesses that make regular, in-person transactions will be inconvenienced.
Bank of America customer Daniel Cline lives and works in Boulder City and said the business he works for makes daily deposits at the branch at 900 Nevada Way.
"It's going to be quite a drive to the next closest one," he said of the local bank's closure.
Beginning July 13, employees will have to drive "all the way down the hill" every day to the Bank of America on Boulder Highway and East Horizon Drive, about 9 miles from the Boulder City branch, he said.
As for bank employees' futures, "when a financial center closes, we work to minimize the impact for our employees, and will provide various forms of assistance to those impacted, including helping them find other opportunities within the company," Haggerty said.
As more customers make more of their routine transactions outside Bank of America's physical branch, "we will continue to adapt our financial center network to fit the customers' changing banking behaviors," Haggerty said.
Contact Kimber Laux at klaux@bouldercityreview.com or 702-586-9401. Find her on Twitter: @lauxkimber