Ballot questions move forward
February 28, 2018 - 4:09 pm
Updated March 1, 2018 - 10:55 am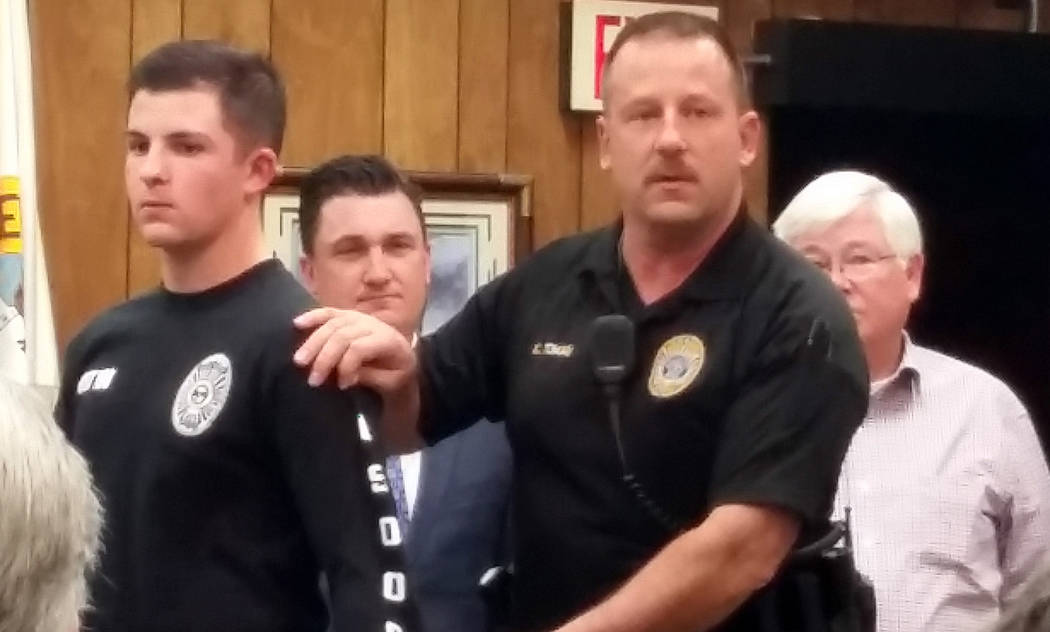 City Council is moving forward with several ballot questions for the 2018 election, seeking locals opinions on refinancing debt, land sales and purchasing a new fire engine.
One question presented at Tuesday's City Council meeting involved allowing the city to refinance debt to save money. According to city code, Boulder City cannot incur any new debt of $1 million or more without voter approval, and the city's bond counsel considers refinancing existing debt new debt.
Resident Judy Dechaine said she did not see the need for a ballot question as city code, section 1-9-12 paragraph E, allows the council to annually review all its outstanding debt obligations "to evaluate possible savings to be attained from refunding existing debt." The code also said that refunding debt obligations should be pursued at anytime where it is "financially advantageous."
Mayor Rod Woodbury agreed and said that he always believed the city had the ability to refinance debt but the bond counsel does not agree.
"We're left with what bond counsel will do. … if bond counsel doesn't agree with us, no one will lend to us," he said.
Currently, the city has one remaining debt of approximately $26.1 million in principal for its raw water line. It also has approximately $9.8 million more debt in interest for that loan.
According to a staff report from the Dec. 12 City Council meeting, City Clerk Lorene Krumm said that the city's financial adviser, Marty Johnson, approached the city in 2016 and estimated it could have saved more than $3.5 million had it refinanced the debt then.
If the debt is refinanced within the next year, and depending on interest rates at the that time, the city could save an estimated $2.5 million to $2.75 million.
Council unanimously approved the ballot question.
In a vote of 4-1, council also approved having voters weigh in on whether to use $750,000 from the capital improvement fund to purchase a new fire engine.
Prior to casting the dissenting vote, Councilman Kiernan McManus said his preference is to not use capital funds because it is an item that will be replaced rather than being a one-time purchase.
In another 4-1 vote, council approved putting a question on the ballot about selling 1.72 acres of city owned land at 1401 Boulder City Parkway, site of the old Boulder City airport.
Before the vote, McManus said that this property, along with 1.92 acres at 300 Railroad Ave., the site of the old water filtration plant, have been city owned for 33 years and nothing has been done with either.
"You say we can't save everything but haven't done anything to save those pieces of property," he said.
He also said that without deed restrictions for the property being on the question there were no guarantees about what would happen to the land. In addition, he said that property could be significant once the complete streets project moves forward.
Councilman Rich Shuman asked how deed restrictions work and whether the city is mandated to sell the property if the voters approve it.
Woodbury said deed restrictions could be placed on the request for proposals for the land when it is issued.
Acting City Attorney Steve Morris said the ballot question would give the council the authority to sell the land, but not require it to do so.
Historic Preservation Committee Chairman Alan Goya said he agreed with attempting to sell both properties so a sustainable use could be found for them. In addition, he said he was glad the council and the public were discussing the properties.
For the old water filtration plant property, council unanimously approved a staff directive to bring back options for deed requirements as well as options for parceling off Reflections Park.
Also at Tuesday's meeting, council:
■ Heard a presentation on moving the city's election cycle to even numbered years and agreed to place the idea on a future council agenda to solicit more public input.
■ Approved a ballot question amending the charter pertaining to the use of enterprise fund revenues to comply with state law.
■ Recognized the Boulder City Police Explorer Post for its achievements at the 2018 Chandler Cadet and Explorer Tactical Competition in Arizona.
■ Approved a bill re-establishing the duties of the Airport Advisory Committee and a bill amending the airport rules, regulations and development standards.
■ Heard a presentation on the Boulder City Parkway Complete Streets project. City Engineer Jim Keane said that staff hopes the design process is finished by spring.
■ Received the Attorney General's Findings of Fact and Conclusions of Law in his recent published opinion that the city violated open meeting law during its city attorney negotiations.
■ Approved vacating a public utility easement for 1323 Boulder City Parkway, the former Big O Tires location.
■ Approved an agreement between the city and Hanwha Q CELLS EPC USA LLC for dedicated building inspector services for Techren Solar 1 project.
Contact reporter Celia Shortt Goodyear at cgoodyear@bouldercityreview.com or at 702-586-9401. Follow her on Twitter @csgoodyear.