Bailey, Campbell chosen for Wendy's High School Heisman
November 2, 2016 - 1:14 pm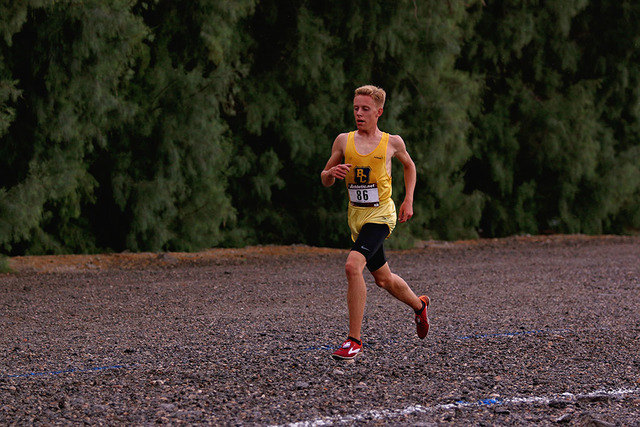 Two Boulder City High School seniors are receiving a reward for their hard work and dedication on and off the field.
Kenadee Bailey and Tyler Campbell were recognized as winners of Wendy's High School Heisman award.
The Heisman is given to students who best represent their school through giving back to their communities, treating people with respect and generally excelling on and off the athletic field.
Boulder City High Principal Amy Wagner said the hard work of Bailey and Campbell was the definition of what the school stands for.
"These students are known by their teachers and friends for their commitment to excellence. We are excited and honored that a program like Wendy's High School Heisman also recognizes their hard work," Wagner said.
Both participate in multiple sports and are active in their community through volunteer work and extracurricular activities.
Bailey plays flag football and volleyball and participates in the Nevada Youth Legislature.
Campbell competes in cross-country and track. He is also an active community volunteer, lending his services from Wurstfest to Art in the Park.
Both students said that they naturally felt comfortable with leadership. "I have always felt like I was a leader," Bailey said. "I am not mean or intimidating, so it makes me really approachable and able to help. Even when I am not the best player I am someone people can come to.
Campbell said that he takes the opportunity to be a leader every chance he gets.
"Ever since I was little I always enjoyed being a leader," Campbell said. "It didn't matter if it was cross-country or a class project, I wanted to bring my group together."
The two students' leadership qualities are not the only thing they have in common. Both have the same post-high school plans. They plan to go to go on a yearlong mission and then attend Brigham Young University.
Contact reporter Max Lancaster at mlancaster@bouldercityreview.com or at 702-586-9401. Follow him on Twitter @MLancasterBCR.