Backup to aging electrical transformer arrives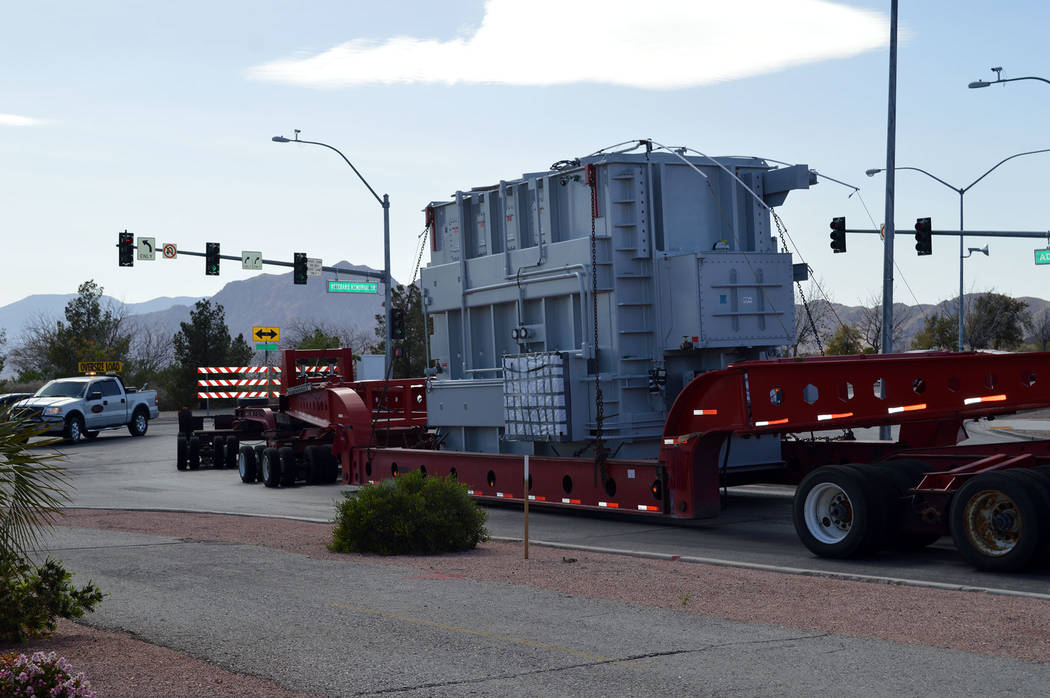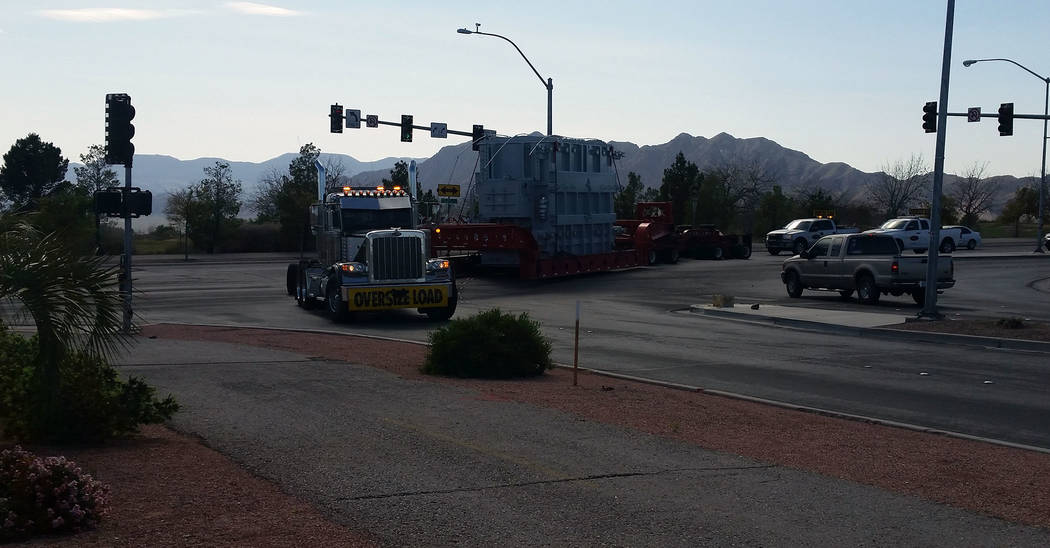 Boulder City's power supply is getting a new backup transformer that will increase the system's reliability.
"The existing BC Tap transformer doesn't have the capacity to deliver the large amount of energy needed during summer," said Rory Dwyer, the city's electric utility administrator. "Also, the existing transformer's age (54 years) makes it more likely to fail during hot weather, when people would be most impacted by a power outage. The new transformer is sized to provide year-round backup capacity."
The transformer costs approximately $1.1 million and weighs about 109 tons. It was installed on the concrete pad at the Boulder City Tap off Utah Street on Thursday, April 5. The installation took eight hours, according to Dwyer.
"Transformer replacement every 50 years is a prudent planning target," Dwyer said. "The BC Tap is the city's only transmission substation transformer. Therefore, city staff doesn't expect a transformer replacement of similar scale in the foreseeable future. Two of the city's 12 distribution substation transformers are planned to be replaced after July 2020, but these transformers are only one-tenth of the size of BC Tap."
The new transformer will be operational in November.
"Replacing the circuit breakers will require a longer outage at BC Tap than was needed to set the transformer," Dwyer said. "Residents will not notice an outage at BC Tap, except if a problem were to occur on the city's normal transmission feed at the same time. That is not likely to happen, but if it did, better that it be in cool weather. Thus, the delay until November."
As part of ongoing efforts to upgrade the city's aging electrical system, Substations No. 3 and No. 4 will be replaced in fiscal 2020-2022, according to Public Works Director Scott Hansen. That project will cost approximately $6.5 million.
Before they can be replaced, however, the electric feeders for them need to be upgraded. Hansen said that design will begin on the Avenue G feeder and the golf course feeder in July.
Contact reporter Celia Shortt Goodyear at cgoodyear@bouldercityreview.com or at 702-586-9401. Follow her on Twitter @csgoodyear.
By the numbers
■ Cost: $1,155,281
■ Capacity: 50 megawatts, six megawatts higher than the previous transformer's capacity
■ Weight: 109 tons
■ Location: Boulder City Tap
■ Installation: Installed April 5 in an eight-hour process