Attorney seeks to lift gag order in crosswalk protester case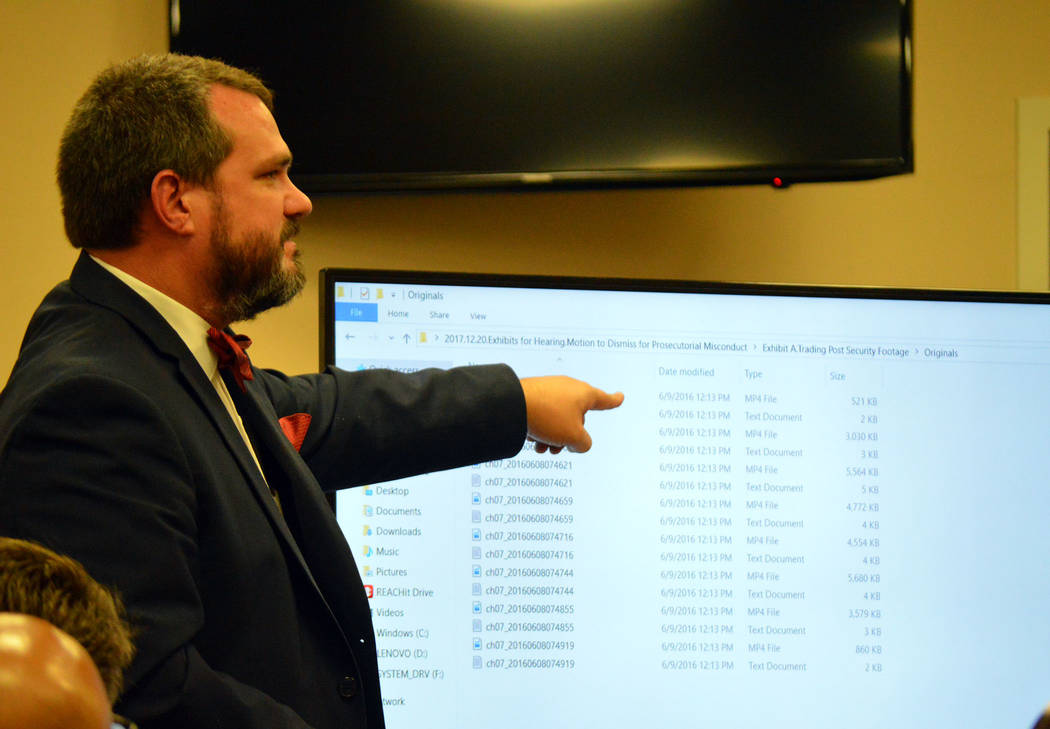 An attorney has filed a petition in District Court against Boulder City Municipal Court Judge Victor Miller.
Stephen Stubbs filed the petition for a Writ of Mandamus in Nevada's Eighth Judicial District Court on Friday, March 2, to restore his right to free speech that he said Miller took away from him through an gag order he issued in the city's case against his client, Boulder City resident John Hunt, who was arrested on several charges after a crosswalk protest against a police-sanctioned pedestrian enforcement event.
In his petition, Stubbs said Miller issued a gag order Feb. 22 against him and Hunt because of a social media post Stubbs made on Feb. 19 about then-Acting City Attorney Steve Morris. It said that Morris does not care about the First Amendment.
Stubbs said that post was "clear political speech, made in a public forum, addressing a widespread and important political topic" for Boulder City, as it was about the potential appointment of Morris as full-time city attorney. (Morris' contract for employment was approved at the Feb. 27 City Council meeting; he was selected as the new city attorney in September 2017.)
Because of the gag order, he said he was unable to participate in the political process with selecting Morris as city attorney and that is an unconstitutional prior restraint on free speech and publication.
Stubbs' petition also questions the constitutionality of the gag order because Hunt's case is not a jury trial and, as such does not need to prohibit speech to prevent influencing a potential jury pool and ensuring a fair trial.
A written version of the gag order was issued the afternoon of Feb. 27, which ordered that "all counsel are prohibited from engaging in extrajudicial communications that in any way disparage or otherwise comment on opposing counsel relative to this case."
Miller said that he is limited by judicial ethics in what he can say about pending cases, but he is happy to have the District Court look at this matter.
Stubbs moved from Boulder City in 2012, but said he continues to do a lot of business in town.
Stubbs also said in the writ that at the hearing on Feb. 22, Miller "proclaimed" Morris to be "ethical" and that he "would never violate the oath he took to protect the Constitution."
Due to Morris being Miller's church leader, Stubbs was concerned about Miller's ability to objectively assess Morris in the courtroom. Both are members of The Church of Jesus Christ of Latter-day Saints, and Morris is a stake president and presides over the geographical stake including Boulder City.
According to the LDS website, a stake president is the presiding high priest over a stake and with two counselors oversees the spiritual and temporal welfare of the church members.
In his petition, Stubbs said that a stake president is viewed as man with direct divine revelation for the members and that "going against him in anyway is a rebellion against God."
He believes since Morris is the stake president over Boulder City's only judge it is a conflict of interest and that Miller cannot be objective. He also said in the writ that Miller ignored the social media post as free speech because he was upset that it criticized his church leader.
Stubbs is also a member of the LDS church but is not in Morris' stake and said that he respects his calling in that position.
Contact reporter Celia Shortt Goodyear at cgoodyear@bouldercityreview.com or at 702-586-9401. Follow her on Twitter @csgoodyear.