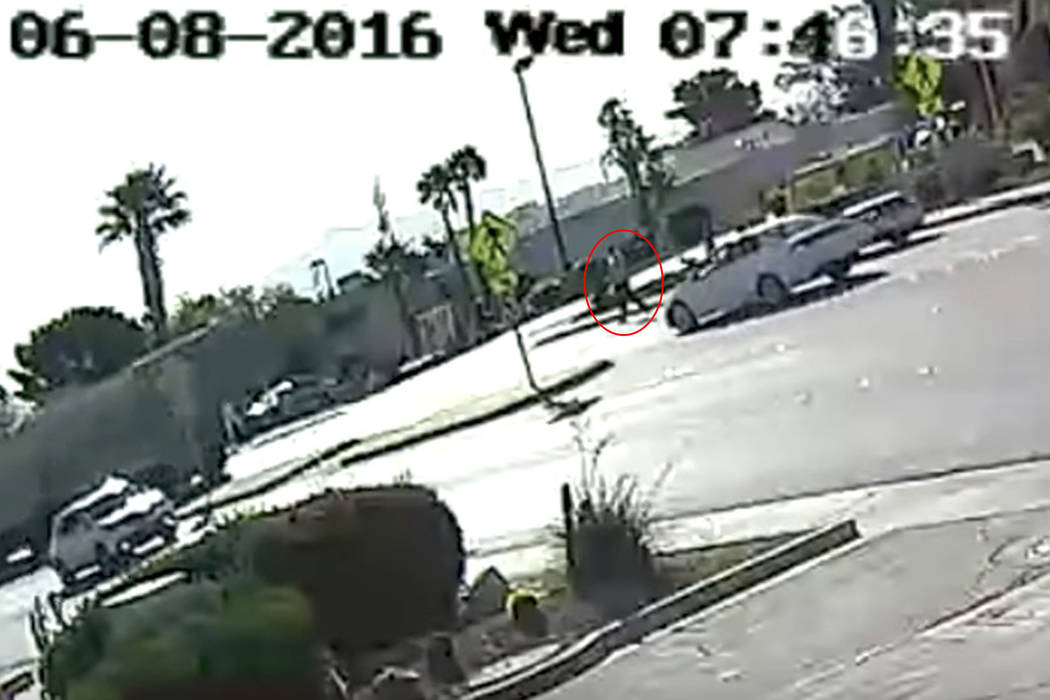 Boulder City has been accused of retaliation by the attorney of a local resident after the city filed five criminal counts against the man, who was protesting police activity. The city denies the accusation.
Boulder City resident John Hunt was arrested June 8, 2016, by Sgt. John Glenn on several charges, including obstructing traffic and resisting arrest, after he repeatedly walked back and forth in a marked crosswalk protesting a police-sanctioned pedestrian enforcement detail.
The law enforcement exercise was a joint operation by the Boulder City and Mesquite police departments and the Nevada Highway Patrol. In it, a police decoy repeatedly crossed the street in order to ticket drivers who did not yield correctly to pedestrians. The public was notified when the law would be enforced in front to the McDonald's on Nevada Highway.
Hunt was cited earlier that morning after he had failed to yield for the police decoy.
On May 30, Hunt's attorneys, Stephen Stubbs, Jared Richards and David Blake, filed a complaint in the U.S. District Court against Boulder City, the Boulder City Police Department and Glenn accusing them of false arrest, as well as specifically accusing Glenn of violating Hunt's free speech and due process, violating his Fourth and 14th amendment rights against search and seizure and using excessive force. It also accuses all the defendants of malicious prosecution, abuse of process, false imprisonment, negligence, assault and battery.
On Monday, Boulder City filed the five criminal complaints against Hunt for last year's incident.
Violates Constitution
According to Hunt's attorney, Stephen Stubbs, the new charges against Hunt include the original ones of failure to yield, failure to place a registration certificate in the vehicle, impeding the ability of a driver to yield and resisting a public officer. A charge of obstructing a police officer that said "the defendant prevented a lawful public safety law enforcement exercise" has been added.
"We will vigorously defend these criminal charges," Stubbs said. "John Hunt was simply exercising his First Amendment rights.
"This screams of retaliation and the count charging him with what they know to be Hunt and have said to be Hunt exercising his First Amendment right to protest is despicable," he added. "It violates every oath the city attorney and the police have taken to protect the Constitution."
Video of the incident provided to the Boulder City Review by Stubbs shortly after the arrest does not seem to support the charges. It also seems to show that Glenn seemed to be aware that Hunt was protesting.
The original charges were dropped without prejudice on June 22, 2016. Neither party admitted any wrongdoing.
One-year time frame
City Attorney Dave Olsen said the city dropped the charges in that way because they were not ready to move forward. But under the statute of limitations, the city could still file charges within one year of the arrest.
Ainsworth Hunt, John Hunt's father, said he believes the city's charges were in retaliation of a front-page article about his son's criminal complaint against the city, the police department and Glenn that appeared in Monday's Las Vegas Review-Journal.
"The fact that he filed these charges today is extremely suspicious of being retaliatory," he said.
Stubbs added that he does not think the timing is coincidental.
Olsen said that the timing was in regard to the statute of limitations with the original charges and not the article.
"I don't even know what the RJ wrote this morning," Olsen said on Monday.
Olsen added that he was reminded about the pending statute of limitations after Stubbs filed the criminal complaint in federal court.
"It reminded me to file this or we wouldn't be able to … It's all done within the statute of limitations … We had every right to file it," he said.
Obstructing officer
In Count 4, Hunt is charged with "obstructing a police officer in the performance of his or her official duties … by walking back and forth in a crosswalk being used for the enforcement activity, thereby obstructing traffic, and obstructing, preventing, and interfering" with the officer's enforcement activity.
Stubbs said he believes with this count the city is charging Hunt with obstruction for protesting, which they knew he was doing before he was arrested.
"John Glenn admits it on the video, and putting him at the risk of six months in jail for what they know to be exercising his First Amendment right is despicable," he said.
Olsen disagrees and believes that Hunt's actions are not covered under the First Amendment because they put people, including police officers and motoring traffic, in a position where they could experience bodily harm, per the 1969 Supreme Court case Brandenburg v. Ohio, which established the limits of free speech with imminent lawless action.
"If your activity is placing others in imminent danger … it's not protected under the First Amendment," he said.
Olsen added that, by his very actions, Hunt showed that they were both imminent and likely to be dangerous for others, as well as violating the law.
Contact reporter Celia Shortt Goodyear at cgoodyear@bouldercityreview.com or at 702-586-9401. Follow her on Twitter @csgoodyear.