Asbestos discovery delays bypass work
March 12, 2014 - 11:52 am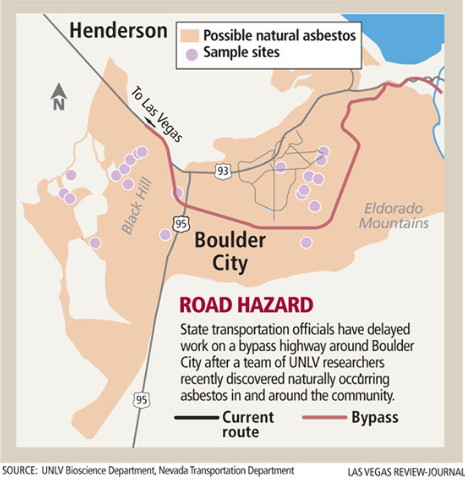 CARSON CITY — The discovery of naturally occurring asbestos in and around Boulder City is delaying work on a $600 million highway bypass around the community while the state Transportation Department tries to figure out how to deal with the issue.
"Is this a showstopper?" said Gov. Brian Sandoval during a Monday meeting of the state Transportation Board. "This was a bomb that was dropped."
"More of a show slower-downer," said John Terry, assistant director for engineering with the agency.
Terry said the agency has never encountered the issue before, although other state transportation agencies have had to deal with the problem.
Because of the finding in a report published by the University of Nevada, Las Vegas, a $12 million contract put out to bid for a retaining wall, utilities and other work for the bypass has been canceled.
Terry said the agency needs to perform more sampling, analysis and testing. The board approved as much as $400,000 for the work, he said.
The Boulder City bypass is a priority for state officials. Phase 1 has an estimated completion date of late 2017 to early 2018. The second phase would run south of Boulder City and east to the Hoover Dam bypass bridge. Total project costs are expected to top $600 million.
Sandoval called the bypass one of the most important infrastructure projects for Southern Nevada and a key link in what could become Interstate 11 linking Las Vegas and Phoenix.
The presence of naturally occurring asbestos could complicate but shouldn't derail the project, Terry said.
"The issue is not allowing it to become dust," he said. "It's a delay. We think we can deal with it, but we don't know the answers yet."
Tina Quigley, general manager with the Regional Transportation Commission of Southern Nevada, which is involved in the second phase of the bypass project, said the asbestos so far does not appear to be a major concern but more testing is underway.
Only low levels of asbestos were found in two of 10 samples taken by the agency, but 200 more tests are being performed at a cost of $259,000, she said.
If the levels don't change, the dust control requirements in place for projects in Clark County will be satisfactory, Quigley said.
During Tuesday's City Council meeting, Mayor Roger Tobler addressed the issue noting that it is monitoring the RTC's testing and should have results in a few months. Those reports will be available to the public.
Additionally, the city has results from testing done by Henderson on soil near the shared Eldorado Valley Regional Public Safety Training Facility south of the U.S. Highway 93/U.S. Highway 95 interchange.
According to Keith Paul, a spokesman for Henderson, seven samples were sent for testing and only three came back with trace amounts of asbestos.
"They came back with such a low percentage that it was not considered hazardous," Paul said.
The highest of the three samples contained 0.009 fibers per cubic centimeter, well below Occupational Safety and Health Administration's permissible exposure limit of 0.1, he said.
After Monday's meeting, Sandoval said his concerns have to do both with health and safety of area residents and the potential for delays in an important road project.
"But the fact that this research was conducted without anybody knowing; I think it would have been extremely helpful for the department to have been made aware of this so they could have worked together on it," he said. "This will delay the project, and we're going to be spending a substantial amount of money to hire a consultant to study it ourselves."
UNLV professors Brenda Buck and Rodney Metcalf lead the research on a peer-reviewed study published in November's journal of the Soil Science Society of America. In it, the research team describes the surprise discovery of potentially toxic, asbestos-type minerals in rocks and dust from Boulder City to the southeastern edge of the Las Vegas Valley.
"At this point we know enough to know there is a hazard. We don't know what the risk is," Buck told the Las Vegas Review-Journal in December. "Until we know more, it would be a good idea to avoid dust from those areas."
The study area takes in all of Boulder City and a wide swath of Eldorado Valley, with tendrils that reach to the shore of Lake Mead and into the oldest parts of Henderson.
Boulder City Review Editor Hali Bernstein Saylor and Review-Journal writer Henry Brean contributed to this report.