Alliance against growth, council gains traction
December 14, 2016 - 2:47 pm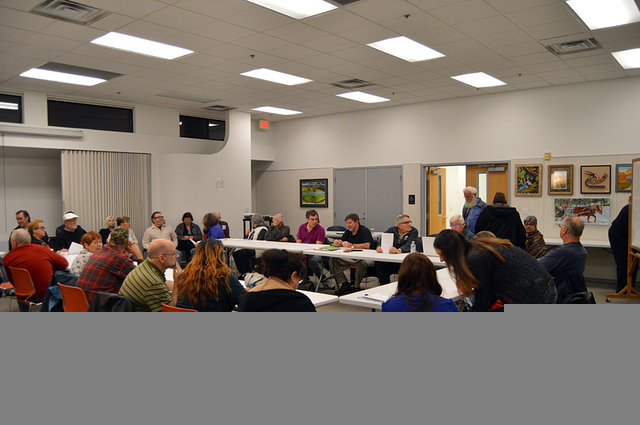 Residents fearful of a waning slow-growth ordinance and in opposition of the current City Council have grown in numbers this past month as the Boulder City Community Alliance saw a spike in attendance at its second official meeting at the Boulder City Library on Monday.
In contrast to the first meeting, the alliance found itself on firmer ground after creating a mission statement and setting up watchdog groups for various areas of city government.
The alliance's new mission statement reads that its purpose is to advance "the public welfare by ensuring that Boulder City is maintained as a healthy controlled community primarily by preserving its small town historic atmosphere and character and avoidance of uncontrolled rapid growth."
The mission statement was created by member Matt Di Teresa, who said that he had modeled it off city code in order to make the community's goals more in line with city law.
"I made sure our mission statement was mimicked off the city code so if the council wants to try and make us look bad we can say that our mission statement is meant to keep the city as the code intended."
The alliance's watchdog groups aim to gather information that combats the mayor and council members' points of view on various topics by having members regularly attend city meetings and combing through public records.
"The reality of the situation is that if we want to be taken seriously as a voice in this community, then we need to come at the council with facts," said Tracy Folda, co-leader of the alliance. "If the mayor or the council say something to scare people into building more homes in this community, we need to come back at them with hard facts telling the public why they are wrong."
The ultimate goal of the alliance is to become a political player in town with members volunteering for committee seats and electing council members that support its cause.
"The best way to ensure that the town stays the way we want it is to participate in our government," said Laura Pyzer, alliance co-leader. "We need members to volunteer for every committee they can so we have a say in what goes on."
The alliance plans to endorse a candidate to run against Councilman Cam Walker and to take Councilman Duncan McCoy's open seat. McCoy announced in October that he would not seek a third term.
Some members briefly threw in their support for Pyzer, Folda and Historic Preservation Committee member Kiernan McManus, but no decision was made. Pyzer said she would not run for council this term because she has to care for her infant.
The alliance will meet at the library next month, but a specific time has not been set.
Contact reporter Max Lancaster at mlancaster @bouldercityreview.com or at 702-586-9401. Follow him on Twitter @MLancasterBCR.