Airport takes first step for adding tower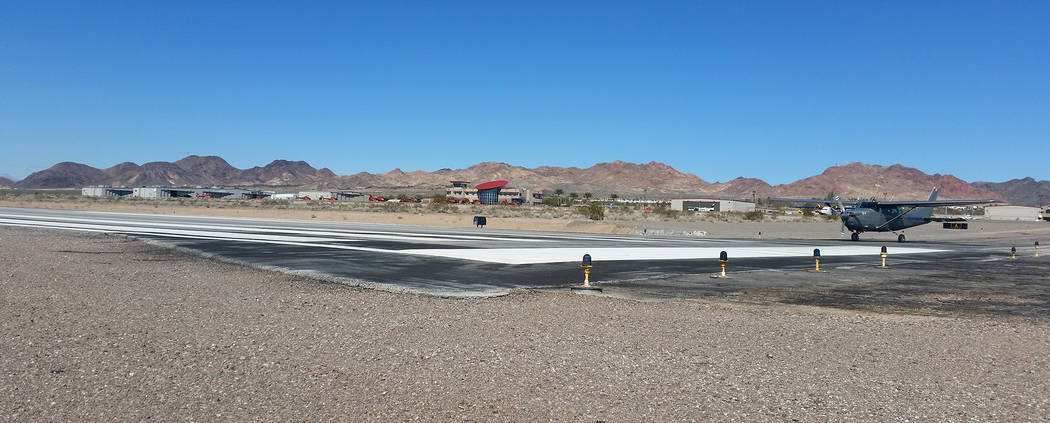 The Boulder City Municipal Airport was recently approved as a participant in the Federal Aviation Administration's control tower program, meaning it could install an air traffic control tower.
"The contract tower program has been on hold for new applicants for almost six years," said Airport Manager Jennifer Lopez. "Boulder City submitted an application to the program just before it was closed to new applicants but Congress recently required the FAA review all applications in the system, and Boulder City was one of the eight that was on hold."
Of the eight applications, Boulder City's airport received the third highest score, which, according to Lopez, compares the benefits a tower will have for the airfield versus its cost.
"A monetary value has been assigned to the benefit of a tower as determined by the FAA; those benefits are averted collisions and other accidents, and improved efficiency," she said. "Safety is always an airport priority
Lopez said the city is working with the FAA so it can install an air traffic control tower if it decides to.
She also said that having the third highest score means the city could argue its score was higher than the other applications and should receive a higher funding priority.
Kerry Ahearn, manager of the airport from 2008 to 2017, was working there when the city applied to the program in November 2011. She said they sought approval to participate because the FAA Flight Standards office conducted a ramp safety analysis in 2007 and recommended the city consider developing a tower because of the "complex and increasing mix of rotor and fixed-wing traffic combined with parachuting activities."
"Airport operations dramatically increased around 2005 with the arrival of Papillon Helicopters and Scenic Airlines," she said. "I arrived in late 2008, and it was already quite busy. It is not just the amount of traffic but the diversity of traffic. Besides the usual fixed wing, there is an extremely large amount of helicopter operations, a busy skydive operation with the drop zone on the airport and in close proximity to a helicopter departure and arrival path, banner tow operations, and ultralight operations."
Currently no design plans have been started and the city has only "conducted planning level work on the project," according to Lopez.
Four potential sites for a traffic control tower, however, are included in the airport master plan recently approved by City Council. The inclusion does not guarantee installation. Rather it must be on the plan to be eligible for approval from the FAA.
Currently, the airspace over the airport is uncontrolled.
Lopez said a pilot flying in that type of airspace isn't required to have a radio onboard, meaning it could land without announcing its arrival to other aircrafts.
"With an air traffic control tower would come the requirement to utilize air traffic control when operating at the Boulder City Airport, which means all aircraft would be required to have operating radios on board, unless an emergency is encountered," she said. "The ultimate goal is improved safety and it would be hard to argue that an air traffic control tower would not help to achieve that goal."
At several recent Airport Advisory Committee meetings, operator Bob Fahnestock has expressed concerns about safety at the airport and said he thinks it should have an air traffic control tower.
The estimated cost of a traffic control tower is $5 million.
If the city decides to move forward with the tower, the FAA would require a formal site selection study to ensure all its criteria is met. It would also change aircraft requirements and operations to the airport. The city can only begin that process though if funding has been secured through the federal airport improvement program.
Lopez said that currently only $2 million is available in funding from that program to build a tower.
Contact reporter Celia Shortt Goodyear at cgoodyear@bouldercityreview.com or at 702-586-9401. Follow her on Twitter @csgoodyear.
Airports added to the tower program
Boulder City Municipal Airport, Nevada
DeLand Municipal Airport, Florida
Lewis University Airport, Illinois
Albert J. Ellis Airport, North Carolina
Rickenbacker International Airport, Ohio
Hammond Northshore Regional Airport, Louisiana
North Texas Regional Airport, Texas