Airport gets nearly $2 million for runway improvements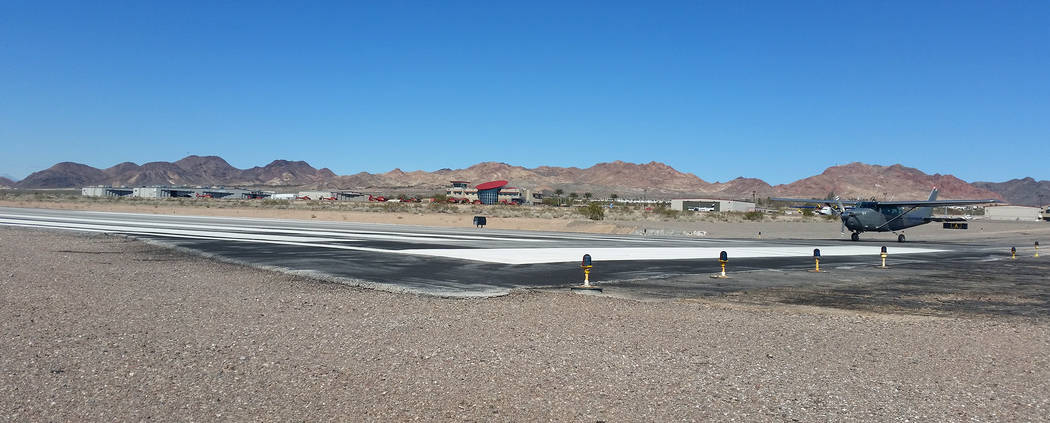 The Boulder City Municipal Airport will receive a nearly $2 million grant from the Federal Aviation Administration to help pay for runway improvements.
According to Lisa LaPlante, communications manager for Boulder City, the FAA recently notified staff of its plans to award the airport approximately $1.7 million for its Taxiway A reconstruction and realignment project, which will improve safety at the facility.
"Safety is our number one concern here," said Jennifer Lopez, airport manager. "This project will improve safety and also help us maintain good standing with the FAA. We appreciate our federal lawmakers who pressed for funding for Boulder City Airport."
The estimated $2.3 million project also includes replacing deteriorated pavement and bringing the facility up to the required FAA design standard as well as replacing existing halogen lights on Runway 9/27 with LEDs and upgrading the airport's electrical system.
"These upgrades are critical to helping keep pilots safe and making our airport a more sustainable entity," said City Manager Al Noyola. "I applaud the staff at the airport for their hard work and diligence on obtaining funding for these upgrades."
Lopez said the Taxiway A project is tentatively scheduled to start in mid-October.
The grant is provided through the FAA's Airport Improvement Program, which gives money to public airports to help them maintain and bolster aviation safety and infrastructure. It awards money based on project needs and the number of passengers at the airport.
"In September, additional discretionary funds could be released," said LaPlante. "I hope to hear soon if we will be eligible for full funding, but staff here are prepared to scale back parts of the project, if necessary."
In 2017, the Boulder City airport was recognized as the third-busiest airport in the state, determined by its number of commercial passenger boardings.
On April 10, City Council approved updating the airport's master plan, which included possible short-term projects such as designing and constructing several taxiways; extending the runway by 300 feet; reconstructing the air vault field; building, designing and constructing a southeast area for aircraft to park and be loaded or unloaded; and constructing a conventional hangar in the southeast portion of the airport.
It also included long-term projects that would relocate runways and create additional parking and loading areas as well as more hangars, and separate commercial services and general aviation. Additionally, there are plans for an air traffic control tower, if needed.
Contact reporter Celia Shortt Goodyear at cgoodyear@bouldercityreview.com or at 702-586-9401. Follow her on Twitter @csgoodyear.