After record low, news for Lake Mead not all bad
August 10, 2016 - 2:24 pm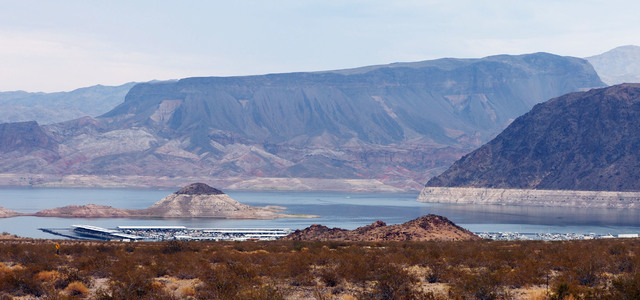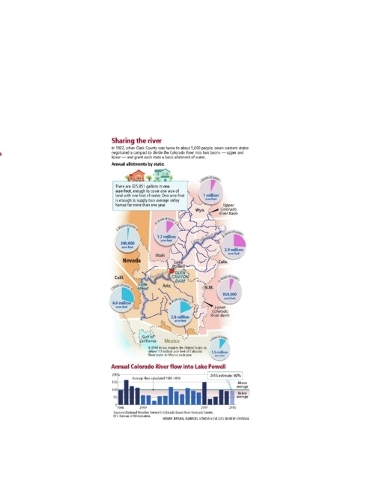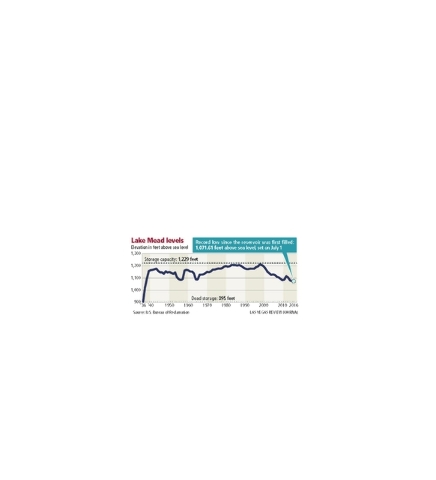 A late-season surge of rain and snow melt made a bad year better for the Colorado River, but it wasn't enough to lift Lake Mead out of record-low territory.
The reservoir that supplies Boulder City's water and 90 percent of the Las Vegas Valley's drinking water bottomed out at 1,071.61 feet above sea level on July 1, its lowest level since May 1937, when the lake was filling for the first time behind a newly completed Hoover Dam.
Though the surface of the lake has ticked back up by about 2 feet since then, it remains 5 feet lower than it was at this time last year and 43 feet lower than it was in early August 2012.
But the news isn't all bad.
The amount of water being drawn from the Colorado River for use in Nevada, Arizona and California is on track to hit its lowest level in more than 20 years, a sign that conservation efforts and temporary cuts by river users are having an effect, at least on the demand side of the ledger.
"That's less water that's leaving Lake Mead," said Bronson Mack, spokesman for the Southern Nevada Water Authority, the city's wholesale water supplier.
If the current federal projection holds, the three lower basin states will combine this year to consume less than 7 million acre-feet of Colorado River water for the first time since 1992.
That's a "symbolically important milestone," said author and longtime environmental journalist John Fleck, because the region's population has grown by roughly 7 million people since the last time consumption was this low.
"We've reached a turning point where population is going up and water use is going down," said Fleck, who was just named director of the Water Resources Program at the University of New Mexico in Albuquerque. "It's still not enough, but we're headed in the right direction at least."
Even with reduced consumption, there will still be more water taken out of the river this year than there is flowing into it.
As a result, the record low set on July 1 is unlikely to stand for long. Federal forecasters expect Lake Mead to start 2017 about 6 feet higher than it is now, then dip downward again into record territory in April, before bottoming out next June or July at about 1,063 feet above sea level.
The outlook for the lake looked even worse in April, when the forecast called for the Colorado River to see about 74 percent of its average flow because of unusually warm weather and lackluster snowfall in the mountains that feed the watershed. Conditions improved enough in May and June to boost the Colorado's flow to 92 percent of average through the end of July, when most of the year's snow melt has collected in Lake Powell on the Utah-Arizona border.
Though Lake Mead's decline is expected to continue for the next two years at least, forecasters say the reservoir is likely to contain just enough water on Jan. 1, 2017, and Jan. 1, 2018, to avoid a first-ever federal shortage declaration that would trigger mandatory water reductions for Nevada and Arizona.
Mack said the voluntary cuts and conservation gains made already by cities, farms and water agencies in Nevada, Arizona and California are at least partially responsible for keeping Lake Mead just out of shortage territory. And more cooperative cuts are coming.
By the end of the year, officials in Nevada, Arizona and California hope to finalize a landmark deal outlining a series of voluntary water reductions designed to prop up Lake Mead and stave off deeper, mandatory cuts for Arizona and Nevada.
Arizona would shoulder most of the voluntary reductions, but the tentative deal marks the first time California has agreed to share the pain if the drought worsens.
As it stands now, California is not required to take any cuts to its 4.4 million acre-foot share of the Colorado, which is the largest annual allotment among the seven states that share the river.
Nevada's annual river allocation of 300,000 acre-feet is by far the smallest among the seven states. One acre-foot of water is enough to supply two average homes for just over a year.
Contact Henry Brean at hbrean@reviewjournal.com or 702-383-0350. Follow @RefriedBrean on Twitter.