Tortoise keeps students at King Elementary company
October 19, 2016 - 1:37 pm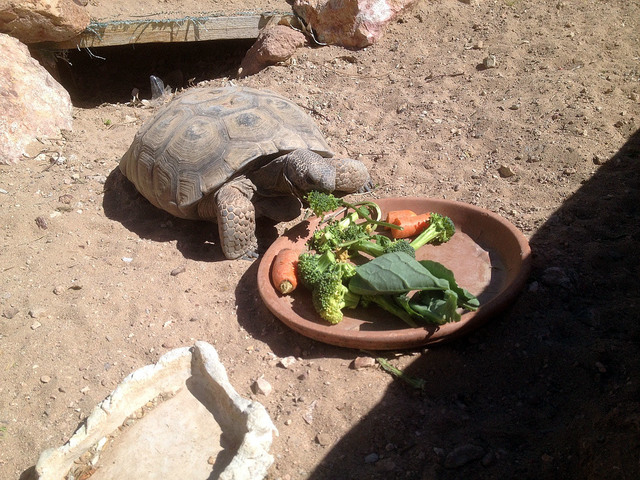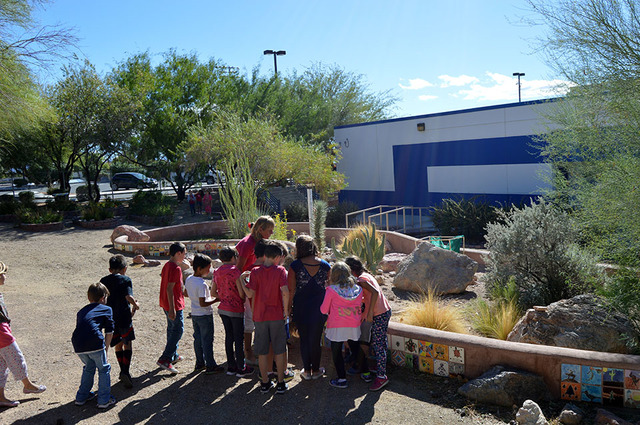 On a breezy Monday morning, Sara Carroll, a third-grade teacher at King Elementary School is trying to feed Daisy, a 25-year-old desert tortoise with a habitat at the elementary school.
"She is not coming out," Carroll said as she shakes a bowl of pink rose petals, the tortoise's favorite food. "She comes out in the morning to eat and then it is hard to say if she will come out again. She doesn't like the cold so she won't be out as much this month."
Daisy did not make an appearance Monday, but that did not stop Carroll's students from trying, figuratively, to get the shy tortoise to come out of her shell.
"Daisy, come outside," Baruc Hernandez, 8, said. "She doesn't come out that much, but I see Daisy all the time."
Baruc said he has seen the tortoise more than any of the kids at King Elementary because he likes to play and do his work near Daisy's habitat before and after school.
"I have seen Daisy more than anyone here," Baruc said. "When I get to school I like to feed her the pink flowers that she likes. Pink flowers are her favorite food, so I get to see her a lot."
Maya Bradford, 8, also said she tries to see the tortoise every morning, but rarely sees her when a lot of children are around.
"Daisy is really shy; she doesn't like to come out when a bunch of people are yelling at her," Maya said. "When my sister and I get to school really early and no one is here Daisy always plays with us."
Daisy is not a new addition to King. In fact, ever since the school was opened in 1991, almost two decades of students have spent time with Daisy. She was brought to the school by former fourth-grade teacher Marcella Posthuma, who is now retired.
No one at King knows the exact age of the tortoise, but 25 is the staff's guess.
"Daisy has always been a part of the school since it opened," Carroll said. "I remember my kids taking care of her when they were in elementary school and they are in their 30s now."
Teachers and staff might put her age at 25, but the kids in Carroll's class think she is a lot older.
Maeli McNary, 8, said she thinks the tortoise is 100.
"I think she is 100 because of all the wrinkles she has," Maeli said. "I think she is a really, really old turtle."
Maya doesn't think Daisy is 100, but she still thinks the tortoise is pretty old.
"Daisy is really old," Maya said. "I think she is 65 because I counted the spots on her shell."
Counting the markings on a tortoise's shell is considered an unofficial way to determine age according to the Tortoise Group, a nonprofit based in Las Vegas.
Students can enjoy the company of Daisy for the rest of October and then the tortoise will hide in its habitat through the winter months and come out in the spring.
As Daisy sleeps through the winter, students at the elementary school will help keep her habitat clean. They will continue to work and play around her, waiting for the tortoise to come out and greet them when warm and sunny days return to Boulder City.
Contact reporter Max Lancaster at mlancaster@bouldercityreview.com or at 702-586-9401. Follow him on Twitter @MLancasterBCR.