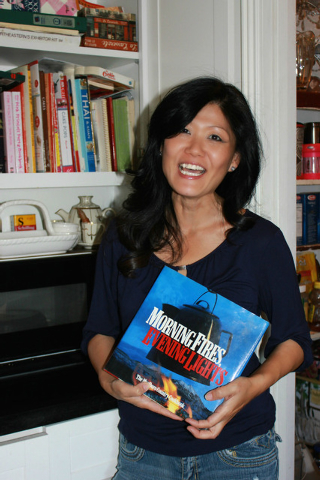 To be unnoticed, even invisible in a small town, might lead some little stars to burn out before they have time to shine. But not Noel Kanaley. She has become a light that reaches beyond the limits of her hometown.
Adopted from South Korea in 1977, Kanaley's family moved to Boulder City in 1979. She and her husband, Greg, are raising their three daughers, Cameron, 17, Logan, 16, and Paityn, 11.
"I was very shy with very low self-esteem," Kanaley said.
She said her English wasn't very good, and it kept her from speaking up when she was young. These days, that is no longer a problem for Kanaley, who is a high-fashion photographer.
She knew when she was growing up that she wanted to get into the fashion industry somehow. "I wanted to do something that was exciting, whether it was makeup, hairstyling, photography or fashion designing."
When she was 15, her sister Erin and her friends and her cousin were her guinea pigs to practice makeup, hair-styling and photography skills.
"It's funny how with every makeover I took photos, never realizing in the end this is what I would be doing," she said.
In her early 20s and still very shy, Kanaley went to Lenz Talent (now Las Vegas Models) to get her foot in the door looking for a job. When the answer was "not hiring," she mustered up the nerve and said, "I'll work for free if you teach me everything I need to know about this industry."
That was her big break. She got her first paid makeup/hairstyling job after a couple of weeks.
"I had the opportunity to work with the best photographers and to hone my makeup skills and freelance," she said.
Kanaley is currently a published photographer and professional makeup artist and hairstylist with diverse training and management experience in modeling and the fashion industry. Her passion in life is inspiring others to realize their potential and to reach for their dreams.
"People always told me I couldn't do it. It made me work even harder. If you really want something bad enough, you'll do anything," she said.
This quiet little Boulder City girl, refused to be unnoticed.
"I worked in many facets of this industry, working for Prince, Dick Clark Productions, acted in movies and did voice-overs. I taught modeling and directed new talent from beginning to end. I scouted models, did fashion styling and even dabbled in modeling."
Her portfolio is filled with names of celebrities she's styled including Robert DeNiro, Carly Rae Jepson, Vivica Fox and Gavin DeGraw. She's a published stylist with work featured in Kurv, Maxim, People and Seventeen magazines, national commercials for Sony and photography published in Las Vegas Bride magazine. The list goes on and on.
She helped many people in the industry find their way and realize some of their dreams. After all her experiences, she also realized hers: She was best behind the camera.
She took 10 years off to raise her kids. Things had changed dramatically when she returned. Kanaley basically had to start over again learning digital technology. The Internet and Photoshop had changed everything. Yet, she hit the ground running, launching her website, fotomgmt.com
Once a month, Kanaley likes to pay it forward.
"I listen to someone's story, and I pamper them with a free makeover and photo shoot with three looks and pictures," she said. "This could be anyone from a survivor of cancer or close relatives, daughter or son of a military member or just a teen that needs a boost in confidence."
She said she loves reading people's stories at fotomgmtbyjk@gmail.com
While Kanaley's new business is booming (take a look in Las Vegas Bride), she continues to reach out to others.
"I love my job," she said. "It gives me free rein to be creative and express myself. I hope with my story, I will inspire and motivate someone to get off the couch and take the initiative. It's never too late, and you're never too young to dream."
Kanaley is sharing some of her most prized family recipes.
"When I was 12 years old, my Caucasian mom, Pam Murphy, took me (Korean) to a Chinese cooking class at the BC Rec Center from a German chef! I enjoyed it very much," she said.
"Normally, I don't give these recipes out."
Beef and Broccoli
My mom told me I could buy a big chunk of ginger and freeze it. It slices really easy frozen.
Marinade:
2 slices or more of ginger
1 tablespoon soy sauce
2 tablespoons water
Binder:
1 tablespoon cornstarch
1 tablespoon soy sauce
2 tablespoons water
1 ½ cups chicken broth at boiling temperature when added to:
Oil
½ pound sliced beef
½ pound broccoli, cut into flowerets
1-2 tablespoons minced ginger
½ can sliced water chestnuts
1 can mushrooms
3 sliced green onions
Mix meat with marinade and let stand for at least 15 minutes.
Drop broccoli into boiling water and boil for 2-3 min until tender. Remove and set aside.
Sauté minced ginger in 2 tablespoons of oil on high heat. Remove and set aside.
Squeeze out excess marinade from meat and pour into binder. Add meat to more heated oil and stir fry until almost done.
Return ginger to pan, add water chestnuts and mushrooms, stirring for another minute. Add boiling chicken broth and bring back to boil. Immediately add binder. When thickened add green onions. Fold in broccoli; do not overstir or broccoli will break apart.
EZ Egg Drop Soup
8 cups of chicken broth
4 tablespoons sesame oil
2-4 tablespoons chicken bouillon (powder)
1 can water chestnuts, chopped
1-2 tablespoons soy sauce
4-6 eggs, slightly beaten
3 green onions, chopped
Chopped carrots or peas, optional
Add first five ingredients. Let boil. Slowly pour in the egg mixture while stirring. Cook until the eggs are done. Garnish with green onions.
Kung Pao Chicken
1-1½ pounds chicken breast cut into bite-sized pieces
4-10 dried chile peppers, chile de arbol
1½ tablespoons minced ginger
1 tablespoon minced garlic
2 green onions cut in ¾-inch pieces
½ cup peanuts, almonds or cashews
1½ green peppers cut into ½-inch squares
Marinade:
1½ tablespoons cornstarch
1 tablespoon sherry or sake
1 tablespoon soy sauce
1 tablespoon oil, vegetable or other
Sauce:
Combine 2 tablespoons soy sauce
1 tablespoon red or cider vinegar
1 tablespoon sherry
3 tablespoons chicken broth
1 tablespoon sugar
1 tablespoon cornstarch
Heat wok over medium heat. Add tablespoon oil, dried chile peppers and nuts until peppers begin to char. Remove from pan.
Pour 2 tablespoons oil into pan and turn on high. Add garlic and ginger. Add chicken. Stir until chicken is opaque, about 3 minutes. Add nuts, chiles, green onions and green peppers. Add sauce. Stir until it thickens.
Additional broth can be added to create more sauce.