Gillette directs marching band to success
December 9, 2015 - 4:46 pm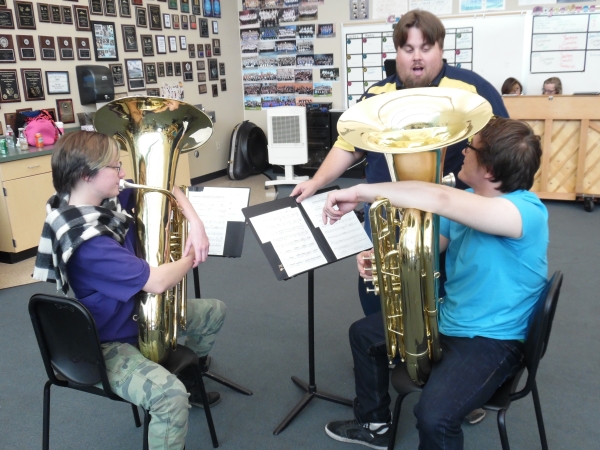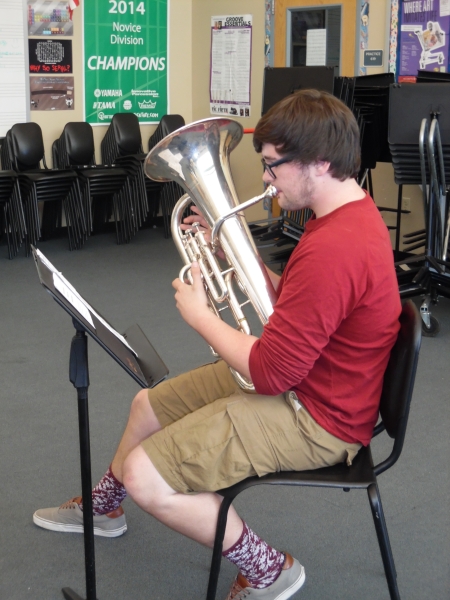 Boulder City High School band director James Gillette knew taking over for former Eagles leader Curtis Melton would be a tall task. After all, Melton had led Boulder City to three straight A class championships.
Gillette, however, was up to the challenge, and in his eight years at the helm, the Eagles marching band has steadily seen improvement.
Gillette, who came to Boulder City from Desert Pines in 2008, has led the Eagles to four top-5 finishes in the Nevada Marching Band Open Series competitions this year.
"Nevada doesn't have an actual state championship," Gillette said. "This is actually the first year we've had MBOS championships. In the winter, we have winter guard and winter percussion championships and that'll be in April."
The Eagles compete in the smallest classification that Southern Nevada offers because of its lack of size and inability for band growth.
Gillette said most schools around the valley have two or three "feeder" schools that help the bands grow. Boulder City has only Garrett Junior High to pull from.
"They've been working hard and improving these last two or three years," Principal Amy Wagner said. "I like when the band is successful. It's a niche for a lot of our kids and it's great when they're doing well."
There are seven schools in the "Marble" classification with Boulder City, which is the classification for the smallest bands, which range from zero to 55 members.
This year there were four Marching Band Open Series competitions — Henderson Bandfest, Showdown at Silverado, Clark High School Afternoon Show and Las Vegas Invitational Prelims/Finals — that Boulder City participated in.
After finishing fourth and second in the first two competitions, respectively, the Eagles took first place in the Clark Afternoon Show, beating out Cheyenne by four-tenths of a point.
BCHS also took home honors in Effect and Color Guard for that show, as well.
The Eagles then finished third in the Las Vegas Invitational, setting them up to compete at the Nevada Championship prelims on Nov. 14.
Boulder City finished that competition fifth and was subsequently eliminated from competing in the Nevada Championship finals, but that didn't deter the band members nor Gillette from acknowledging what they accomplished.
"It's actually been a really good year this year," Gillette said. "We've had some of the highest scores the band has scored in the eight years I've been here. It's just been a lot of fun to see the growth from August until now."
Under Gillette's direction, BCHS has choir, orchestra, guitar and jazz band, along with color guard, marching band, winter percussion and concert band under the music department umbrella.
"I don't think I can say enough about Mr. Gillette," Wagner said. "Any person that can sit there and is that musically talented to take that many groups — you have to love that."
While most schools have multiple teachers for each, Gillette, who was almost surplused from Boulder City just three years ago, supervises it all. In total, he said the department has just over 100 kids, which makes up about 18 percent of the entire school's student body.
"It's daunting having all that extra work with festivals and all the marching band stuff and winter stuff that we do," Gillette said. "But it keeps me going and it's a lot of fun. The kids are what makes it the best and the fun that they get to have and the things that they get to do is what keeps us going."
Most recently, the group performed in Santa's Electric Night Parade.
— Contact reporter Randy Faehnrich at rfaehnrich@bouldercityreview.com or at 702-586-9401. Follow him on Twitter @RandyFaehnrich.