Explorers earn five trophies at tactical contest
January 18, 2017 - 2:10 pm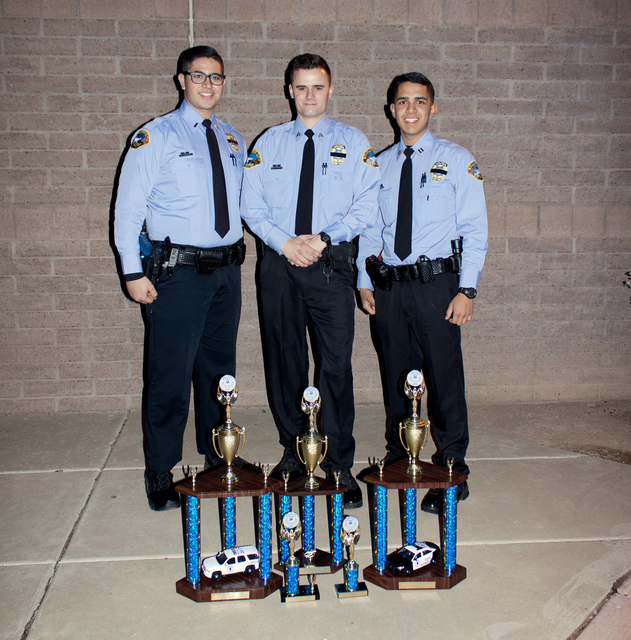 Boulder City's Explorer Post 198 competed in the Chandler Police Department's 19th annual Tactical Competition Saturday and Sunday in Chandler, Arizona, and the group brought home a collection of trophies.
Under the guidance of Boulder City Police advisers the young men and women of the Law Enforcement Exploring Program have been training since September for the competition that featured more than 1,000 participants, with 59 posts from all over the country.
The Boulder City squad consisted of nine of the post's 11 members and they brought home a pair of first-place trophies, one for Incident Command and one for Rapid Response, the latter simulating an active-shooter situation. They also took second place in Small Marijuana Field Raid, and fourth in Door Breaching, where the team simulated the rescue of a downed officer. In addition to the group's success, Officer Scott Pastore, the Explorers' senior adviser, finished third in the 5-kilometer run.
The team participated in 12 events, with approximately 25 posts competing in each and, according to the post's captain, Kenny Calzada, it truly was a team success.
"We were a brand-new team six months ago," Calzada said, "Only three or four of us had participated in the competition before, but everyone was worked hard, training once, sometimes twice every week. The dedication really paid off."
The Explorer program had been defunct until Pastore revived it in 2008. This is the fourth year the post has participated in the event and, he said, the competition and the entire program is a valuable experience for the young Explorers.
"I was an Explorer when I was a kid, and it just does so much for these kids," Pastore said. "It gives them a front-row seat to the career, but it also teaches them responsibility, leadership and community involvement."
The Explorer program is an independent program, coordinated with the Boy Scouts, that is fully funded by donations from the community and its advisers.
To learn more, visit http://www.bcnv.org/258/Explorers-Post-198 or call Pastore at 702-293-9370.
Contact reporter Hunter Terry at hterry@bouldercityreview.com or call 702-586-6711. Follow him on Twitter @HunterBCReview