Centers job is finding other jobs
September 13, 2017 - 2:59 pm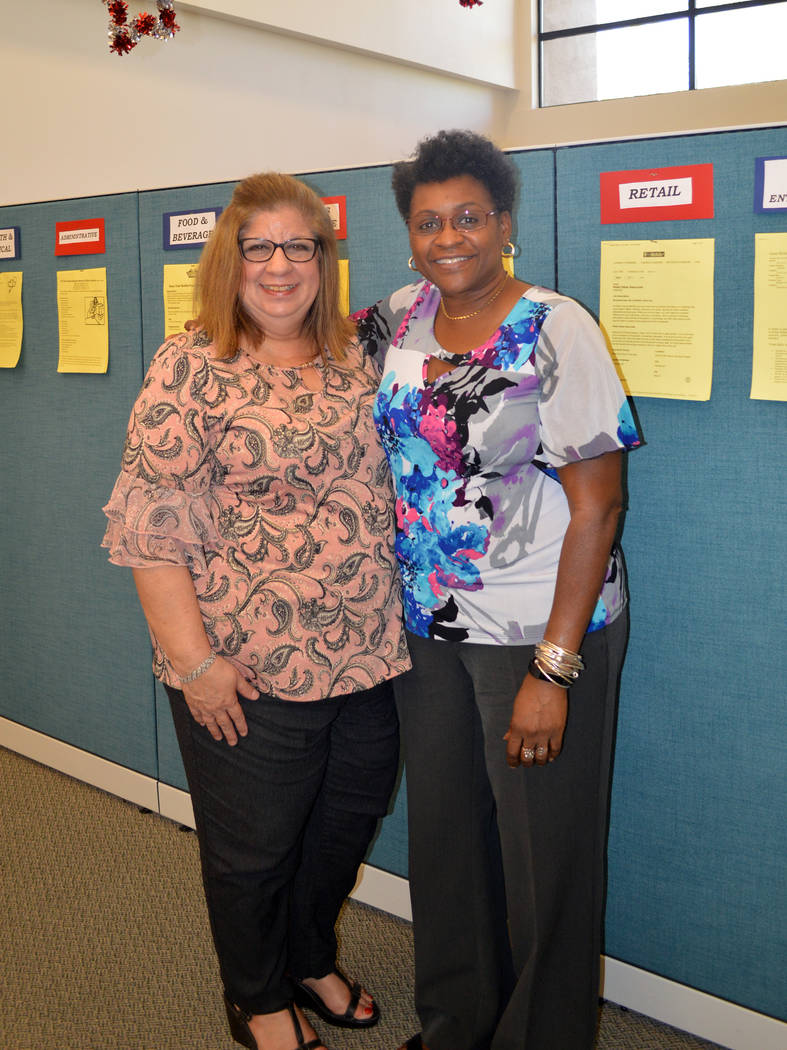 Boulder City residents who need help finding a job or figuring out the next step in their careers have a new resource in town available to them.
The One-Stop Career Center at Boulder City Library administers high-quality career services, education, training and support services for job seekers and workers.
It is the local extension of the government's Workforce Innovation and Opportunity Act, signed into law on July 22, 2014, which provides opportunities across the country for people to improve their job and career options through a job-driven public workforce system, connecting talent and businesses. It also provides paid work experience for young people.
"I like to see it as transforming lives through work because working is powerful," said Gina Garcia, operations supervisor for the center.
The One-Stop Career Center in Boulder City opened April 17 and, according to the city, has served more than 150 job seekers and workers since then.
Garcia just started working at the center and is in charge of its day-to-day operations as well as the operations at the Laughlin Library.
Garcia knows firsthand the challenges and emotional stress of being without a job. After being a teacher for 17 years and a principal for six, she took a year off to help her settle her children in college. After the year was up, she tried to get back into the educational field, but there were few jobs in her area for which she was qualified.
"I could not a get a job," she said. "I had to humble myself."
Garcia ended up choosing a different career path that allowed her to head career centers and programs at Goodwill in California and later in Nevada, after moving here a year and a half ago.
"I understand when you have to do a career shift and sometimes have to humble yourself for the next step," she said. Through the One-Stop Career Center, Garcia uses that understanding to help others.
Some of the ways the center can implement that help is through training workshops, job placement, intensive services, GED training, career coaching, mentoring, resume and job interview preparation and training and on-the-job training for local businesses.
"The biggest thing is seeing people become self-sufficient," Garcia said. "Things can compound when you don't have a job."
Those interested in the training and services offered by the One-Stop Career Center can stop by to see if they qualify.
To be eligible for the adult program, people must be 18 or older. For the youth programs, they must be between 14 and 21 if in school and between 16 and 24 if not.
All must be Nevada residents authorized to work in the United States. Men must have also registered for the selective service. There are some additional enrollment requirements that vary by individual needs and are determined on site.
The center is open from 9 a.m. to 5:30 p.m. Monday through Thursday and from 9 a.m. to 5 p.m. on Fridays. In addition to Garcia, Jessica Saccomanno and Urla Browne are available at the One-Stop Career Center to support those who come in for help.
Contact reporter Celia Shortt Goodyear at cgoodyear@bouldercityreview.com or at 702-586-9401. Follow her on Twitter @csgoodyear.