Boulder City P.E.O. has been advancing women's causes since 1945
September 16, 2015 - 2:24 pm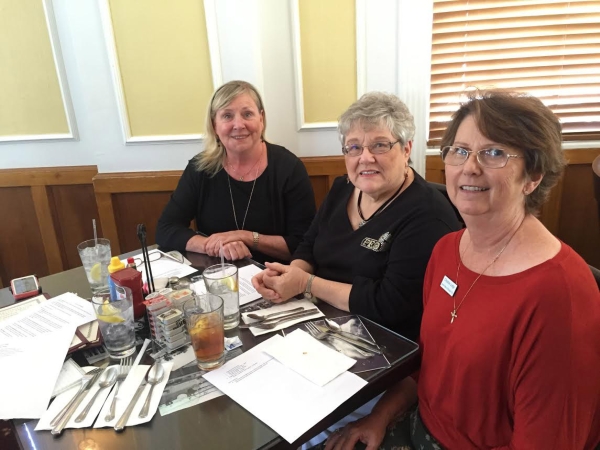 Since 1945, a group of Boulder City women has been pushing for and celebrating the advancement of women in society as part of an international effort that shares the same message.
The Philanthropic Educational Organization of Boulder City, or P.E.O. as it's more commonly known, consists of two chapters with about 75 women combined who want nothing more than to help women succeed in the future.
P.E.O. was established in Iowa in 1869 by seven teenagers, but has since grown into an organization with roughly 240,000 members across the U.S. and Canada. The group raises money for scholarships, grants and other funds to help women advance their education and achieve their highest aspirations.
Interested women must be at least 18 years old to join P.E.O., and entrance is by invitation only.
"What we look for in a woman is, is she congenial with our group?" said Sharon Wieczorek, who's been a member of Boulder City's P.E.O. since 1991.
Each chapter meets twice a month, usually in the home of one of its members, and members from both chapters meet the first Saturday of each month for breakfast at the Boulder Dam Hotel.
Each chapter consists of seven officers: a president, vice president, guard, chaplain, treasurer and two secretaries.
Educating women and helping them achieve their dreams is the focal point of the organization, and member Nancy Locke, who's been a part of the organization since 2006, is extremely passionate about its cause.
"We're a philanthropic organization," she said. "If you don't have a passion for educating women, it's probably not the group for you. That's what connects us all, and that's what P.E.O.'s about."
P.E.O. has about 1,400 members in 36 chapters across Nevada, including 13 chapters in Clark County. The group has provided scholarships to Boulder City High School female students for the past 30 years.
Boulder City's P.E.O. chapter holds a handful of fundraisers every year in order to fund the many scholarships it offers.
"We strive really hard to focus on the positives of our sisters," said member Christina Lodge. "We're there to give love to each other, and that's what I see happening."
In addition to the growth in its membership since its inception nearly 150 years ago, the P.E.O. also owns and operates Cottey College, a small liberal arts school in Nevada, Mo., about 100 miles south of Kansas City, since 1927.
The student population, consisting of about 350 women, are represented by 40 states and 26 countries, according to the college's website.
Though the group has no political affiliation, Wieczorek is content knowing that its cause has helped numerous women succeed throughout the years.
"Women are much more independent today than they ever have been," she said.
Nevada P.E.O. members meet once a year for their state convention, which the Boulder City P.E.O. will host in a few years. The organization encourages the interest of potential members who also want to help advance women's success across the world.
"What I have enjoyed hearing and seeing is the women who come from foreign countries. To listen to how they feel about the opportunity that's been given to them, it's kind of opened their world," Lodge said. "That's something I've enjoyed."
Contact Steven Slivka at news@bouldercityreview.com. Follow him on Twitter @StevenSlivka.