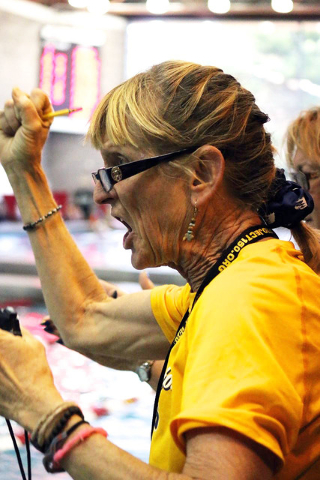 Boulder City swim coach Sara Carroll has carved out a legacy throughout her 23-year tenure with the program, creating a juggernaut within the Division I-A ranks. The Eagles have dominated the early part of the decade, with no signs of letting up. This past week at the Division I-A state swim meet at UNLV was evidence of that.
While there was plenty of action Saturday at UNLV's Buchanan Natatorium, the result for the Eagles swim programs remained the same, with both the girls and boys sweeping their way to another Division I-A state swim title.
"This year was truly special," coach Carroll said. "The girls were never really a concern, they are too talented and deep, but winning state with only six swimmers for the boys was a bit dicey. Fortunately they all pulled through, which is what our swim teams seem to do year after year."
The dynasty continues for Carroll and the Eagles, with the boys winning their sixth consecutive championship, while the girls capped off their fourth consecutive banner season.
"I feel like everyone just expects us to win now, so we rise up to these lofty expectations each year." Carroll added. "We have a great support system, particularly with the guy swimmers from 2000 and after. They are still in touch and cheering us on, which plays a big role."
Dominating the competition, the Lady Eagles defeated second place Truckee (111) with a team score of 156 points, placing first in six individual events and all three relays.
Junior, Montana Lloyd broke Division I-A state records with a complete sweep on Friday in the 200-yard individual medley and in the 100-yard backstroke with times of 2:05.30 and 56.31 seconds respectively.
"Montana had a few break through swims which I am so happy about," Carroll added. "She always trains and races hard, but these times may be confidence builders for her."
Freshman Rose Pouch continued to dominate her opposing competition like she has all season. She placed first in both the 200-yard freestyle (1:53.75) and 100-yard freestyle (53.39) to sweep both of her events.
Also placing first for Boulder City were juniors Mandy Gebhart and Abby Sauerbrei, to give the Lady Eagles four individual champions overall. In the 100-yard butterfly, Sauerbrei placed first with a time of 59.50 seconds, while Gebhart placed first in the 500-freestyle with a time of 5:01.62 to set a new Division I-A state record.
"With nearly our entire roster coming back next year, we should be unbeatable again," Carroll added. "With our junior core returning and a talented freshman class, we have the opportunity to keep the momentum rolling."
For the boys, the Eagles made it somewhat interesting on Friday with an overall score of 110 points to defeat second-place Sierra Vista who finished with 85, after claiming three individual titles and a pair of relay titles as well.
Senior Nick Lara led the way for Boulder City, concluding a wonderful career for the Eagles with a first place finish in the 100-yard butterfly with a time of 51.99.
"Nick matured a lot this year and stepped up to be a leader in the pool and off deck," Carroll added. "I will really miss his versatility and strategy."
Talented freshman Paco Cuevas and A.J. Pouch also earned individual titles for the Eagles, giving Boulder City new life following the departure of Lara.
In the 200-yard individual medley, Cuevas took home first place with a time of 2:02.02, while Pouch placed first in the 100-yard breaststroke with a time of 58.51 seconds.
"We have a chance again next season with this boys roster, if our freshman class can continue to be a force and keep working hard, racing hard and keeping distractions to a minimum," Carroll added. "We also have a solid junior and sophomore core as well to keep us well rounded."
Junior Braden Klouse's would complete the Eagles sixth state banner bid with a second-place finish in the 100-yard freestyle to end his season on a high note.
Contact Robert Vendettoli at BCRsports@gmail.com.