Nevada Disabled American Veterans honor area employers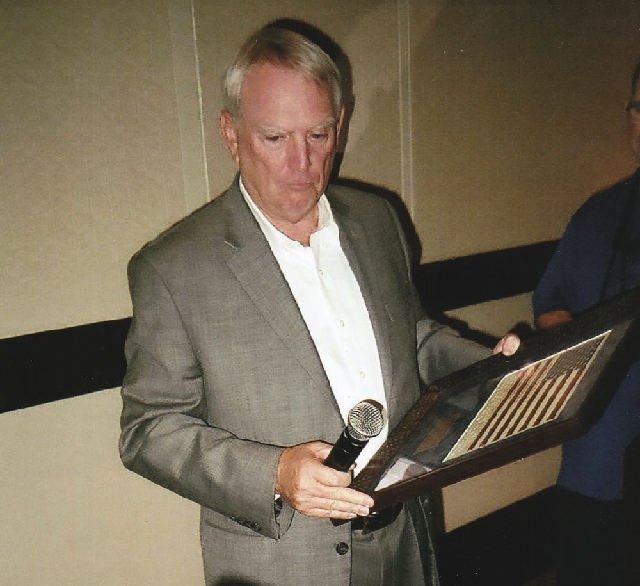 The Disabled American Veterans is one of the leading veterans service organizations in the state and the nation. Each year the Nevada DAV honors local employers that establish programs that reach out to veterans and seek to hire them for responsible jobs.
At its statewide convention last month in Mesquite, John Hansen was elected DAV state commander, and two companies were honored for their efforts in veterans' employment.
The 2013 Large Business Employer was the Cannery in North Las Vegas. Established in 2001, the hotel has a proactive veterans hiring program and actively recruits veterans and family members of veterans at its two hospitality facilities, according to state Commander Jeff K. Carson.
Its North Las Vegas location is a preferred provider for lodging for temporary-duty military personnel who train at Nellis Air Force Base. Carson said the hotel also provides discounts to active-duty and retired military personnel and plays a leading role in other support functions to Nellis.
"The Cannery donates 1,000 decks of used playing cards each month to deployed servicemen," Carson said. "On the entertainment scene, the Cannery has hosted the Lt. Dan Band, the U.S. Air Force Singing Sergeants, the Rogue Warrior Military Cage Fighting Championships and has provided numerous gifts to DAV chapter Christmas parties."
The DAV also honored the Snap-on Tool company in Carson City as its 2013 Small Business Employer. The firm has been in Carson City for 34 years, and its service department is made up of more that 50 percent military veterans. Carson said the company "always gives veterans preference when hiring and supports the Wounded Warrior Project as part of its Community Involvement Team that chooses local charities to support."
Snap-on Tools also has donated thousands of dollars to DAV Chapters 1 and 7 and has donated raffle prizes for DAV fundraisers and Christmas events. Carson is quick to point out that the donations are all made by Snap-on associates, not by the parent company.
Bill Anton, convention chairman, said companies are nominated each year by local DAV chapters. "We have a committee that looks at them and makes recommendations before voting," he said. "It's a process. We had some great recipients this year."
A special individual was honored at the Mesquite convention as Veterans Health Administration Employee of the Year. John B. Bright, who served as director of the Department of Veterans Affairs Southern Nevada Healthcare System, headquartered in Las Vegas, was honored upon his retirement from that position after 10 years. When I asked him what his last day as director was going to be, he replied, "Four hours ago." He was attending the DAV dinner on the same day he left the VA.
One of his major responsibilities as director was to see that the recently opened VA health care facility in North Las Vegas was completed and operating.
"I made sure it was opened, then I had to turn in my keys and now I can't get back in," he quipped.
How about as a patient? "Yes, I can get in as a patient," he said, laughing.
Bright served in the U.S. Army from 1972-1975 and began his career with the VA in 1985 in Seattle. Through a series of promotions he eventually became acting director of the local VA system. Before being named director, he gained extensive knowledge of health care operations via a joint venture with the Department of Defense 99th Medical Group/Mike O'Callaghan Federal Hospital at Nellis.
Two other veterans were honored by the DAV at the convention. Richard D. Walker Jr. is a retired Air Force master sergeant with 22 years of service. He was named 2013 Disabled Veteran of the Year.
The list of services he provides as a DAV volunteer fills an entire page, but a few of his accomplishments include his appointment as DAV Adjutant from 2009 to the present, performance of chaplain duties at Veterans Day ceremonies, chairman of the annual Forget Me Not drive, leading members in raising charitable donations to aid veterans in Clark County and community service in transporting senior citizens to medical appointments and grocery shopping.
In the DAV Auxiliary, Eileen Langille was named 2013 Outstanding Member. She has served as department chaplain, junior vice commander, senior vice commander, commander and unit adjutant. She donates fabric and thread for quilts for veterans and hats, socks and gloves for homeless children.
Journalist and author Chuck N. Baker is an Army veteran of the Vietnam War and a recipient of the Purple Heart. He is the managing editor of Nevada's Veterans Reporter newspaper and the host of the "Veterans Reporter Radio Show" on KLAV (1230 AM) from 8-9 p.m. Thursdays and the "Veterans Reporter News" at
2:30 a.m. Fridays on VEGAStv KTUD-Cable 14.