Elks members honor veterans
January 2, 2014 - 5:31 am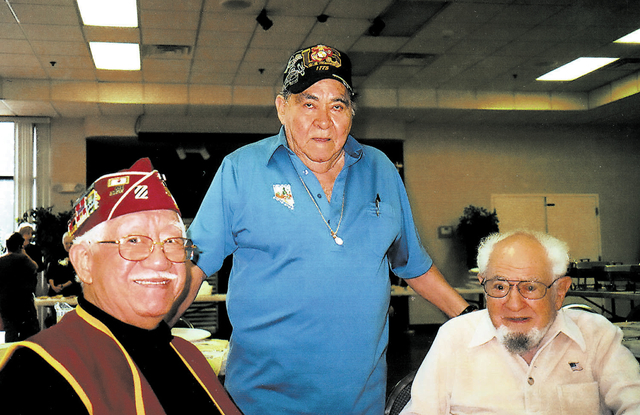 When it comes to thinking about service organizations that exist to serve veterans, most individuals would name the American Legion, Disabled American Veterans, Veterans of Foreign Wars and a handful of others that specifically and directly assist veterans and their families.
But there is another group of men and women who operate a charitable foundation that for many years has included veterans in their community-minded programs — the Benevolent and Protective Order of Elks, or "Elks" for short.
The Elks has a 141-year history with lodges across the nation, including the one in Boulder City. Its mission is to help various groups of people, including giving scholarships to youth through its foundation. Part of its stated mission includes "… to quicken the spirit of American patriotism; to cultivate good fellowship; and to provide for the government the (Elks) of the United States of America will serve the people and communities through benevolent programs, demonstrating that Elks Care, Elks Share."
Pete Urdiales Jr. is the Elks veterans service chairman for Nevada. A longtime member, he is a Marine veteran who put in 22 years in the military. With the rank of first sergeant, he invested much of his time heading an administration company. But in his second tour of Vietnam, he was put in charge of an artillery unit. Today, he volunteers tirelessly overseeing veterans' programs on behalf of the Elks.
This past Thanksgiving at the Elks lodge in Las Vegas, he supervised the 17th annual holiday dinner for veterans. "We had 200 veterans this year," Urdiales said. "We invite veterans from several organizations such as U.S. Vets, the Key Foundation and HELP USA."
This year's event included some special honored guests: several ex-prisoners of war. "It was a real honor to have them with us," Urdiales said. The men included Gene Ramos, Joseph S. North Jr., Raymond R. Hamman and Vincent Shank.
Urdiales added, "We also hold Christmas in July every year for veterans. We serve them a barbecue dinner and we give each vet a comfort kit to take away."
In addition, the Elks volunteer each year at a veterans stand down in Las Vegas. "We provide clothing, T-shirts, socks, things like that. A lot of veterans are in need of good clothes, and we collect things for them all year long."
Urdiales was quick to point out that the lodge in Boulder City also provides events for veterans.
"The veterans chairman there is Liz Maring. She does a great job," he said.
Indeed she does. The daughter of a Navy veteran, I phoned her and asked about her involvement with Boulder City veterans and the Elks.
"I really, really love my veterans," she said. "And I enjoy working closely with the state veterans home. I admire and adore all veterans for how they served our country."
Among other activities, she and a group of members visit the home and sing Christmas carols each December. And every November she holds a fundraiser for veterans, which in 2013 brought in $2,000 through the sale of prime rib dinners. The money is given to the home and turned into "canteen bucks," which are given to residents there to make purchases at the canteen. "They can use them to purchase hair appointments, manicures, crackers, candy, whatever is sold there." Maring said every single resident gets the bucks, which are doled out by home employee Angela Metcalf.
Another annual Elks program at the veterans home that has proved popular is one that includes a wish list. Maring said Metcalf asks a different set of residents each year to write down what gifts they would like for Christmas. Then the lists are given to Maring, who in turn distributes them to Elks members, who purchase the gifts with their own money and place them under a Christmas tree at the lodge. The gifts are taken to the vets home and the names of residents are called out by Santa Claus at a holiday event. The gifts generally include such items as sweatshirts, slippers, postage stamps, stationery and other needed items.
The Elks members feel that the youth of the nation are important and, toward that end, has launched a Drug Awareness Education Program to warn primary grade students and their parents of the dangers of illegal drug use.
Separately, in keeping with its patriotic theme, the Elks observe June 14 as Flag Day, a tradition they began in 1907 and that was later adopted by Congress as an official national observance.
Veterans and others who want to explore membership in the Elks must be invited by a current member in good standing. The order is a nonpolitical, nonsectarian and a "strictly American fraternity," its literature says. To be accepted, a candidate must be at least 21 years of age, an American citizen, a believer in God and of good moral character.
For more information, Urdiales can be reached at 702-325-1770. The Elks lodge in Boulder City can be reached at 702-293-2457.
Journalist and author Chuck N. Baker is an Army veteran of the Vietnam War and a recipient of the Purple Heart. He can be heard each Thursday from 8-9 p.m. on "The Veterans Reporter Radio Show" on KLAV 1230 AM.