Summer monsoon season arrives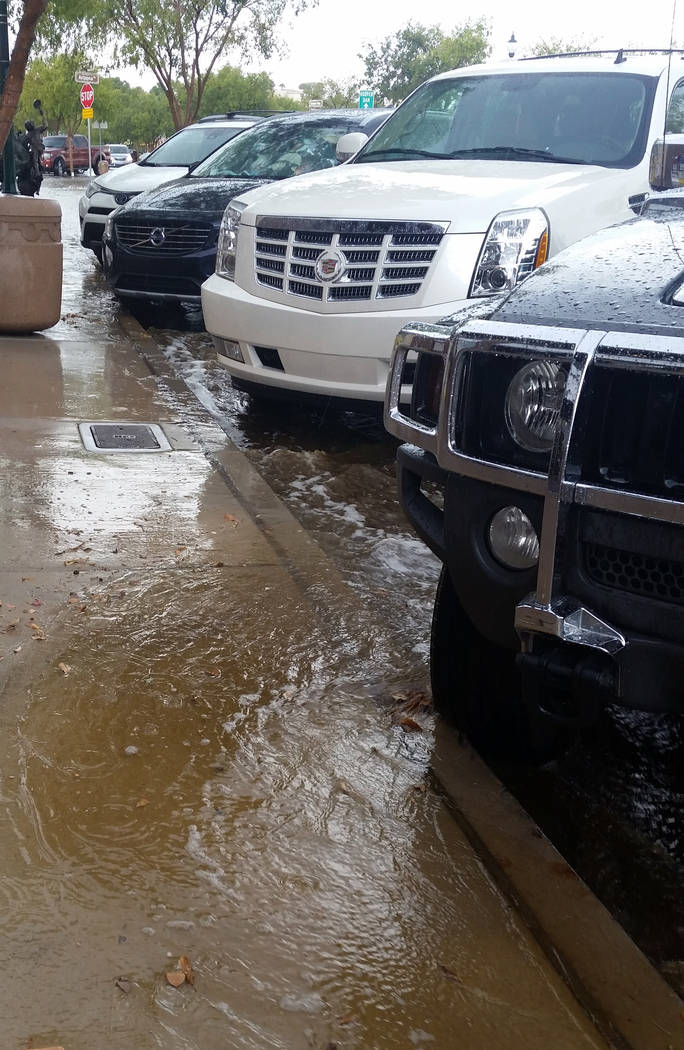 Monsoon season is about to start in Southern Nevada, and with it comes flash flooding, for which Boulder City is prepared.
"The city regularly maintains our existing storm drains, concrete channels and washes to ensure they are clear and work properly during storm events," said Acting Public Works Director Jim Keane.
In Clark County, monsoon season happens from July to September.
"That's when we have the largest amount of flash floods," said Beatriz Martinez, public information coordinator for the Clark County Regional Flood District.
Martinez said that during this time people should "always be aware" of the conditions and their surroundings.
"It's important to check the weather when going on a long drive or a hike," she said. "It can be sunny with no chance of thunderstorms in the morning and a monsoon will be right overhead in a few hours."
For Boulder City residents and visitors, Keane said they should not drive on flooded areas during storms.
"More than half of flood-related deaths are the result of people trying to drive through flooded areas," he said.
Keane also said the flood control district has helped the city with flood-control improvements since it was started in 1985.
"They have provided an estimated $45,000,000 in funding toward flood-control improvements for storm drains, erosion protection, concrete drainage channels, detention basins, diversion berms and annual operations and maintenance of these facilities," he said. "In the 2013 Boulder City flood control master plan update, we estimated that there is approximately $36,000,000 worth of proposed facilities yet to be constructed as funding becomes available."
As of the 2017 monsoon season, Boulder City had completed 11 detention basins and 21 miles of channels and underground storm drains at a cost of $27.9 million that was funded by the flood control district.
Despite its precautions, Boulder City is not immune to flash flooding and has some areas that are more prone to it.
Keane said the problem areas are mostly at the lower areas of the city in the southern portions where the roads end and concreted-lined washes empty into the street.
Former Public Works Director Scott Hansen previously said that problem areas also included Avenue G, Adams Boulevard at Avenue B and Cottonwood Street, and some parts of Georgia Avenue.
Martinez said the National Weather Service is predicting there could be more precipitation this season, but the chance is still about 50/50.
"Because it's so unpredictable is why we should always be prepared," she said.
For more information, visit the flood control district's Be Flood Safe website at https://befloodsafe.com/flood-prepardeness.
Contact reporter Celia Shortt Goodyear at cgoodyear@bouldercityreview.com or at 702-586-9401. Follow her on Twitter @csgoodyear.
Park Service implements new plan for Cottonwood Cove flooding
In preparation for monsoon season, Lake Mead National Recreation Area has implemented a new flood response plan for the Cottonwood Cove area of the park near Searchlight, Nevada.
If flash flooding occurs, visitors may be asked to shelter in place or evacuate to high ground; a weather siren will indicate when evacuation is mandatory.
A recent risk-screening study indicated the lower levee that diverts flash-flood waters away from developed areas within Cottonwood Cove is highly vulnerable, indicating that a 50-year-flood could erode the sand and gravel levee.
"Visitor and employee safety is the park's number one priority," said Lizette Richardson, park superintendent. "The National Park Service has been implementing multiple short-term and long-term risk reduction measures in response to risk-screening studies that have been conducted in the area."
Other preventative measures include temporary improvements to the levee system and a multimillion dollar project that will divert flood waters away from Cottonwood Cove directly into Lake Mohave.