Ralph Denton honored with Las Vegas tree planting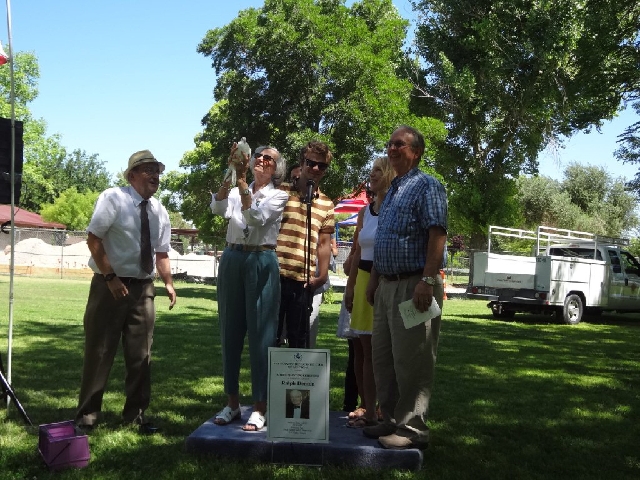 Family and friends gathered Saturday at Paradise Park in Las Vegas for a tree-planting ceremony honoring late attorney, civil rights activist and Boulder City resident Ralph Denton.
The event was hosted by Paradise Democratic Club of Las Vegas, which has honored a late Democrat by planting a tree in Paradise Park for 18 years.
Denton passed away at age 86 in July.
"Denton was a Las Vegas attorney for the last half of the 20th century, an outspoken advocate for civil rights and a member of one of the state's pioneering families," the club said in a press release. "He got involved in issues that mattered to him and to the rest of us."
Club president John Ponticello said between 35 and 40 people attended the event, which featured comments by friends and family, the release of a white bird and the planting of a tree.
Former U.S. Rep. Shelley Berkeley, former state Assemblywoman Renee Diamond, state Supreme Court Justice Michael Cherry and Denton biographer Michael Green all spoke about Denton, Ponticello said.
Denton's wife, Sara Denton, said the event was "very nice," and her husband, who had attended many of the club's past tree plantings, would have been pleased.
"He wouldn't have known how to plant the tree, but he would have known how to water it," she said. "The fact that it was something that was living … (and) the white bird flew right over the flag, which was touching."
Sara Denton said the family members who could make it were there, including her 2-week-old great-grandson.
"The fact that our great-grandson was just born, it was the circle of life. Things happen and things are renewed," she said.
Ralph Denton was a prominent attorney in Las Vegas, representing clients such as Las Vegas Sun publisher Hank Greenspun, entertainer Louis Prima and casino owner Bob Stupak.
Ralph Denton was active in the Democratic party, helping friend Grant Sawyer with a successful gubernatorial campaign in 1958, and chairing John F. Kennedy's 1960 presidential campaign for Nevada.
He briefly served on the Clark County Commission in 1963, and ran for the U.S. House of Representatives in 1964 and 1966, challenging incumbent Walter Baring's opposition to civil rights. He lost both times in a close race.
The fight for civil rights also found Ralph Denton being one of the few Las Vegas attorneys who took cases for the American Civil Liberties Union, and he was also the first attorney in Las Vegas to hire a black legal secretary.
He also periodically served as Boulder City's interim city attorney, and was an important figure in the campaign for Boulder City's controlled growth ordinance in the 1970s. The Dentons are partially responsible for Art in the Park, which began in 1962 as an art show in the Dentons' living room and front yard, an effort to raise money for Boulder City Hospital.
The club's tree-planting ceremony began in 1996, honoring late Secretary of Commerce and former National Democratic Party Chairman Ron Brown.
The event went over so well with many people attending the ceremony, the club decided to make it an annual event on traditional Memorial Day weekend.
"Most of the people we've done have had longtime name recognition," Ponticello said.