September 10, 2014 - 12:52 pm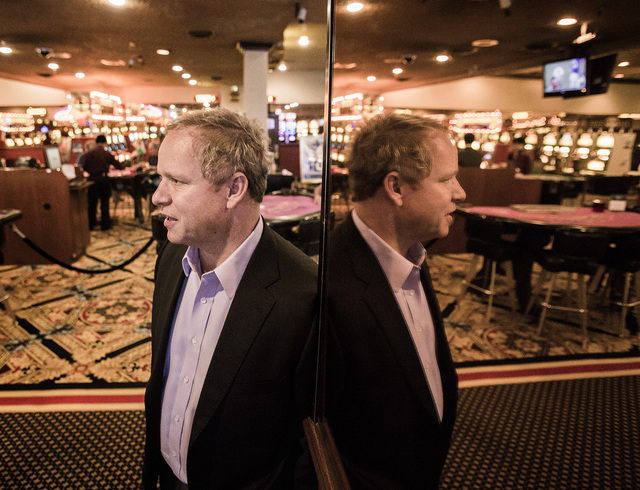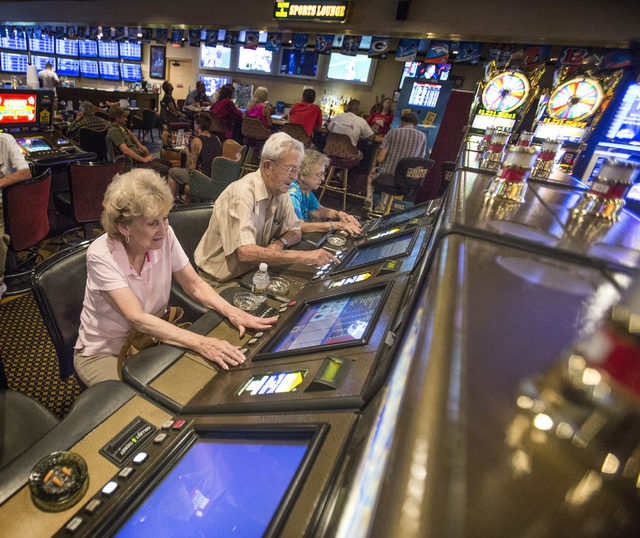 Joe DeSimone is stepping out of his comfort zone and into uncharted waters as the new boss of a Boulder City staple.
After an 18-year career as the founder of the Henderson-based real estate developer First Federal Realty, the Long Island, N.Y., native is delving into the casino business for the first time after acquiring the Railroad Pass Hotel &Casino from MGM Resorts International.
The 47-year-old DeSimone has developed properties across Southern Nevada, but the acquisition of the historic Railroad Pass has brought on a different feeling.
"In some ways it felt like I was trying out for the middle school baseball team. (It was) a little bit nerve-racking," he said. "But MGM made it easy. It's a learning experience, and the learning curve will continue to be pretty steep."
Railroad Pass, which opened in 1931, was acquired by MGM in 2005. MGM Executive Vice President and Chief Financial Officer Dan D'Arrigo released a statement on the agreement to sell the Railroad Pass.
"MGM Resorts is continually reviewing its portfolio of resorts, land and other assets to ensure they align with our strategic framework as a leading entertainment and hospitality company," he said.
With new ownership typically comes layoffs, but DeSimone said that isn't his intention.
"We're not interested in laying off anybody. We're keeping the whole crew, and we're happy to do that," he said. "The place is run well now, and I've learned that when you buy a business, if something's running well, the worse thing you could do is make changes that aren't necessary."
Curt Thompson will stay on as executive director, DeSimone said. According to Thompson, the employees at Railroad Pass are happy with the changes, or lack thereof.
"Our employees are so thrilled that nothing is going to change," he said. "We're gonna continue doing what we've been doing, what's been successful for 83 years."
DeSimone said one of the facets that attracted him to the Railroad Pass was the property's history, as well the impact it's had on Boulder City since it first opened its doors. Railroad Pass has license No. 4, the oldest gaming license in the state. License Nos. 1 and 2 were never issued, and No. 3 didn't last.
"People drive by here all the time, and they just don't realize the significance this place has played on the state, the county and the nation," said Sean Holden, director of slot operations. "Look at legalized gambling. Nevada was first. And to have the oldest state license, we're very proud of that."
According to Holden, the Railroad Pass was met with tons of controversy by many when it first opened.
"Six Companies didn't want it here," he said of the company that was contracted to build Hoover Dam and helped develop Boulder City. "Railroad Pass had to do it by the book, because they were being watched. It was very dicey in the early days, especially because in 1931 we were still toward the end of prohibition."
DeSimone said he first noticed Railroad Pass while driving in from Searchlight in 1991. And though he's new to the business, DeSimone said he doesn't plan to changing the blueprint currently in place, especially when it comes to catering to locals. According to Thompson, 80 percent of the Railroad Pass business comes from Boulder City and Henderson residents.
"Boulder City is important to us," DeSimone said. "I think it's not just about Boulder City being a historic town, but this being a historic property."
He also wanted to reassure customers that members of the Railroad Pass Players Club will be able to keep all of their points.
"Everything is going to stay the same. We don't want to come in and make big changes," he said. "Curt's (Thompson) run the place real well, and we're bringing in some other management people that will bring some experience."
Marcus Suan, a longtime gaming licensee and operator, will run casino operations until DeSimone acquires his gaming license. Terms of the sale were not disclosed, and a date for the sale's closing is contingent upon regulatory approvals and other closing conditions.
But as DeSimone waits for the sale to close, he'll continue to familiarize himself with his employees, as well as the customers who visit. He said he's excited for the new opportunity, even without the guarantee of long-term success.
"I'm still taking it all in," DeSimone said. "I've come to learn to accept uncertainty, and a lot of this is uncertain. But that's where you grow from."
Contact reporter Steven Slivka at sslivka@bouldercityreview.com or at 702-586-9401. Follow @StevenSlivka on Twitter.