Plans for droneport progress as Aerodrome, FAA establish parameters for UAVs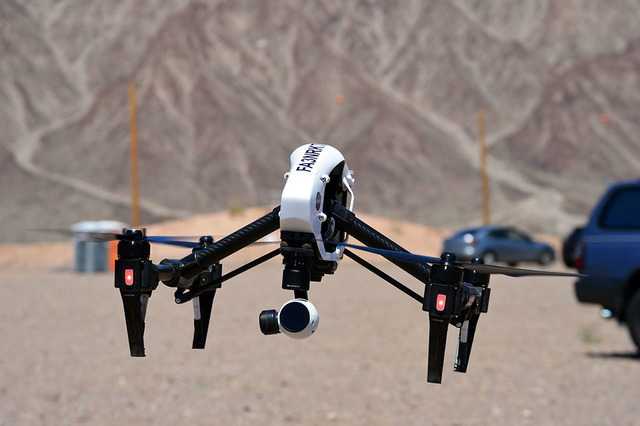 The push to create the world's first drone airport is still underway as a drone company and the Federal Aviation Administration discuss the process and regulations needed to officially recognize a 50-acre plot of land in Eldorado Valley as an airport.
Unmanned aerial vehicle company Aerodrome has been in talks with the FAA since 2014 to create the world's first drone-only airport in Boulder City, but breaking new ground requires an intense discussion about what kind of regulations are needed for something that has never existed.
"What we are doing is groundbreaking," Aerodrome President Jonathan Daniels said. "We are doing something that hasn't been done before so we have to figure out what makes our airport safe."
The FAA has extensive regulations on airports, but since there has never been a droneport the FAA does not know if it should classify it like a regular airport or something completely different, Daniels said.
"The FAA's regulations don't tell us anything," Daniels said. "For example, airplanes have traffic patterns. How do you build a traffic pattern with drones?"
A traffic pattern is the way airports allow a large number of planes to leave and takeoff without causing a crash.
There are still many unknowns in the creation of the droneport, but a new set of rules and regulations are allowing Aerodrome and the FAA to streamline the process.
On June 21, the FAA announced Part 107 which is a set of rules and regulations for commercial drone use. The new rules establish the definition of a commercial drone as well as when, where and how high they can fly. The new rules go into effect at the start of August.
Boulder City Director of Community Development Brok Armantrout said he meets with Daniels to discuss the droneport every week and completion of the airport is coming along.
"The airport is coming along," Armantrout said. "We are working on setting up a long-term lease between Aerodrome and the city, but we are still working on what we need to do to complete the project."
According to Daniels, commercial drone use will be a big part of the potential droneport's business, and the new definitions and regulations on drone use have helped speed along the discussion process between Aerodrome and the FAA.
"Part 107 has just made our talks with the FAA a lot easier," Daniels said. "The regulations to get approval for the droneport are still unclear, but 107 has given us some perspective and we will be doing classes in the fall to teach companies how to comply with the new standards."
Daniels said Aerodrome remains confident that the company's airport status will get approved and that the FAA has been incredibly supportive even if Aerodrome has not been given the green light to move ahead with its project.
"It is difficult to start an airport, and we are happy the FAA has not said no," Daniels said. "We have had a number of talks with the FAA and things are coming along. I don't want anyone to think the FAA has not been helpful, because they have been incredibly supportive of us."
Aerodrome officials hope to have full approval from the FAA by fall and a functional airport by 2018.
Contact reporter Max Lancaster at mlancaster
@bouldercityreview.com or at 702-586-9401. Follow him on Twitter @MLancasterBCR.