Locals turn out for short-term rental debate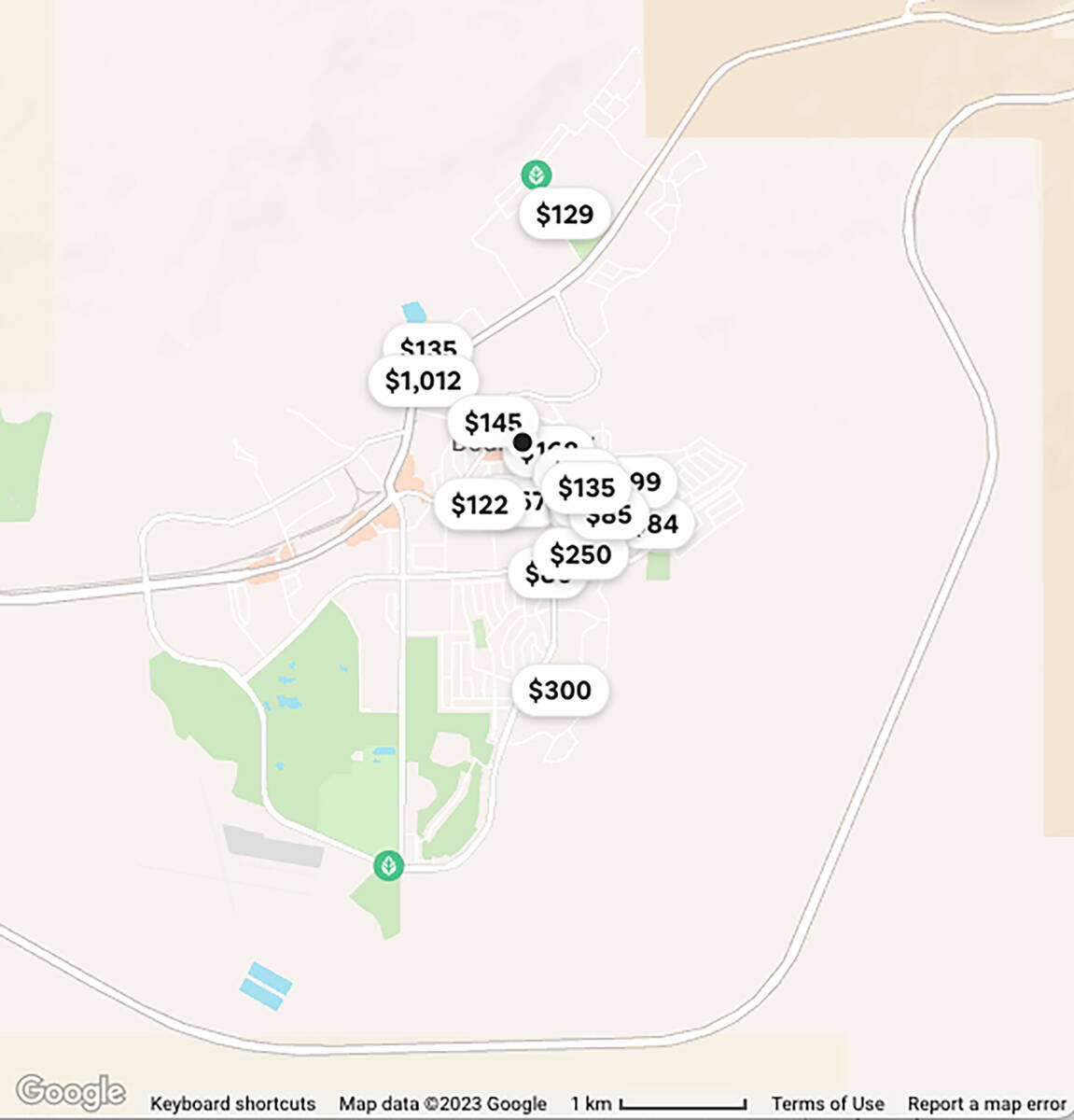 Short-term rentals currently operate in a kind of no-man's land in Boulder City.
"Our Code Enforcement staff responds to short-term rental complaints by informing the property owner that short-term rental uses are not explicitly permitted by code and, therefore, not allowed," explained City Manager Taylour Tedder.
But the fact that they are not allowed does not mean that short-term rentals are hard to find inside the boundaries of Boulder City. A search of two of the most popular websites for booking vacation properties (airbnb.com and vrbo.com) will return at least 20 properties between the two sites. They range from a bedroom inside a private home to a 36-foot RV parked near Lake Mead to large lake-view homes.
Lorene Krumm, former city clerk and current member of the Planning Commission, was one of many homeowners who spoke out about short-term rentals during the public comment portion of the City Council meeting on Tuesday, May 23. She noted that she was speaking in a private capacity as a homeowner.
Noting that she was a longtime rental property owner, including a property she rented out in Boulder City for many years, she said, "Short-term rentals are just a different animal." She encouraged the council to put the question of whether or not to allow short-term rentals in Boulder City up to a vote of the residents.
"I am not a betting person," she said. "But if I were, I would bet that the only people in favor of allowing them would be the 25 people who are offering [short-term rentals] right now."
Short-term rentals have long been a contentious issue in Nevada, where the two largest cities at each end of the state are both highly reliant on tourism to fuel their local economies. In 2022, when Clark County put restrictions in place that sharply curtailed the ability of owners to list their properties as short-term rentals, they were loudly accused of "doing the bidding of the resort industry."
While homeowners are among those most vocal in their opposition to short-term rentals, they are not the only voices objecting. A 2019 study in the Harvard Business Review drew a direct line between the growth of the short-term rental industry and the affordability of traditional rent, especially in zip codes deemed as "touristy" which they defined as an area with a large number of restaurants and bars.
Their study found that about 20% of rental rate increases and up to 15% or the increase in home costs year-over-year could be attributed to the increasing prevalence of short-term rentals in these areas.
Anecdotally, numerous real estate agents have reported an influx of investors snapping up homes for cash with the stated intent of turning them into short-term rentals. But that has not been a big issue in Boulder City. "We have had a few inquiries, but certainly not a huge demand," said Bret Runion of Desert Sun Realty. "I believe that investors were certainly more interested in Las Vegas, for obvious reasons. I personally think that unless an investor has several short-term rentals, they are more trouble than they are worth. I find doing a monthly rental is about the shortest term that I am interested in."
The issue in Boulder City is thorny. While, as Tedder noted earlier and was pointed out by many members of the public in the council meeting, any property use not explicitly allowed in the city code is not permitted. Property owners who want to run any kind of business in their home are required by law to get both a business license and apply for a conditional use permit. Because short-term rentals are not explicitly allowed in the code, there is no process for homeowners to get either of those items. But that has not stopped property owners from trying the short-term rental method as a way to extract value from their property.
"There is no enforcement provision and so a blind eye is being turned," Krumm said.
While there were a large number of people opposed to short-term rentals in the meeting, with many saying that they no longer felt safe in their neighborhoods, theirs was not the only voice.
City Clerk Tami McKay read into the record about a half dozen emails from short-term rental owners and supporters.
Jennifer Boudin wrote that being a short-term rental host has financially changed her life. "I started doing AirBnB with my primary residence a year and a half ago. I only allow small groups of up to six guests. My neighbors are all aware that I do AirBnB and have been very supportive, kind and helpful at times. Doing AirBnB has me keeping up with my own home maintenance on a very regular basis so my curb appeal is always on-point."
Other supporters noted that they owned short-term rentals in Las Vegas, Henderson and Boulder City and made the claim that, despite them paying no conditional use or licensing fees, the visitors they rent to are as net positive for the city in terms of revenue because they eat in local restaurants and shop in local stores. Several supporters noted that they provide space and a family-friendly atmosphere at an affordable rate, which is something they said that local hotels are not able to provide.
In the end, after hearing from Director of Community Development Michael Mays with a presentation outlining both current law as well as the approach to short-term rentals taken by other local cities, the council directed staff to set up a town hall so that they could get additional input from residents before putting any kind of enforcement mechanism on the agenda for consideration.
What is the current short-term rental law in Boulder City?
As noted, in Boulder City, any use not explicitly allowed in the city code is not allowed; meaning that, technically, the property owners currently offering short-term rentals in the city are doing so illegally. However, they are not formally banned and there is no enforcement mechanism in place beyond code enforcement personnel sending out letters when neighbors complain.
"I'm surprised that people who understand licensing know that it (short-term rentals) is not available in the city and are doing it anyway," noted councilmember Steve Walton, who asked for this discussion to be placed on the agenda.
"The status quo is not going to work anymore," said councilmember Sherri Jorgensen. "Having nothing on the books is clearly not stopping it."
City Attorney Brittany Walker concurred, noting that Boulder City has no process for levying civil penalties and that most jurisdictions have processes in place to allow for a civil enforcement process.
The impetus of all of this is a law passed by the Nevada Legislature and signed into law by then-governor Steve Sisolak in 2021 called AB363. This legislation required all cities and counties in the state to come up with a framework that would allow for short-term rentals in their jurisdiction subject to limits, including things such as the distance between short-term rental properties and noise restrictions.
But there is a loophole.
Municipalities with fewer than 25,000 residents are excluded from AB363 and therefore are not required to allow short-term rentals. This exemption was championed by one specific state senator, Joe Hardy.
Hardy is currently the mayor of Boulder City.