Reid praises lake's amenities
October 15, 2014 - 1:22 pm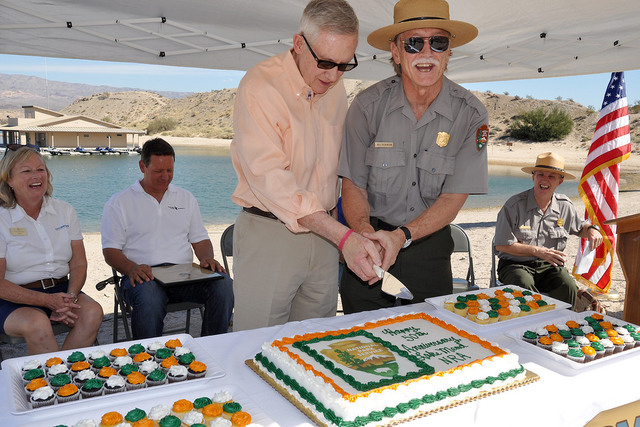 U.S. Senate Majority Leader Harry Reid holds a dear place in his heart for Lake Mead National Recreation Area.
Reid, D-Nev., was born and raised in Searchlight, 14 miles from Cottonwood Cove Marina, where the recreation area celebrated its 50th anniversary Saturday.
As the keynote speaker, Reid reminisced about memories he had of the lake while growing up in Searchlight, about 40 miles from Boulder City.
"I remember coming down here when there was no Lake Mohave. It was just a river. Lots of very, very good memories," Reid said. "It was one of those places we went just to pal around."
As members of the National Park Service, the U.S. Coast Guard, and other entities listened to Reid speak about the lake's significance within the Park Service, Reid emphasized the fact that gridlock within the nation's capital has brought hard times to the country's outdoor landscape.
"This wonderful recreation area has 500 animal species, 900 different plant species, and it has struggled the last few years because of what has gone on in Washington, or should I say what hasn't gone on in Washington," Reid said. "Our park system is hurting all over the country."
Recreation Area Superintendent Bill Dickinson echoed Reid's sentiment about the tough times Lake Mead has endured as it has suffered through drought, invasive species, budget cuts and a government shutdown.
Still, the lake remains a top 10 tourist destination throughout the Park Service's 401 units by bringing in about 6.5 million people annually, contributing about $260 million each year to the local economy.
Reid "has been a part of Lake Mead for essentially his whole life. So he has seen it go through changes," Dickinson said. "It's a challenge when you suffer the cost of budget erosion through inflation or increased costs. You know our budget has not been cut, but it hasn't gone up. It's remained pretty flat."
Despite the obstacles the lake has been forced to overcome, Dickinson spoke of its effect on the rest of the country. He referred to the recreation area as a place of "national significance," and Reid referred to the park system as "the envy of the rest of the world."
But the recreation area continues to make strides, including being home to the world's first floating green building to receive Leadership in Energy and Environmental Design Gold certification by the U.S. Green Building Council in 2013, Dickinson said.
Spearheaded by the Park Service and Forever Resorts, the building serves as Cottonwood Cove Marina's office. Its building materials are 23 percent recycled, 12 percent rapidly renewable, and its water usage is reduced by 57 percent. The exterior stucco is made of recycled rubber tires, and the deck consists of recycled plastic and rice hulls.
The floating green building is a step in the right direction for the lake, but Dickinson knows there will be more obstacles to climb before the lake's level and tourism return to prior highs.
"It's been difficult," he said. "But we're doing the best we can."
Contact reporter Steven Slivka at sslivka@bouldercityreview.com or at 702-586-9401. Follow @StevenSlivka on Twitter.