Picture captures final moments of woman's life
January 16, 2014 - 4:45 am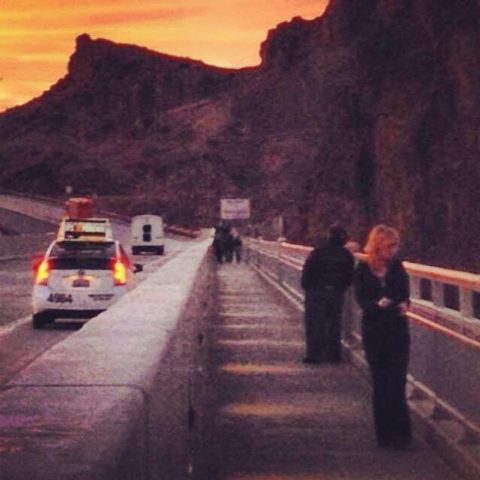 A woman who jumped to her death from the Hoover Dam Bypass Bridge Friday "was sly about it and didn't want people to know."
So says a Boulder City woman who was taking pictures of the sunset and noticed the woman standing on the bridge just before she mysteriously disappeared.
"If only I had known she was going to do this, I would have definitely tried to have helped her," said a tearful 46-year-old Francesca Bosco, who captured an image of the woman in what could be the final moments of her life — between 4:50 and 5 p.m.
"But how could I have known?" added Bosco in a telephone interview with the Las Vegas Review-Journal late Saturday. "How could anybody have known?"
The body of a woman, later identified by the Clark County coroner as 42-year-old Phoenix resident Heather Papayoti, was recovered from the river early Saturday.
The coroner listed the cause of death as multiple blunt force impact to the chest, pelvis and lower extremities. The death was ruled a suicide from falling.
When Bosco turned to start taking pictures of the canyon from the other end of the Mike O'Callaghan-Pat Tillman Memorial Bridge, that's when the woman probably jumped, she said.
Police officers arrived on scene at 6:15 p.m. and started searching for the woman.
She was first reported missing by the Tempe Police Department in Arizona earlier in the week, according to Las Vegas police.
Bosco said the woman, at least the one she took a picture of, looked to be in her late 30s or early 40s and had long wavy blond hair. She was dressed in all black. She arrived at the bridge in a cab with the number 4964, possibly from Arizona.
According to Sgt. Mike Pooley of the Tempe Police, Papayoti had a history of wishing to commit suicide and had attended meetings for treatment at a behavioral health facility in Tempe.
"She had talked about jumping off of that bridge before," Pooley said.
After dropping Papayoti off at a meeting last week, her mother reported her missing to Tempe Police, Pooley said.
Police learned that Papayoti hired a private driver to take her to Bullhead City, Ariz., Pooley said. It is her last known whereabouts, prior to arriving at the bridge in a taxi.
The presence of the cab made Bosco angry because it kept backing up, inching along the bridge, blocking the sunset as she tried to snap a picture. But she's no longer angry, she said, just sad.
"But at the time, I kept wondering, 'What's he doing? Why's he backing up? Why is he even on the bridge? Cars aren't supposed to be stopped up there. It's illegal. The signs say so.' "
It turns out the cabdriver, who spoke little English, was looking for Papayoti. She left a purse and a jacket inside the cab, Bosco said.
In the picture, which Bosco has since posted to her Facebook page, Papayoti's arms are folded. She is standing just a few feet from the railing.
Below flows the Colorado River, 900 feet from the bridge.
A cab can be seen in the background with its brake lights on, and there's a sign in the distance that says, "Welcome to Nevada." A few people can be seen farther along, but the images are blurred.
Bosco said she feels sad that she didn't save the woman's life. She's thankful that her 14-year-old son never witnessed anything and had gone to use the restroom around the time she jumped.
"It seemed like she was waiting for every­body to turn their heads and not see her. She had it all planned out," Bosco said. "What a day to be at the bridge, huh? Such a terrible tragedy."
Neither Las Vegas police or Hoover Dam police are investigating.
"If it's a suicide, there's not a whole lot left to investigate," a Las Vegas police spokesman said.
Seven people have committed suicide by jumping from the bridge since it opened in October 2010, a U.S. Bureau of Reclamation spokesperson said.
The bridge spans Black Canyon 1,500 feet downstream from the dam.