Origin of name at sites at Lake Mead lost to history
January 28, 2015 - 1:59 pm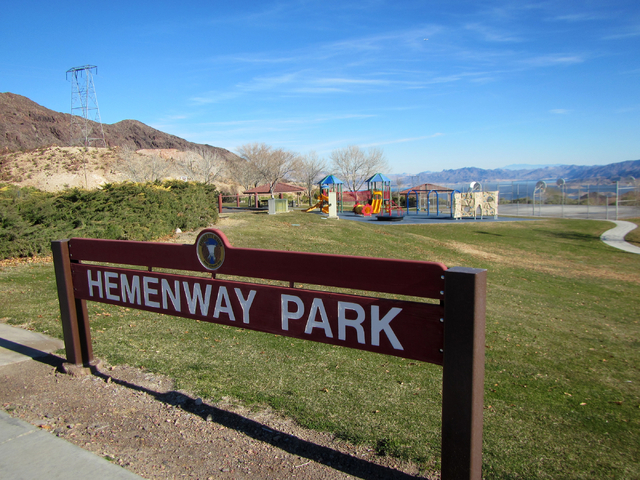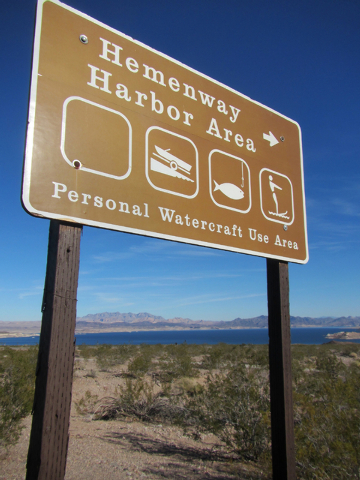 The name crops up in several prominent places at Lake Mead National Recreation Area, from its busiest boat harbor to the road and the wash leading down to it. There is even a park in Boulder City, popular among grazing bighorn sheep, that bears the Hemenway name.
Just don't expect anyone to tell you where — or more likely who — it comes from.
The origin of one of Lake Mead's most unusual and prominent place names has been lost to history, despite thorough research by several local scholars.
"No one has ever been able to determine who Hemenway was — if Hemenway was a person," said Dennis McBride, director of the Nevada State Museum in Las Vegas and a leading expert on Hoover Dam and Lake Mead. "We've all been searching this out for years. No luck."
"This is quite a dilemma," Clark County Museum administrator Mark Hall-Patton said. "It is an old name that predates the dam. I have actually been searching for a definitive answer for this one for quite a while."
Christie Vanover, spokeswoman for the recreation area, said National Park Service personnel have tried for years to figure it out. Now, spurred by her curiosity, she has taken up the research project.
So far, the earliest record of the name she has found is in a 1909 geography book that mentions a copper camp in a place called Hemenway Pass. She heard Hemenway Wash was mentioned in a late 19th century botany report, but she can't confirm that until she sees the original source material.
Scholars have two leading candidates.
One is a wealthy New England widow named Mary Hemenway, who never visited the area but did sponsor something called the Hemenway Southwestern Archaeological Expedition from 1886 to 1894.
Although the expedition began in Albuquerque, N.M., and concentrated on sites in that state and southern Arizona, a member of the group might have ventured north and west up the Colorado River to what is now Clark County.
Or there is another possibility, Vanover said. The man who led the expedition, Frank Hampton Cushing, also worked for famed explorer John Wesley Powell, who mapped and named features across the region. Perhaps Cushing persuaded Powell to honor Mary Hemenway for her generosity by naming a wash or a valley after her.
Hall-Patton said his "best guess" is Luther S. Hemenway, an early Mormon settler who cultivated wine grapes in the St. George, Utah, area. Hall-Patton said there is evidence that Luther Hemenway might have traveled with or at least known Daniel Bonelli, a more famous Colorado River character who operated a ferry, prospected several mines in the area and left his last name on several features of his own, including a landing and bay on the Arizona side of Lake Mead.
Hall-Patton hasn't found documented evidence that Bonelli named something after his wine-making friend or that Hemenway ever traveled to any of the places that now share his last name.
"This is still a supposition on my part," he said, "but (he's) the only person I've found so far that makes any kind of sense."
Mysteries like this are not that unusual, even in a place such as Southern Nevada, where so much of recorded history is comparatively recent.
Hall-Patton said more often than you might think a map will endure, but the origins of the names on it might not.
"In the 19th century, there were so few people here. They've left. They've died off. The fact that they named something wouldn't necessarily be something anyone would remember," he said.
"You're talking a few people who were here a short time and were gone, and here we are 150 years later trying to figure it out. It's a matter of continually triangulating."
Contact Henry Brean at hbrean@reviewjournal.com or 702-383-0350. Follow @RefriedBrean on Twitter.