New deputy superintendent joins staff at Lake Mead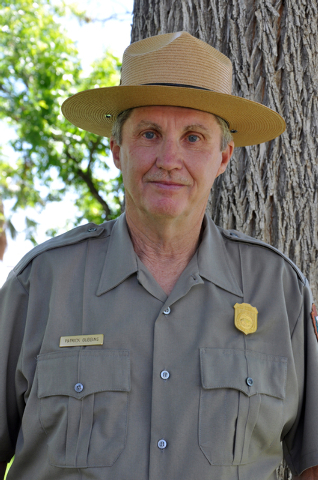 From law enforcement to scientific research, all the way to public administration, Lake Mead National Recreation Area's new deputy superintendent, Patrick Gubbins, comes to the park with a wealth of experience.
Gubbins took on his new role May 5. He spent his first week touring the 1.5 million-acre park by land, water and air with Superintendent Bill Dickinson.
"The experience Patrick has had throughout his career will benefit our park in every division," Dickinson said. "He comes to us with an impressive educational and professional background and a true passion for the National Park Service and the desert Southwest."
"I have joined a highly professional team here," Gubbins said. "I am impressed with the phenomenal work that's been accomplished despite a 14-year drought and diminishing resources."
Before coming to Lake Mead, Gubbins worked for the Bureau of Land Management from the office in Reno. He worked as a branch chief for the nonrenewable resources and renewable energy program for eight years.
After graduating from the George Williams College of Aurora in Illinois in environmental resources, Gubbins began his 20-year career in parks and resource management. Gubbins worked in several Midwest and Western states as a field manager, wilderness program lead, county and state park ranger, and as a regional parks manager in Montana.
"My grandfather was a Chicago policeman and my father was a Chicago fireman, so as a little boy, I wanted to emulate the male role models in the family. Being a park ranger gave me the ability to do that," Gubbins said.
Throughout his career, Gubbins continued his education and went back to school at the University of Colorado to get his second master's degree in public administration.
Gubbins and his wife, Grace, travel to different national parks across the country every year for their anniversary. "We are never disappointed," Gubbins said. "Working for the National Park Service has always been a dream of mine."
Taylor Nunley is a public affairs assistant for the National Park Service.