Legacy of dam workers shared
October 15, 2014 - 1:23 pm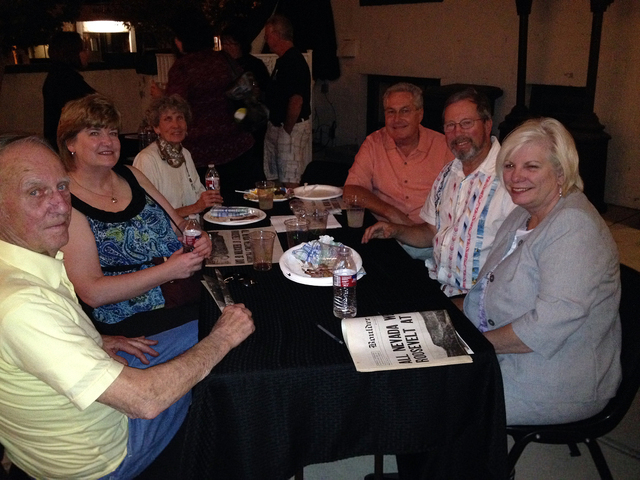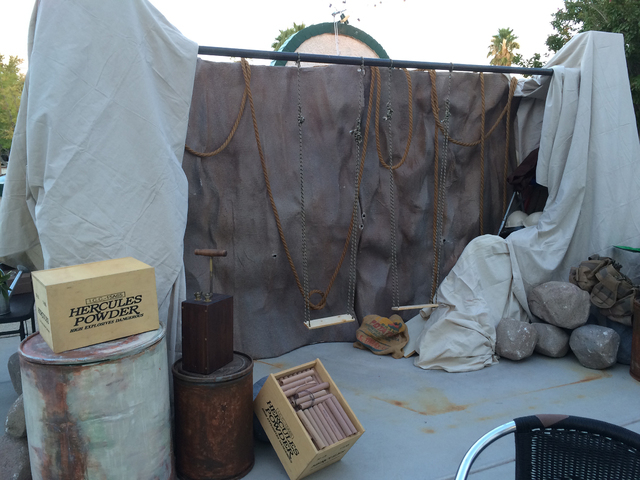 As the sun began to set, the patio at the Boulder Dam Hotel began to fill for the annual 31ers dinner where nearly 50 guests came to celebrate the legacies of the men who built Hoover Dam.
The guests shared stories as they ate, complete with copies of a September 1936 issue of the Boulder City Journal. The newspaper, which was intended to be used as a place mat to highlight the history behind the dinner, featured the much-anticipated arrival of President Franklin Roosevelt as he made his way to Nevada to dedicate the dam.
Cathy Leonard sat with a tranquil smile on her face, soaking in the stories of how the dam was built and the significance it had on the rest of the country. She's heard all the stories before. Her father, Darwin Colby, is the only remaining original dam worker.
Taking in the significance of her father's legacy is almost too unbearable for her as she fights back tears describing him.
"It's hard to describe, but it's very humbling to know that he was a part of such a tremendous project," she said.
Colby was 15 years old and living in Utah when he found out about the Hoover Dam project in 1931. Now, 98 years old, Colby lives in an assisted living facility in Northern California. His families revels in the chance to talk about the many stories he shared with them.
According to Leonard's cousin Gary Miner, Colby's brother, Verl Miner, who was Miner's father and already working on the dam, called him and told him workers were needed to complete the massive project. At 6-foot-2, Colby fit the description of the young, able-body workers needed for construction.
"He (Verl Miner) sent word back to Utah and told him that after he graduated high school (he needed) to get his behind down here," Miner said. "It was a good job. He got on his motorcycle and drove out here."
During his time at the dam, Colby worked on the bypass valves and did concrete work on the spillways. After those jobs were completed, Colby was laid off like several other workers. But Gary Miner said his uncle didn't go down without a fight.
"As the tale was told, they laid him off. He happened to be in the mess hall when Mr. (Frank) Crowe was there," Miner said. "He went up to Mr. Crowe and said, 'I want to keep working.' They chatted for a while and Mr. Crowe wrote a note and said, 'Take this to the pay master.' Well, the pay master kind of chewed on a few words and said, 'OK. You're hired. You're pouring concrete on the main dam.' "
Although Colby was unable to attend the 31ers dinner, Leonard said he was happy knowing that his family would be attending for him.
"He was so excited when he found out we were coming down here this weekend," she said. "He was just so glad and with such gratitude that we as a family would come down and represent him."
Don Johnson and his daughter, Kathryn Strle, traveled from Alaska to attend the dinner. Johnson's father, Madel "Jiggs" Johnson, along with three of his uncles, worked on the dam from 1931 to 1935. Only recently, as Don Johnson got older, had he made the trip to Boulder City to help share his father's legacy.
"I enjoy it more and more each trip," he said.
As the dinner came to a close and others went inside the museum to watch a presentation, Leonard and the rest of her table stayed and shared more stories. The later the night became, the more she enjoyed hearing about the monumental project her father helped construct.
"It's a little overwhelming for me and I'm still taking it all in," she said. "What a magnificent project it was … and (knowing) that he had a part in it. It's a real honor to be part of that history."
The weekend celebration continued Saturday with the 31ers Educational Outreach Showcase, which featured local second-graders in a skit about "powder monkeys" that re-enacted the blasting done in the mountains during construction of the dam.
Contact reporter Steven Slivka at sslivka@bouldercityreview.com or at 702-586-9401. Follow @StevenSlivka on Twitter.