Lake Mead visitors' spending benefits Boulder City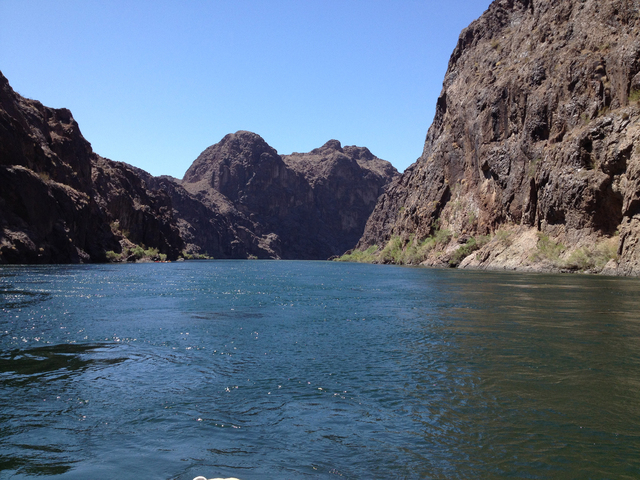 Visitors who made their way to Lake Mead National Recreation Area in 2013 spent $260 million in neighboring communities, according to a National Park Service report released Wednesday morning.
The $260 million, up $8 million from 2012, was money spent within a 60-mile radius of the park.
"This is impressive news for our local communities," park Superintendent Bill Dickinson said. "It shows that despite lowering lake levels and a 16-day government shutdown, Lake Mead National Recreation Area continues to be a premier recreation destination and a critical economic engine for our gateway communities and partners."
Lake Mead National Recreation Area ranked ninth out of the Park Service's 401 units in spending for 2013. Blue Ridge Parkway, the 469-mile park that stretches through the Appalachian Highlands in North Carolina and Virginia, led all parks with $782 million.
Lake Mead was eighth in 2011 with $246 million, and finished ninth in 2012 with $252 million. The park averages 6.3 million visitors a year, according to spokesperson Christie Vanover.
Boulder City Councilman Cam Walker said the positive numbers are great for the city.
"Tourism is critical for Boulder City and for our downtown business district," he said. "We're very happy being a partner with the Park Service, and we're pleased that (its) offices are in Boulder City."
With tourism numbers on the rise despite the lake's lower water level, the Park Service is encouraged that more visitors are spending time at the nation's largest man-made reservoir.
"The lake was about 11 feet lower than the year prior, yet we still gained in visitor spending," Vanover said. "That's an important message that we're trying to continue this year."
Vanover said there is still plenty of lake out there for visitors to use, and the increasing numbers in tourism spending are, in part, because some of Lake Mead's regulars help promote it.
"Our regulars are using social media and telling everybody that this is still a fantastic lake," she said.
The lake's accessibility and visibility when driving down U.S. Highway 93 is another reason it continues to be one of the Park Service's most successful units, Vanover said.
The 6.3 million visitors Lake Mead has annually do not include passers-by on the 20-mile stretch of U.S. Highway 93 that begins in Boulder City en route to Arizona. About 4 million vehicles travel down that stretch of highway each year, Vanover said, which is why the Park Service continues to feel confident about Lake Mead's future numbers.
Three million people visited the park during the first six months of 2014, Vanover said. About 728,000 of them accessed the park from the Boulder entrance station.
And since it's the last stop for Lake Mead visitors coming from the Las Vegas Valley, Boulder City gives visitors an opportunity to enjoy what it has to offer, according to Walker.
The Park Service remains just as confident about what it has to offer as well.
"We are optimistic, and we hope that our visitation continues," Vanover said.